B2B research, ratings, and reviews company Clutch releases "2018 Best SEO Companies in Colorado Springs" and Infront Webworks was proud to be listed as the best of the best, #1. Companies make Clutch's list of top-performers due to their market presence, work quality, services offered, and client feedback.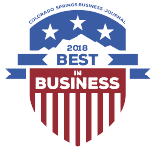 Colorado Springs continues to grow and attract more technology companies. Recently Chief Executive Magazine ranks Colorado as one of the top states for business. Infront Webworks is proud to be headquartered in Colorado Springs, Colorado and takes great pride in having delivered website, SEO and digital marketing needs for over 1,000 Colorado companies over the last 20+ years.
2018 is off to an amazing start for the Infront Webworks Digital Agency, gaining national recognition for SEO and Digital Marketing at the Interactive Marketing Awards (Finalist in Best Interactive Marketing – Retail / eCommerce, Best SEO Campaign, and Search Agency of the Year) and the Search Engine Land (Landy) Awards (Finalist in Best Local Search Marketing Initiative – SEO, and Best Overall SEO Initiative – Small Business) by becoming a finalist in 5 categories between the two award agencies. Now being ranked by Clutch as the Top SEO Service Provider in Colorado Springs.
This year's recognition is exciting and is a great way for us to ensure that the work we do for our clients, is among the quality of the best digital agencies in the country. We look for independent 3rd parties like Clutch in order to keep a pulse on how satisfied our customers are and maintain our quality of service to our "Best of Business" peers in an unbiased manner.
We joined Clutch over four years ago to ensure our Digital services compete with the best in the country, and globally because they report agencies accurately. Because there are many Digital Agency Ranking services that companies "pay for placement" it was important to us to align with one that "Top List" placement couldn't be bought and that offered companies looking for the best, the ability to find the best. Clutch's research methodology uses criteria such as clients, reviews marketing presence and experience to rank companies.
We are excited all the great results and hard work we've done for our clients has landed us at the top of Clutch as the "Best SEO Company in Colorado Springs"!