eCommerce SEO case studies can tell you if a digital marketing company meets the grade when it comes to success in SEO (Search Engine Optimization). We have worked with hundreds of eCommerce brands from large to small. SEO can be a small investment compared to the natural gains it can make.
eCommerce SEO Case Studies
Search Engine Land eCommerce Award-winning Case Study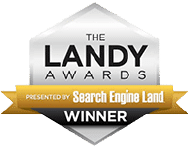 We are particularly proud of this award-winning case study. The website, in the health and wellness category, sells health supplements and is considered one of the toughest categories to rank in due to fierce competition. We put a huge emphasis on each aspect of the websites SEO, from content originality and  usefulness, to advance level technical SEO in order to jump start the brand from its past stagnation.
Multi-product Ecommerce SEO Case Study
Shoring up the design, user experience and SEO elements that were holding this website back from sales helped considerably within the core SEO strategy for this client. With many products, the challenge of unique descriptions was shored up in a matter of time, which led to a 48% revenue spike.
Niche Specialized eCommerce SEO Case Study
When this client started with us they had, prior, been hacked and had a lot of spammy pages indexed on the site as well as blog pages that were not being indexed.
Custom Knife Dealer eCommerce SEO Case Study
When the client came onboard in July 2019, after a site rebuild, they wanted to rank for keywords for particular specialty knife artist names. This case study involves long-tailed keyword components, research and improved UX (User experience).
Custom Shed Builder eCommerce SEO Case Study
This shed builder and manufacturer wanted to increase online sales for their eCommerce website. Check out the full case study below.