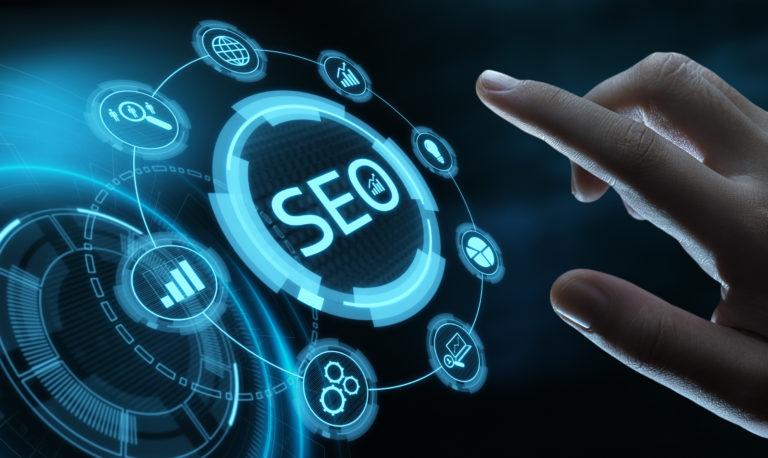 In business for over to 2 decades, Infront Webworks maintains an A+ rating with the Better Business Bureau, has over 100 Google reviews with a 4.9 star rating and offers SEO services that are acknowledged among the best in the country. Thier SEO department provides Search Engine Optimization (SEO) solutions that deliver Return on Investment (ROI). They are currently the only Colorado Digital Agency that is LSA Certified, and one of a handful that is a Google Certified Partner. They are ranked #1 SEO Agency in Denver and ranked Nationally in the Top Ten by multiple Agency rating services.
With their in-house team of Senior SEO Specialists they handle all areas and specialties of SEO, and have programs and solutions to fit every facet of an SEO strategy. SEO Services available include but are not limited to:
Analysis/Monitoring
Backlink analysis, Bing Webmaster Tools install, browser compatibility testing, competitive citation analysis, competitor keyword research, Google Analytics install, Google goal and funnel tracking configuration and set up, Google Tag Manager install (if determine applicable), Infront real time ranking and KPI reporting, keyword analysis and recommendations, keyword baseline reports, keyword mapping and blueprint, malware, virus and link injections website audit, mobility compatibility testing, Search Console (webmaster Tools) Install, website deep crawl.
Local SEO
54 mobile, local, GEO directory submission and management, branded map installation, citation submission and management, Google My Business Set up, Google My Business verification, local schema installation, monthly listing update to directory listings, NAP Set up, optimization and management, Yahoo, and Bing Map Installation.
Offsite SEO 
Conversion Tracking, goal tracking, Google branded page, Google manual action resolution management, heat map analysis, link building/Social bookmarking, search engine submissions, social signals, targeted directory submissions, toxic link disavow, video annotations, video optimization.
Onsite SEO 
301 Redirects, anchor text optimization, browser caching optimization, canonicalization strategy and implementation, content delivery Network CDN- Cloudflare, CSS minify, database caching, duplicate content assessment and resolution, error resolution (302,404, 500), H1-H2-content optimization, h-entr and h-atom creation and validation, image and text link "Title" optimization, image compression image optimization, interlinking, IP Canonicalization, Jscript compression, landing page creation and optimization, META Tag optimization, minor site content edits, mobile search optimization, monthly Press release distribution, Open graph assessment creation, and installation, page caching, product and category page optimization, redirect URL issues, trouble shooting and resolution, Robots.txt creation, and optimization, schema site analysis, creation and installation, semantic content strategy, site speed assessment, sitewide and subdomain optimization, social profile Schema, text/content optimization, Twitter card assessment, creation, and installation, video schema, W3 validation compliance and correction, XML Sitemap creation and installation.
When hiring a SEO Agency, company or expert SEO Consultant, experience, history, and ability are primary factors that dictate success and results. Infront Webworks has a rigorous process of selection for SEO team members that includes resume screening and reference checks confirming years of agency level SEO experience, an initial SEO manager interview, a comprehensive SEO test, a final interview with the Marketing & SEO Director and CEO to assess team compatibility and fit.
Currently the Infront Webworks SEO team consists of expert SEO's with collective experience of over 112 years of digital marketing, and SEO experience. They have attended some of the finest schools in the country including MIT, Stanford, Purdue, UCCS, Regis and have varying degree's including over 65 SEO and digital marketing certifications, multiple marketing degrees, digital marketing, an MBA, and more. They have varying areas of specialty including national organic search, local geo search, mobile search placement, Fortune 500 company SEO, Global SEO, Large E-Commerce, Telecommunications, the Automotive Industry, small business and of course top SEO placement for Colorado Springs businesses, to name a few.
As a group the team brings an amazing amount of business knowledge to their client base having owned 11 companies and partnered in an additional 4 including profitable sales of some of those companies equaling over seven figures collectively. The team has placed close to a thousand websites on the first page of google including literally tens of thousands of top keyword rankings in Google, Yahoo, Bing, and some of the more obscure older search engines like Lyco's, Looksmart, Alta Vista, Ask Jeeves, Overture, GO, DuckDuckGO and many more.
Press on the team includes a 6 page article in Entrepreneur magazine, CIO Magazine, N.Y Times, L.A. Times, Colorado Springs Business Journal, Colorado Springs Gazette, Mobile Marketing Association Newsletter,  Colorado Biz Magazine, SEMRush case study, 2017 Expert Predications for the Local Ecosystem by the Local ciation, Southside Business Journal, and The Importance of Mining Datasets by Marketing in the 21st Century.
Infront Webwork's SEO programs are predicated more on hours per month and desired amount of pages optimized because our expert team handles every aspect of your websites SEO. Once Key Performance Indicators are established our team implements the SEO elements that will most directly affect those KPI's. This way, you get the fastest results, you are not paying for a package that may consist of many services you don't need and may leave out many you do need. 
Infront Webworks only hires Senior Level SEO experts with a minimum of 5 years agency level experience (no interns will be working on your SEO), and do not outsource any of their SEO clients projects. Infront's SEO experts are in-house so they don't have to charge extra for advanced level SEO, it is included in your fully managed program. The team is fully transparent and they offer online dashboards to clients to gauge progress and monitor work between monthly meetings if they choose to do so.
Infront offers many SEO services and programs but the 3 most popular are;
Fully Managed SEO Package
With our Fully Managed package, you will receive all the support you will need to successfully increase your traffic, keyword rankings, and goal-based KPIs.
Collaborative SEO Package
Our Collaborative SEO Package is much like the Fully Managed package, but it offers fewer hours of work toward your account. This can be useful when you want eyes on your website but don't necessarily want a fully managed program.
SEO Tools Package
Our SEO Tools package is just that. We will manage SEO tools for you and report on important KPIs that you are working toward. We can also provide basic tips on improving your KPIs.
When all is said and done, the single biggest determining factor of an SEO team is "RESULTS"!
Infront Webworks has maintained an annual retention rate of over 90% for 4 years, for 2017 year to date showed average organic growth of over 524% per client, grown revenue in their SEO department over 938% (pacing 67% 2017 annual growth over previous ytd) in same period. All this has been possible by staying true to its win/win business model and ethics that put the customer's ROI before their own and by building a team that believes in the philosophy and has the expertise to deliver.
With the pace the SEO industry is growing, many companies have flocked to the market to gain their share of the revenue. Infront has kept their focus on SEO programs that deliver results and value, built in infrastructure that is focused more on SEO talent then sales talent, created a team environment that fosters continued education, accreditation and client results, and created a business model that is an absolute win/win for clients and the agency.