While Google may be the number one search engine in the world, it is always good to have checks and balances, and in SEO we are always aiming to have as much SERP (search engine result page) real estate as possible. For these reasons installing and monitoring Bing Webmaster Tool is a good idea and an SEO best practice.
Setting up Bing Webmaster Tools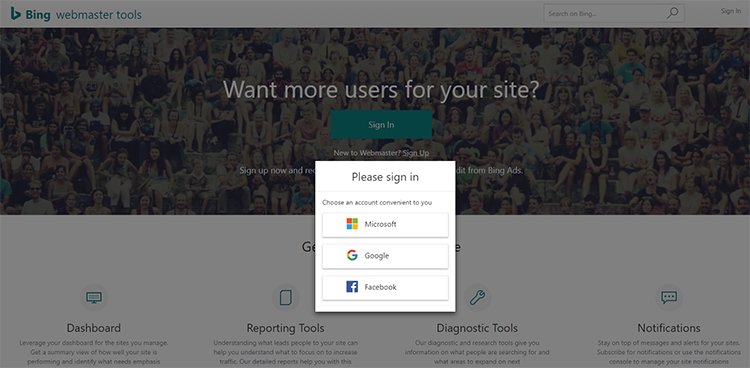 To begin, of course, visit Bing Webmaster Tools where you will need to either login or create a Windows account. Once logged in enter your website URL into the "Add A Site" area (you can add up to 1,000 websites to Bing Webmaster Tools, per account). Next, you'll be prompted to add more data about your website – such as your sitemap URL, and what time of day your website receives the most traffic. You'll then have questions to fill out about yourself and your industry. Next, you will be prompted to verify ownership of your site (just as you do with Google Search Console) – this can be done through a download and upload a BingSiteAuth.xml XML file, copying and pasting a meta tag with an authentication code into your site homepage, or through adding a CNAME record to your DNS file.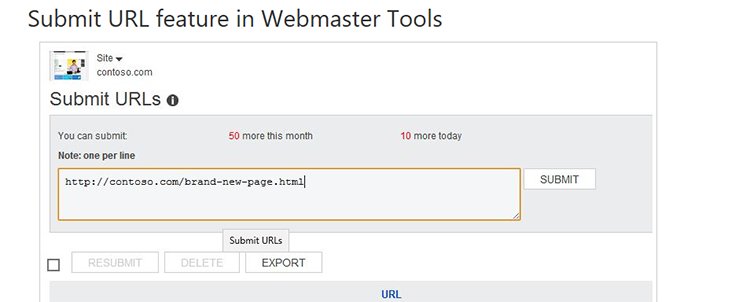 Next, you'll want to submit your URLs for indexing, unfortunately Bing only allows the submission of 10 URLs per day and 50 per month, so this may take some time. Then you'll want to move on to setting crawl controls, at the point you tell Bing how often you want its bots to crawl your website and when, so as not to bog down your site during "prime time". You can even tell Bing which URLs to index and which URLs NOT to index as well as which to block.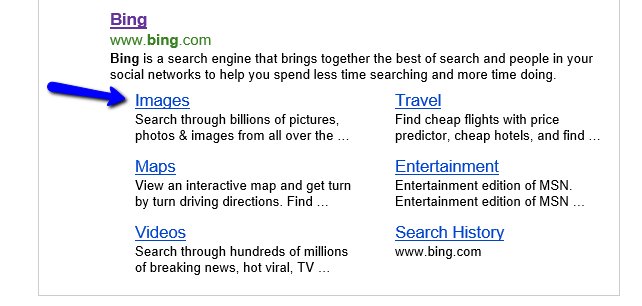 For SEO and SERP representation it's important to also set up "deep links" in Webmaster Tools, this feature is similar to Google's site links which specify which links to "call out" under a search result, these could also autogenerate based on Bing's indexing. Followed by that, you'll want to add what Bing calls "connected pages" these refer to your social media sites such as Facebook, YouTube, etcetera. If applicable, you'll also want to set up your website's geo-target (this is helpful for location-based businesses especially). Bing allows users to do this at the individual page level to target content as much as necessary – a feature I sincerely wish Google would add!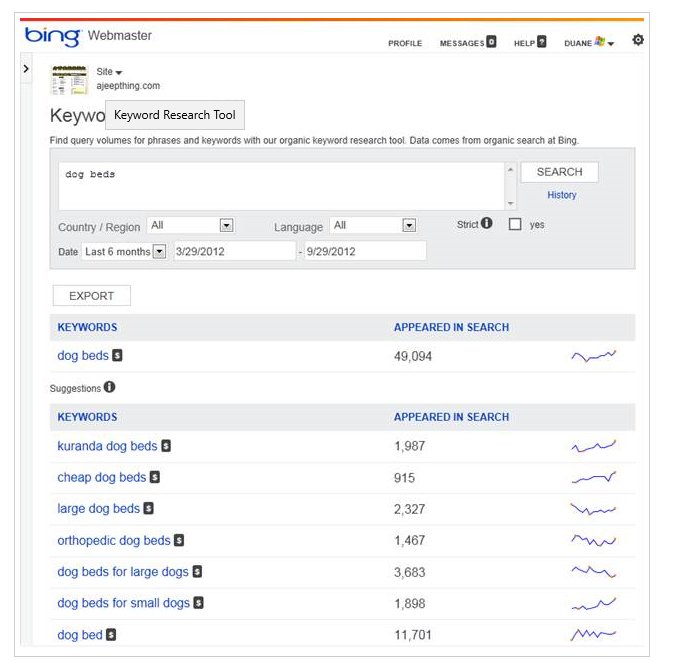 Next, you should add schema, link your app if applicable (Windows only) and finally, set up reporting for continual monitoring. Of course, just like Search Console, Bing provides a disavow option that you can use, but we caution to only use this feature if you know how – you can damage your site if used incorrectly. Bing also provides a similar keyword research tool, and fetch tool as we're used to in Google Search Console.
It's worth noting that, although a huge Google fan, I must admit "Bing's webmaster help & how-to" section blows Google's away, it's straight forward, intuitive, and very helpful. If you get stuck drop by and they pretty much have a complete step by step walkthrough for everything!
The Case for Bing Webmaster Tools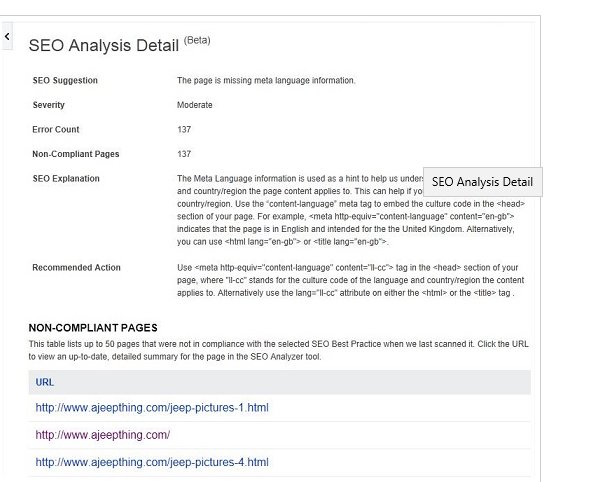 Unlike Google, Bing provides nice detailed options for websites and SEO professionals. One such tool is the SEO analyzer, this tool gives data on a page level, much like Moz's old Page Grader tool. Bing runs a scan on the page and reports suggested areas of improvement. Google only really provides a sitewide synopsis. Bing also offers a Malware detection tool that searches to detect malware on your website and if any of your pages are linking off to malware. Bing even provides an SEO report, this report refers to the overall SEO of the website, but still provides actionable insights for you to review and fix!
When it comes to SEO, Bing Webmaster tools actually provide a much more robust and SEO friendly platform than Search Console. However, Bing has such a smaller user audience than Google, that it is nearly impossible to make the case for an SEO webmaster overhaul. Instead, we suggest complying with the rules of SEO and focusing on Google but continuing to use both tools to gain as much insight about our sites, our users, and SEO as we can and always look to improve. While Bing's Webmaster Tool may currently offer more user insight, Google is always looking towards the horizon on ways to improve and change to better accommodate users and provide a more transparent search experience.