Hiring SEO Experts
When hiring a company or expert SEO Consultant, the experience is one of the primary factors that dictate success and results. SEO is ever-changing and SEO's learn from every search algorithm change, every possible scenario they run into, and from every keyword, they achieve number 1 placement for. When you're working with an SEO, you need a team, consultant or company that can easily assess, strategize, implement, and report results fast and effectively. Experience, history, and the ability for an SEO to see around potential corners are the biggest factors and indicators of potential success.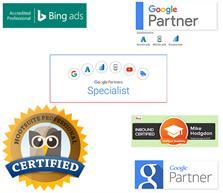 At Infront Webworks the Colorado Springs SEO team is a Google Certified Partner, Google Trusted Local Business Verifier, owner of the Colorado Springs Google Guides Community, A+ rated by the Better Business Bureau, winner of multiple National and Local SEO Agency Awards, and is comprised of top SEO experts from around the country. Infront Webworks has a rigorous process of selection for SEO team members that includes resume screening and reference checks confirming years of agency-level SEO experience, an initial SEO manager interview, a comprehensive SEO test, a final interview with the Marketing & SEO Director and CEO to assess team compatibility and fit.
Currently, the Infront Webworks team consists of expert SEOs with a collective experience of over 97 years of digital marketing, and SEO experience. They have attended some of the finest schools in the country including MIT, Stanford, Purdue, Cornell, UCCS, Regis and have varying degrees including multiple marketing degrees, digital marketing, an MBA, and more. They have varying areas of specialty including national organic search, local geo search, mobile search placement, Fortune 500 company SEO, Global SEO, Large E-Commerce, Telecommunications, the Automotive Industry, small business and of course top SEO placement for Colorado Springs businesses, to name a few.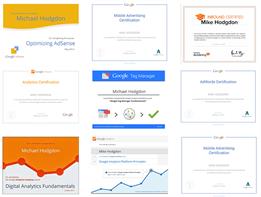 Collectively our SEO team has 59 trade certifications including Google, digital marketing and related certifications including Google Analytics, Google Display Advertising, Google Mobile Advertising, Google Search Advertising, Google Shopping Advertising, Google Video Advertising, Yext Certified Professional, Tackling the Challenges of Big Data (MIT) Technology Entrepreneurship, HTML5 with JavaScript & CSS3 Specialist, Advanced Social Media, and Hubspot Inbound Certification.
As a group the team brings an amazing amount of business knowledge to their client base having owned 11 companies and partnered in an additional 4 including profitable sales of some of those companies equaling over seven figures collectively.
Through the course of their careers, in virtually every type of business imaginable, the team has placed close to a thousand websites on the first page of google including literally tens of thousands of top keyword rankings in Google, Yahoo, Bing, and some of the more obscure older search engines like Lyco's, Looksmart, Alta Vista, Ask Jeeves, Overture, GO, DuckDuckGO and many more.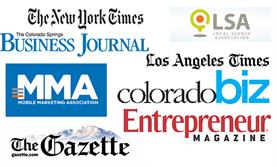 Press on the team includes a 6-page article in Entrepreneur magazine, N.Y Times, L.A. Times, Colorado Springs Business Journal, Colorado Springs Gazette, Mobile Marketing Association Newsletter,  Colorado Biz Magazine, SEMRush case study, 2017 Expert Predictions for the Local Ecosystem by the Local Search Association, Southside Business Journal, and The Importance of Mining Datasets by Marketing in the 21st Century.
Our SEO Process
As with "experience" the company SEO team process, and strategy are equally as important as the SEO specialist's strategy, and skillset.
Expertise and experience are key to having an SEO consultant or team that can "audit your website and analytics, audit the competitive landscape, assess your quickest paths to a Return on investment (ROI), and implement an ongoing strategy to that end." In order to really benefit from an expert SEO team, it is imperative that the company has a process that optimizes the team's expertise and allows the team the latitude to implement an effective SEO strategy.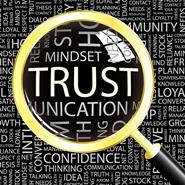 The foundation of all the work our team does is based on 4 primary key principles "trust, transparency, results, and communication". When you hire the Infront Webworks team, it all starts with a strategy meeting. Collectively the group meets to strategize the absolute most definitive SEO Strategy for your website.
Your website is opened on a tab of a browser along with competitor search results and pulled up on a monitor in our conference room then collectively the team starts breaking down opportunities based on your site's current ranking and maturity. Team members start analyzing code on your website for easy SERP (search engine results page) wins and discussing with other team members experience with websites they have placed in the same or similar markets.
It doesn't take long for someone on the team to volunteer to "take the lead SEO Specialist" role on your account. Although this person becomes your primary point of contact and will handle a bulk of the work and communication for your account, they also are able to assign other experts on the team aspects of your SEO that maybe their specialty. The beauty of this process is that when you hire Infront Webworks for your SEO project, you are not getting an expert SEO Specialist, you are getting a team of SEO Experts.
After breaking the strategy meeting you receive a welcome email within 1 business day and our team starts an exhaustive audit of your current website, its rankings and past analytics and search console statistics. Your online dashboards are created to ensure the work we do is measurable, transparent, and that you have access to statistics that gauge or success 24/7.
A strategy is set and a keyword portfolio is started. From that point on our process is a simple one, we strategize, implement analyze, and report. No magic, no smoke, and mirrors, no magic SEO potion just expert level SEO's who love the work they do and make it their mission to get you results!
Meet some of Infront Webworks SEO Experts

Mike Hodgdon (Cheif Operations Officer)
Having spent the bulk of his life in Southern California, Mike moved to Colorado Springs in 2006. Mike has 20+ years of demonstrated success running SEO and internet companies, with expertise in SEO (Search Engine Optimization), Local SEO, online advertising media, Google My Business Listings/verification, website design and development, advertising and eCommerce.
Through the years he has owned or partnered in 4 companies all resulting in positive acquisition outcomes. He's been featured in Entrepreneur Magazine, NY Times, L.A. Times and C.S. Business Journal, SEMRush, and Mobile marketing Association case studies.

Mike Tortorice (SEO and Digital Marketing Director)
Mike comes to Infront Webworks by way of Madison, Wisconsin. He is currently the SEO and Digital Marketing Director at Infront Webworks.  He has been in the field of search engine optimization, marketing, and web design for 21 years. Working primarily with small businesses up to national software companies, Mike has had his hand in many industries and has gained valuable experience over the years.
Analyzing and implementing thousands of digital strategies over the years has given him a leg up in the SEO world through experience and testing. This gives his clients leverage in any format and yields solid rankings through his insights and knowledge of SEO and marketing.
During his downtime, he enjoys skiing, photography, and hanging out with his family.
Some proud moments include ranking #1 for the keyword "flowers" in Downtown Chicago, Top positions in towing software nationally, along with many first page rankings for vision care providers, restaurants, plumbers and many more local businesses.

Stephanie Hooper (SEO and Digital Marketing Manager)
Stephanie came to Infront Webworks from Chicago, Illinois. She is our SEO and Digital Marketing Manager at Infront Webworks. She has been in digital marketing, web development, and SEO industry for over nineteen years.  She has worked as a Director of Digital Marketing, SEO Specialist and Web Developer for small local businesses to Fortune 500 companies in a diverse range of industries including telecommunications, automotive, environmental, healthcare, nonprofit, construction, and IT.
She develops SEO strategies that create top-ranking organic search listings, driving traffic that converts target audience visitors to leads, customers, and sales. As a Google analytics' expert, she develops solution-oriented insights throughout diverse industries that drive traffic growth.
Born in Germany into a military family, Stephanie also lived in places like Massachusetts, Arizona, Oklahoma, Illinois, and Colorado.  When she is not working, she is spending time with her family, traveling, fishing, hiking, geocaching, watching ball games or cooking.  Steph is an avid reader, serious foodie and perpetual student of digital innovation.
Save
Save
Save
Save
Save
Save
Save
Save
Save
Save
Save
Save
Save
Save