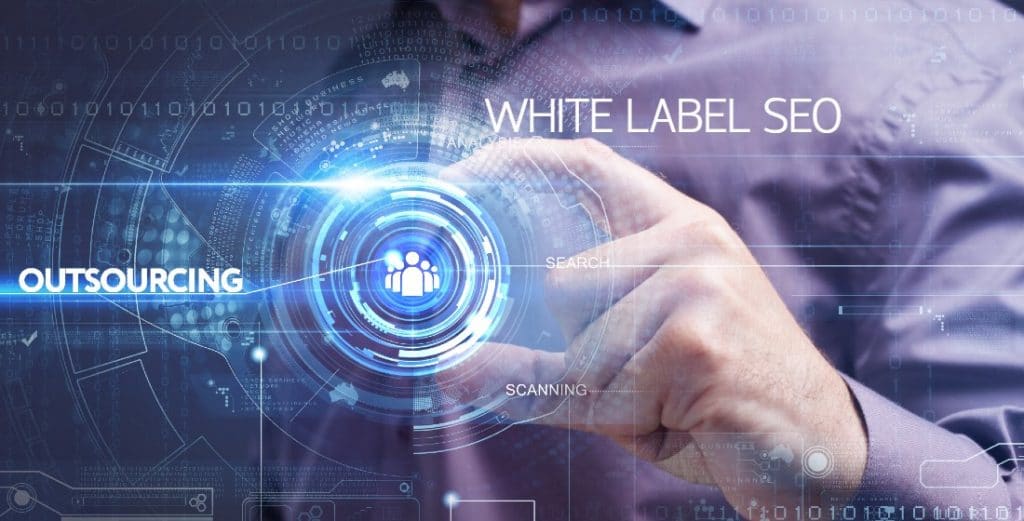 Everything you need to know about white label SEO. 
The world of SEO agencies is a non-stop grind. You've gathered all these clients, and now they're all expecting to see results. But there's a problem. 
Where does the time and effort come from? Signing up new clients takes time and resources, but what about those existing ones? You don't want to lose them by not giving them enough attention or understanding their needs fully.
If you have too much on your plate, outsourcing is the answer. You can still provide top-notch SEO services while taking advantage of an expert SEO agency's expertise, team, and tools.
We will explore everything you need to know about our White Label SEO services and help you see if it's the right fit for you.
Let's break it down. White Label SEO is a combination of two concepts – white-label or private labeling and SEO. White labeling simply means offering services under your brand that another company produces. 
In our case, we handle all the SEO work you can't find time for, allowing you to outsource the work needed to grow your business.
Essentially, it is outsourcing your SEO work. You keep the clients you have but let us handle all of their SEO needs. The White Label service provider covers everything from keyword research to posting content across social media channels.
You'll still be getting full reports on how you're ranking and can offer this information to new prospects as an example of your work. You'll also have access to our proprietary SEO tools, which will help you grow your business even further.
Think of it as having a ghostwriter – they write for you, but the experience and learning are yours.
Who Needs White Label SEO?
Our most popular partnerships are made with other agencies that have too much work to handle. We also see a rise in people using this as a business model. 
Traditionally, white labeling was reserved for physical products. For example, a Chinese factory would produce a product that other companies would label with their brand and sell.
White labeling is now being used in the digital world to help entrepreneurs grow their businesses without doing all of the work themselves. 
You can start a white label SEO business without your own website and grow it into a large agency. All the while, you'll have a consistent source of revenue – our ongoing fees plus your markup.
We encourage you to be creative with how you use White Label SEO services. If you're a consultant looking for a consistent stream of projects or even someone who wants to offer great content marketing, you can use white Label SEO to meet your needs.
As this is a relatively new field, the only limit is your imagination.
Benefits Of Using White Label SEO
The main benefit is that you're freed to do what you do best – manage your clients and grow relationships with them. 
Without the stress of producing reports or posting content across multiple networks, you'll have more time for other aspects of your business.
Another big advantage is that it offers access to our years of knowledge and experience. We've been working in SEO for more than two decades, giving us all the expertise we need to deliver outstanding results. 
We also have an excellent team of talented writers who can work around your schedule to produce quality content. Our team has worked with clients all over the world, so you'll have no language barriers either!
Being an entrepreneur, you know the importance of working with talented experts in their fields. That's what you're getting with our White Label SEO service. 
You also have a world-class information system that will speed up your marketing workflows. Our SEO tools let you do everything from keywording to online research in just a few clicks.
What You Should Look for In a White Label SEO Partner
White labeling is usually a long-term endeavor, so you want to make sure you pick your partners wisely. You'll be pouring a lot of time and money into this relationship, so it's important to choose the best company for your project. Here are some things you should look out for in a potential partner:
Experience is always the number one thing we think about when choosing our partners. You want to work with people who consistently produce quality results and have done so for years.
Our company has decades of experience in SEO, content marketing, social media management, and more. We also only hire the most talented people passionate about their work, which keeps us growing year after year.
A markup that doesn't eat into your margin is essential when choosing a White Label SEO service. In terms of long-term relationships, you'll want to make sure your markup is flexible and can be changed in the future when needed.
If you choose a company that doesn't have experience or a strong track record in White Label SEO, it might seem like a good idea at the time, but in the end, it can fail miserably.
The relationship between you and your outsourced company is the most important part of White Label SEO. Without communication, it's impossible to meet company goals or deliverables on time.
Choose a potential partner that will be completely open with you about how things are going at every stage of the project.
You should also make sure your outsourcing agency has your best interests at heart. They should be willing to work with you on payment terms, deliverables, or anything else that might arise during the course of your relationship.
Punctuality, the ability to turn in quality work on time, good ethics, and trustworthiness are characteristics of a White Label SEO company that takes professionalism seriously.
If you're looking for cheap solutions at the cost of quality, this isn't the right choice.
Working with an agency on time and not getting bogged down by every problem is essential to a successful, long-term relationship.
A good, outsourced company will also be there for you during the entire process – before, during, and after any major project.
This way, you'll have someone to call whenever you have questions or concerns rather than having to try and figure it out on your own. White Label SEO is not something you should be doing alone.
A good White Label SEO partner should also be available when you need them. You might not always have time to chat or respond to emails, but your agency should be ready and willing to answer questions anytime you need them.
They should take the initiative and contact you frequently too, showing that they care about your company's goals and needs.
Infront is the best choice for any company looking for a White Label SEO partner. We've been around for two decades, and we know what it takes to get results.
Even if you're running on a limited budget, we can still help drive more revenue and conversions through your website and social media channels.
Our White Label SEO company is the best choice for your business because we've done it all before. We know what works and what doesn't, which reduces the risk of any project failure.
Experience also lets us take on difficult tasks with less risk, leading to better results for you. That's why we're the top pick for any company looking to expand its reach in the online space.
Contact Infront today for more information about how our White Label SEO company can benefit your business.