Conversion Rate Optimization or CRO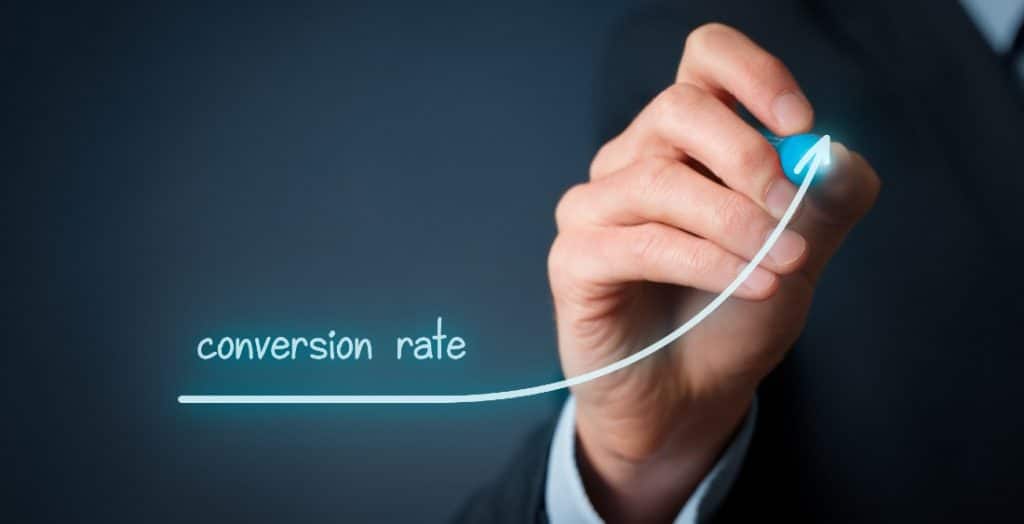 Infront Webworks offers industry-leading conversion rate optimization services, developed through decades of experience. The Infront team has increased conversion rates for hundreds of websites, working on home, landing, product, and category pages, as well as checkout processes.
The team offers a unique set of services, including industry-leading mobile CRO, and strategies that have proven to quickly increase conversion.
Digital marketers use Google Analytics to assess how well their websites are performing.
It gives us vital data about how many people are visiting your website, as well as where they are and their demographic information.
This information is incredibly valuable for CRO services.
During our first conversion rate optimization analysis, our team will determine the best way to maximize your impact online by analyzing your GA reports and assessing where your website needs to improve.
We'll provide insight into who's interested in your brand by looking through your Audience report. This will give us information about the interests, demographics, and behavior patterns of the people who visit your website most often.
Then, we'll check your Behavior report. This gives us information about the most popular pages on your website.
You can then build on your success by producing more of the content that turns visitors into customers.
Next, our team will use the Conversions section of GA to develop goals. We'll use this to improve your conversion rate by split testing different landing pages and calls to action.
As soon as we have goals established, we'll make sure your landing pages and funnels are converting on every device.
We'll also have a look at your exit pages and the pages with the highest bounce rate. This will let you know what isn't working, so you can focus on the strategies that are.
2. Desktop Conversion Rate Optimization Audit
Many people still use a desktop or laptop computer to surf the web. To help you reach as many people as possible, our team will do a full CRO review of your website to ensure it's optimized for desktop traffic.
We will:
Make recommendations about your images, copy, and calls to action, and designs.
Review the GA in-page analytics report and reorganize your pages.
Recommend conversion rate tests.
3. Mobile Conversion Rate Optimization Audit
Right now, if you don't optimize for a mobile audience, you will lose market share. The Infront Webworks mobile CRO service is incredibly sought-after because of this.
Globally, more than half of all Google searches are conducted using a mobile device. There are also people worldwide using smartphones and tablets than desktop computers.
You therefore cannot ignore customers who visit your site using a mobile device.
Your reach is further limited if your site is hostile to users, or slow. This lowers both your mobile and desktop ranks.
We'll review your Google Analytics mobile reports to make sure that bad design, a slow site, and poor messaging aren't costing you customers.
Our team will also use Google tools to make sure your site is fast and user-friendly, further helping you reach mobile users. If either of these is a problem, we'll provide you with actionable steps to solve it.
Once we've completed our full set of CRO services, you'll have 20 pages of website analysis, increasing your conversion rates.
4. Funnel and Checkout Process Review
The purpose of digital marketing is to bring people into the sales funnel and then lead them through it, resulting in sales. We can also help you with that.
To start, our team will review how well you're reaching your target market. We'll provide you with options to both improve your brand awareness and give you the best return on your investment.
We'll also look at which landing pages convert the most visitors into customers once they reach your site.
We'll find the trends and focus on your most successful strategies.
Our team will also provide you with an assessment of your checkout process, helping you develop a plan to reduce shopping cart abandonment.
To make sure your site is optimized for all users, we'll analyze both the desktop and mobile versions, so you get the most thorough information possible.
Funnel analysis is a very important conversion rate optimization service.
5. Ongoing Conversion Support
Even the best marketing campaigns require constant review. This is also true of CRO services.
To make sure your strategy is always working, we'll provide monthly audits of your conversion metrics. We'll figure out what works and give you recommendations on increasing your sales.
We'll also help you keep your website up to date with the latest trends in online marketing, so you can stay ahead of your competition.
We never want you to settle. By split-testing alternatives, we will keep uncovering strategies to further improve your conversion rate.
And we keep looking for ways to improve your website with call-to-action alternatives, new layouts, different color schemes, and other adjustments that will increase your income.
6. Split Testing or Multivariate Testing
In marketing, it's important to test alternatives, so you can find the best option available.
With advancements in marketing technology, performing split, or "A/B" tests, is easy. Using this strategy, half of your visitors are shown one version of your website, while the other half is shown another.
Then, digital marketers assess which version has the highest conversion rate through analytics tools (such as Google Analytics). You ultimately use whichever marketing strategy had the higher conversion rate.
We'll conduct split tests by evaluating different options for anything that could affect your conversion rate, including:
Landing page design
Call to action text
Call to action placement
Call to action color
Copywriting
But- we're never done! Our team runs split tests constantly to help our clients determine the mix of text and design that maximizes their sales.
7. Landing Page and Site Review
Appealing to your target market is a key element of CRO. We can help you find the right design to do just that.
We know that customers are always asking: "What's in it for me?" So, we start by making sure each of your landing pages answers this question.
Next, we'll look at the design of your landing pages. Our team will provide suggestions on every detail from the color scheme to font sizes, helping you maximize conversions.
We'll also look at the other pages on your site. We'll make sure they're user-friendly for your visitors.
We also know it's essential to manage your brand. We'll suggest a site design and layout that reflects your brand identity, leaving your visitors with the best impression possible.
Finally, our team will also create visitor models based on brand personas. Then, we'll use those models to develop a website aesthetic that's in line with your overall marketing strategy.