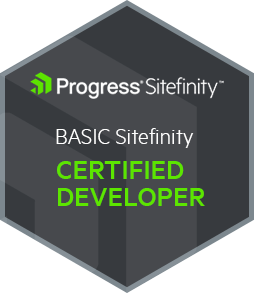 Sitefinity is THE content management and digital marketing platform.  Grow your business online by engaging, converting and retaining your customers.
Content Management – Sitefinity CMS provides one of the richest .NET ecommerce ready, "drag & drop" content management systems on the market today. Its strength as a content management system allows website contributors to easily manage website content, build website forms and is naturally SEO friendly.
Since "content is king" on the web, giving you control over your website's content is critical to ensuring the relevance and findability for your website. Combining the Sitefinity technology with the best design and programming available, we can create great opportunities for your online success!
Personalized Customer Experiences – Increase your visitor user engagement and closure rates with the experience management features in Sitefinity. Personalize content by segmenting users with factors like location, mobile device or even Facebook to create a more personalized user experience. Monitor your effectiveness by setting key performance indicators (KPI's), which allow you to track your personalization techniques.
Mobile & Tablet – For the mobile user, Sitefinity CMS has a full set of tools to empower your mobile visitors. Sitefinity's built-in responsive engine and mobile friendly navigation adapts pages for any mobile device platform as well as providing previews of your pages on the most popular mobile devices and tablets.
Email Marketing – Import your existing lists and easily design your own email campaigns with Sitefinity's built in email newsletter management. "Drag and Drop" tools help you assemble professional looking email campaigns utilizing templates, existing logos and images you use in other areas of your site already. Schedule and create more personalized emails for your customers by having the system include data about your subscribers (like their name) in your emails. With built in A/B testing, Sitefinity makes tweaking your email campaign effectiveness a breeze by providing extensive reporting on your campaigns and user interaction.
Social Media – Increase your website conversions with built in Facebook and other social media login integration. Syndicate your content with Sitefinity's social media features, which allow you to push your content to blogs, news, events, RSS, Atom Syndication or automatically publish to Twitter.
Forums & Community – Increase your brand loyalty and community with Sitefinity's built in, moderated discussion forums. Website visitors can easily interact with your company ambassadors through the interactive discussion board with email notifications to keep discussion momentum moving. You can also promote events with the Promotional Events module. Quickly create events and accept online payment directly from your website. Sitefinity also has a Comment feature that allows you to create an interactive area of your site, wherever you choose.
Google Analytics & API Integration – The best way to increase user interaction and experience is to have the data you need in the format you need it in. Using Sitefinity's Contextual Web Analytics and Advanced Customer Analytics, you can optimize user experience with ease. Contextual Analytics has built in dashboards, giving your website contributors immediate insight on their content's performance and level of engagement. This allows your team to modify their content quickly and easily to deliver the best experience for your website visitors.
Sitefinity's web analytics is tightly integrated with Google Analytics, providing a unified reporting of Google Analytics as it pertains to your site's content. The module retrieves data directly from your Google Analytics account, allowing data integration & consolidation, analytics & reporting, and data activation. Sitefinity also offers a powerful and fully exposed API to meet your most challenging enterprise needs.