Local Search is widely known as "Google My Business (GMB) and Bing Places" search rankings, but is actually much more than just those "pins" you see in search results. There is actually potential for you to have multiple listings on page 1 in search results. Infront Webwork's team of local SEO experts specialize in not only getting your company's "pin on the map" but also in the organic local geo results.
Some interesting facts about smartphone, tablet and desktop searches for local businesses:
61% of local searches result in a purchase
59% of consumers use Google every month to find a reputable, local business
50% of mobile users visit a store within a day after conducting a local search
34% of consumers on tablets or computers will go to a store within a day of conducting a local search
More than 60% of consumers have used location information in ads. They say it's important to have store address nd phone number in ads on computers/tablets, and directions and the call button in ads on smartphones
70% of smartphone users think a call button is important and 77% of tablet users think a call button is important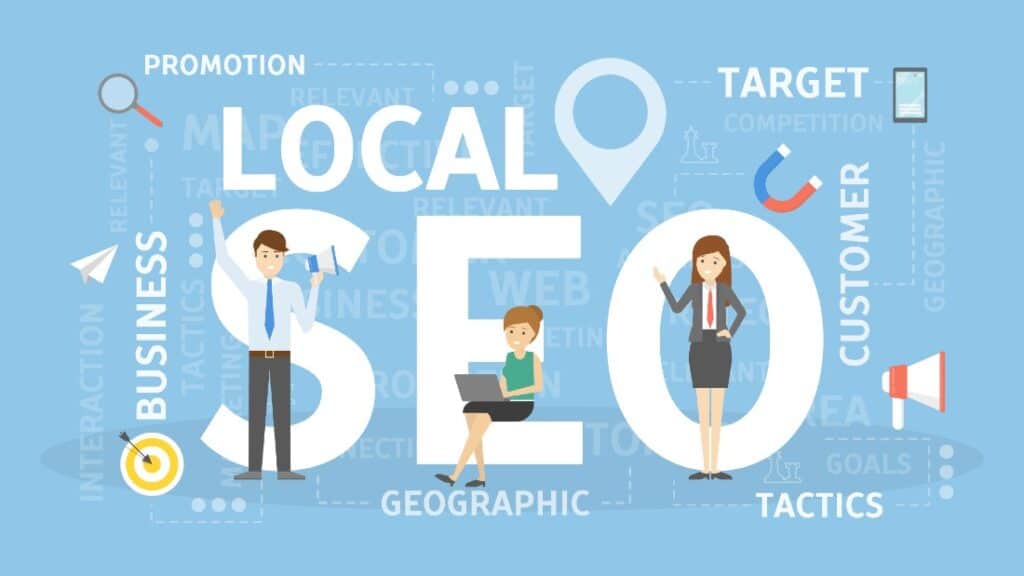 Local SEO Ranking Factors
Ranking factors for local organic search do differ from local stack search results and further by other listing types. Not all SEO Agencies specialize in local search but our award winning team of local SEO experts has been a certified Google local partner since the program was launched. We were the first Agency in the state of Colorado to become a certified Google Trusted Verifier (ability to instantly verify most listings) and have continued our partner status through Googles change from "Google Local to Google Grow".
SEO Basics - What is Local SEO
Local SEO is optimizing a website to incrase traffic, leads and brand awareness from local search. The most common tasks associated with this include finding local keywords, optimizing your Google My Business profile and building NAP citations or Name Address and Phone number citations with links back to your business.  All NAP needs to be exactly the same or your business will drop in rankings.  So if you use suite 1800 in one listing and #1800 in another you will end up with poor results. 
Local SEO is so important for a local business. Your business needs to show up in local search results. 
Your Business name address phone number along local search terms for your product or service should be showing up instead of your competition.
46% of all searches in Google have a "local Intent."
Localized Organic vs Local Stack
Localized Organic:
29% Link signals
24% On page signals
11% Behavioral Signals
9% Personalization
 8% Citation Signals
 7% Business signals
7% Review Signals
4% Social Signals
Local Stack:
19% My Business signals
17% Link Signals
14% On page signals
13% Citation signals
13% Review signals
10% Behavoir Signals
10% Personlization
4% Socail Signals

Over time these factors are consistently evolving and change the local SEO strategy needed to get the best possible keyword placement. But comparing the two types of local listing factors you can see that search ranking does vary by listing type. 
Local SEO Agencies focused on client search rankings have to implement a local SEO strategy that factors the variables and approach for the best possible outcome. Our award winning team are experts at local Search.
In business, for more than 20 years the Infront Webworks team of SEO experts are exactly that, experts! The team has some of the most prestigious awards, certifications, and in the industry, including;
Global Marketing Awards Winner
Winner of the "US Search Award"- Local SEO
Winner of the "Landy Award"- Best Overall SEO Initiative- Small Business
Google Certified with over 69 Google certifications,
6 time Colorado Springs Business Journal Best in Business winner
A+ rating with the Better Business Bureau
Over 150 Google 5 star Google reviews
 Only SEO Agency in Colorado that is LSA Certified
Infront's SEO team treats clients professionally, communicates diligently, and delivers solid, tangible results!
Our Search engine optimization expert team is part of the only Digital Marketing Agency in Colorado that is LSA Certified, ranked #1 in Denver SEO, and top 10 in the nation for Digital Marketing Agencies (rated by independent 3rd party agency ranking services Clutch and Top Agency). When you work with the SEO consultants at Infront Webworks, you are working with an SEO team of seasoned professionals with over a century of combined SEO experience.
Google My Business, Search Console, and Google Analytics offer great insight into how our SEO work is impacting your website's search engine placement, but to really understand the competitive landscape, SERP placement opportunities, and to identify the factors that will impact your placement the quickest, SEO experts require more.
Google My Business, Search Console, and Google Analytics offer great insight into how our SEO work is impacting your website's search engine placement, but to really understand the competitive landscape, SERP placement opportunities, and to identify the factors that will impact your placement the quickest, SEO experts require more.
With Infront Webwork's Local Search Engine Optimization Programs, we provide real-time dashboards that track your website's goals and Key Performance Indicators (KPI's), granular level SEO metrics, and complete listings of all the websites we list and place you on. 
Keyword reporting covers all the types of search engine results page listings, including; Organic Listing, Local Search, Google News, Image Listings, Local Stack Listings, Marked Up Listings, Social Media Listings, Standard Listings, Video Listings, etc. 
There is never a need to wait for your monthly meeting to find out exactly how things are going with your placement because our real-time SEO dashboards are available online all the time.
We keep you completely involved in the process, the SEO consultants meet with you monthly. Your SEO specialist will review work done and the previous month's performance, the plan for SEO in the coming month, and answer any questions you may have. 
If you are a local business that wants to show up in the map pack in search engines, then you need to contact Infront Webworks. We are the SEO Guide to local SEO.
Location specific SEO programs
Local SEO can offer nuances based on location and hiring local SEO experts that specialize in the region you are targeting, can be beneficial. Local SEO experts that have had definitive success ranking websites in your area have databases of websites to build your local citations, they use the latest tools for NAP consistency, have resources for relevant backlinks, expert knowledge of schema, and understand the technical SEO regarding mobile friendliness and page speed. 
Our team offers all this and more.
Our team can rank websites on local throughout the country. For region specific programs, please see links located below or contact us today for local SEO specialty programs offered in your area. 
Local SEO tools can help you engage with your audience and improve the way they find your business. Utilizing Local Search Engine Optimization (SEO) software to improve your Google My Business and organic local pages are excellent opportunities for local businesses to increase visibility in a highly competitive field. 
As one would expect from any good marketing company worth its salt, using these tools provides real-time data that show both rankings as well as insights into competitors' performance through keyword tracking and customer engagement analytics. Read about the ultimate guide to Entity SEO.
Claim your business listings in Google and Bing.
Add location pages to your site. These can be regular pages or landing pages.
Do keyword research to find the best local keywords to target.
Improve your NAP consistency.
Get good customer reviews on Google My Business and Facebook.
Create local content and blog posts about the products or services you provide in your local area. 
Use the location name in a blog post or page title and meta description.
Add Schema Markup to your pages to show where your company is located.
Do a Google search and find out what your competition is doing that you aren't.
Improve your business description in GMB and include keywords your want to rank for in that description. This will help you show up in the local pack on Google maps.
Local SEO results at competitive rates
Although you can find less expensive local SEO programs, we have extremely competitive rates for expert-level SEO from a team of veteran professionals, starting at $850 monthly. The local SEO packages include your organic ranking SEO and do not limit the number of keywords we optimize.
When you factor in return on investment from effective local SEO, the investment in our services is an excellent marketing investment for your business. Contact us today and we will run a preliminary audit of your website and provide a free consultation and quote. Make sure to read Holistic SEO: Why Technical SEO isn't enough.