Small Business SEO offering Affordable SEO services
Infront Webwork's Small Business SEO packages offer virtually the same range of services as the fully managed SEO programs but with fewer monthly hours to work on your account. 
This is useful when you want top ranking in a market that may not be as competitive as others, top search placement is not time sensitive, or you just want an expert SEO consultant on your website without the bigger price tag of a fully managed package. 
More commonly, this program is designed for Fully Managed small businesses who have achieved the desired first-page placement and want to continue to add less competitive keywords (long tail keywords) to page one, fine-tune placement, conversion rates, and usability. 
For clients who have in-house website designers, and/or an SEO team that would benefit from consulting and/or advanced search engine optimization training, this is another excellent option.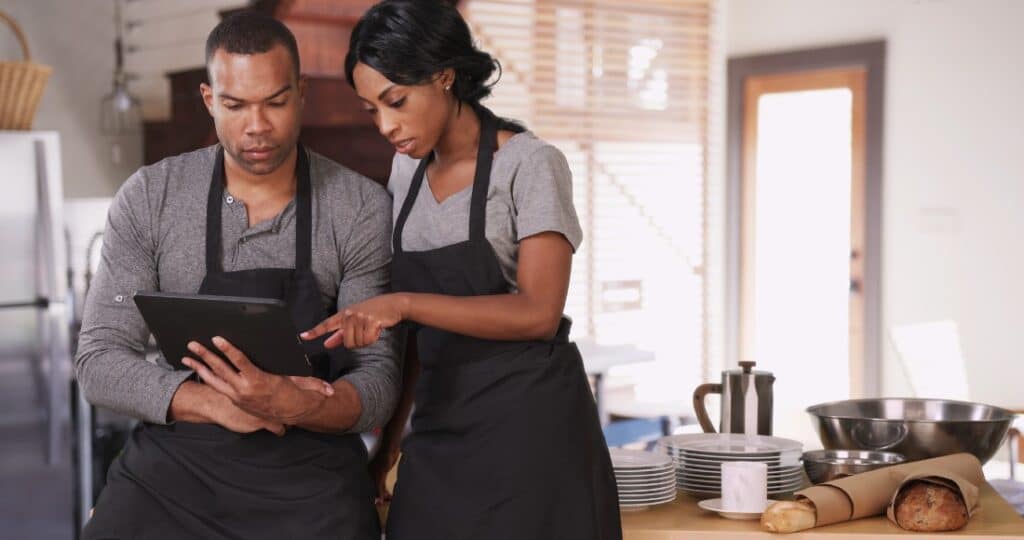 Small Business SEO packages
Each website has very specific needs, based on website maturity, current placement in the search engines, business goals, website goals, and current status with competitors. 
Our team of SEO experts audit your website, perform a keyword portfolio, and set KPI's to your small business needs. No two company's have an identical strategy because no two websites are exactly the same. 
To be the best SEO company for small businesses, we don't subscribe to "assembly line SEO" and we do the work that will provide your company the fastest results in the shortest time! Our SEO consultants know the best SEO for your small businesses is the local SEO that provides a Return on Investment (ROI).
Even our affordable small business SEO packages include advanced SEO techniques, including;
Site-wide onsite optimization
Site-wide onsite optimization including keyword research and keyword optimization, meta tags, schema, authorship, rich snippets, H1 optimization, canonical and 301 redirects when necessary, Google Analytics and Webmaster Tools setup and installation, content evaluation, crawler accessibility, user interface evaluation, social media integration, multi-device compatibility recommendations, and multiple real-time dashboards for SEO reporting.
Backlink analysis, Bing Webmaster Tools install, browser compatibility testing, competitive citation analysis, competitor keyword research, Google Analytics install, Google goal and funnel tracking configuration and set up, Google Tag Manager install (if determine applicably), Infront real-time ranking in search results, and KPI reporting, keyword analysis and recommendations, keyword baseline reports, keyword mapping and blueprint, malware, virus, and link injections website audit, mobility compatibility testing, Search Console (Webmaster Tools) Install website deep crawl.
Local SEO includes mobile, local, GEO directory submission and management, branded map installation, citation submission and management, Google My Business set up and verification, local schema installation, monthly listing update to directory listings, NAP Set up, optimization, and management, Yahoo, and Bing Map Installation.
Conversion Tracking, goal tracking, Google-branded page, Google manual action resolution management, heat map analysis, link building/Social bookmarking, submissions to the search engines, social signals, targeted directory submissions, toxic links disavowal, video annotations, video optimization.
301 Redirects, anchor text optimization, browser caching optimization, canonicalization strategy and implementation, content delivery Network CDN- Cloudflare, CSS minify, database caching, duplicate content assessment and resolution, error resolution (302,404, 500), H1-H2-content optimization, h-entr and h-atom creation and validation, image and text link "Title" optimization, image compression image optimization, interlinking, IP Canonicalization, Jscript compression, landing page creation and optimization, META Tag optimization, minor site content edits, mobile search optimization, monthly Press release distribution, Open graph assessment creation, and installation, page caching, product and category page optimization, redirect URL issues, troubleshooting and resolution, Robots.txt creation, and optimization, schema site analysis, creation and installation, semantic content strategy, site speed assessment, sitewide and subdomain optimization, social profile Schema, text/content optimization, Twitter card assessment, creation, and installation, video schema, W3 validation compliance and correction, XML Sitemap creation and installation.
SEO packages include tools and dashboards to coordinate SEO reporting with your team and to track results.
Customized interface based on your website goals
Google Website Analytics
Keyword Rank Tracking in search results
Keyword Rank Distribution (Amount of Top 10, Top 20, Top 30 Keywords)
On page error and SEO Audit information and tracking
Site Health Report and historical tracking
SEO Issues report and tracking
Backlink count and health of backlinks
Google Link popularity dashboard
Top text link tracker
Toxic backlink reporting
Backlink distribution reports
Sitemap and Robots txt validator
Traffic Generation Report
Customized client KPI (Key Performance Indicator) Tracking
24/7 access via secure login (No more waiting for a monthly reports)
Scheduled monthly meetings to keep you informed

Best SEO for Small Business
Infront Webworks SEO model is "Strategize, Implement, and Analyze, and Report." Your expert SEO consultant will schedule a meeting (at your location, in our conference room, or via teleconference) to review your website's ranking the prior quarter and what we are planning for the coming quarter.
Ongoing Search Engine Algorithm Adjustments
As many of you know, Google, Bing, and the other search engines are constantly updating their search engine algorithms. 
Infront's staff of SEO experts constantly monitors algorithm updates and makes necessary updates to your website so you are positioned best to take advantage of search updates. 
With your meetings and online SEO reporting dashboards, your specialist keeps you aware of the results of the SEO work wear doing and the associated search engine results.
Solid tangible results based on your key performance indicators (KPI's)
Our affordable small business SEO programs offer you the highest level of resources and expertise to get you listed on the first page of Google search! 
These programs start at $350 per month (depending on page count, market you are targeting, and if you are targeting national or local ranking) but please drop us an email or give us a call to determine the exact rates for your SEO package.
We can also include social media for your local business.
15 SEO Tips for Small Businesses
Claim your address on Google Maps and set up your Google My Business account. Make sure your information is correct including your business phone number and URL for your website. (If you need help with this, let us know)
Do some keyword research to determine what phrases people are using to find your products and services.
Make sure you have a fast mobile-friendly website. (Check your results in Search Console)
Launch a blog and create fresh content in your blog posts. Google ranks fresh content higher.
Don't overdo your keywords. Google hates keyword stuffing.
Create evergreen content. Quality content that addresses customer issues and has a long shelf life. It's relevant long term.
Use a clear URL structure. People should know the topic based on what it says in the URL.
Use internal linking throughout your web pages. 
Encourage reviews on Google, Facebook, Bing.
Set up Google Analytics and then pay attention to the data. If you need help with this, please contact us.
Make sure you have a meta title and description for every page. It's important to optimize your title tags with your keywords. Use a different keyword for each page.
Create a sitemap and submit it to Google.
Make sure you don't have any broken links on your site.
Optimize your images so they aren't slowing your site speed.
Utilize social media for your business and share links to your site.
This is just the tip of the iceberg when it comes to Small Business SEO Tips.  If you need help with these items, please contact us.
We understand that small business owners and local businesses might not have the time to work on SEO. We are here to help.