Millions of bloggers, businesses, and artists compete wildly for the chance to get on page 1 of Google for keywords relevant to their website.
It seems only natural to want to top the charts because how often do people click on the second page?
But you might have wondered, "What is a first-page search result actually worth?"
Why do people spend so much time and effort on search engine optimization (SEO) just to appear on Google's first page?
Some feel that dedication to SEO is often done on some measure of faith. After all, how often have you reached the first page of organic search for a keyword, only to find it doesn't deliver the traffic you anticipated?
In this guide, you'll learn the importance of appearing on Google's first page results.
You'll also learn:
Why Is It Important To Be on the First Page of Google?
Many people aim to get on the first page of Google's search results.
Why?
Because appearing on top of the organic results improves visibility and trust, drives website traffic, and increases clickthrough rates (CTR) and conversions.
Google's algorithm constantly changes, but one thing remains constant — Google's first page results get most of the traffic.
According to Backlinko, only 0.78% of Google searchers click on the second page. So, even if your most important keywords land you on page 2, that traffic is split unequally across all results on that page.
Besides that, Google's search results are becoming richer — they display knowledge panels, featured snippets, answer boxes, local search results, and more.
More Competition for Traffic
While these features benefit searchers by providing better answers to their queries, it also means there's more competition for traffic. That's especially true since traffic decreases as you go beyond the first few results on Google's first page.
According to a study by Sistrix, the top 3 results receive over half (55.2%) of all traffic, but most of it comes from the first result.
The first result on the search engine results pages (SERPs) gets 28.5% of all clicks. The second result gets 15.7% of clicks, about half of the first.
Here is the breakdown of the traffic percentage each result gets: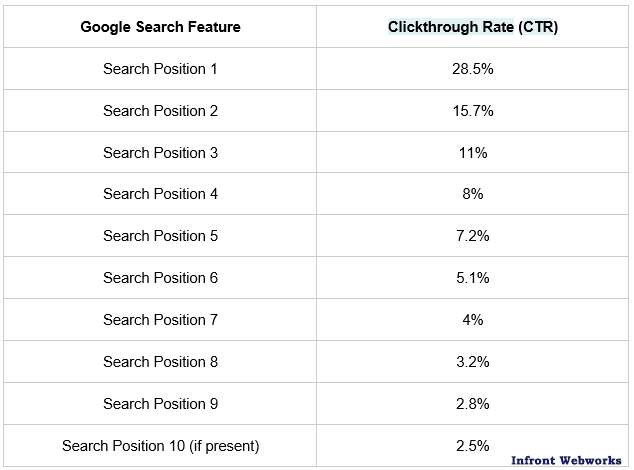 Source: Sistrix
The struggle to get traffic is so real that people often invest in paid advertising.
But, as the study's results show, organic traffic is where it's at. Not only is it the most informative, relevant content regarding the search query, but it also receives more traffic than the top paid ad result.
Calculating the ROI of SEO
We know that appearing on the first page of Google brings increased traffic and conversions. But how do we quantify this return on investment (ROI) from SEO work?
By definition, ROI is the ratio of your net returns of investment to the cost of investment.
ROI = Net Returns / Cost of Investment
You'll have a positive ROI if your net returns exceed your costs and a negative ROI if your costs exceed the returns.
Sounds easy, right?
But calculating ROI is a bit more difficult for SEO for a couple of reasons.
For one, SEO takes time. Unlike pay-per-click (PPC) advertising, where you have to pay for clicks, impressions, or views, SEO is about earning organic visibility on search engines. And that's a long game.
Second, there's no fixed cost per click.
ROI on Social Media and PPC
Calculating ROI for social media and PPC is more straightforward. For those channels, all you need to do is set a budget for the campaign and pay a defined amount per click.
From there, you can add the cost of the team managing the campaign (whether they're internal or an agency) and divide it by how much you earned from that campaign.
However, it's difficult to directly measure the returns and revenue generated from your SEO spending.
For example, you could spend a lot and not see any revenue in month 1. A year later, you could see costs go down, and revenue goes up. The problem is that you won't be able to pinpoint which month of SEO spending contributed to the revenue you're enjoying in the current month.
Determining the Value of Google First Page Results
Many SEO and marketing teams have come up with their own way of calculating ROI from SEO.
For example, Moz shared a way to calculate ROI using Google Analytics.
Some businesses assign a monetary value to each new visitor they get. Others estimate how much it would cost to acquire the same traffic with paid search. You can also assume your page ranking and estimate its CTR.
At Infront Webworks, we use a mix of both methods to measure the value of Google first page results:
1. Look at Its Position in the SERPs
From there, we estimate the CTR based on the study available.
2. Establish the Number of Keyword Searches per Month
There are many tools for determining "keyword query numbers per month," but we use and recommend Google Ads' Keyword Planner, which is a reliable, accurate free tool.
If you have a Google Ads account, simply log in, and on the dashboard, you'll see Tools and Settings. Click Keyword Planner.
Click Get search volume and forecasts.
Google will return the keyword data for parameters like average monthly searches, three-month change, year-over-year change, competition, and bid range.
You can change the date range, location, language, and data source (choose between Google and its search partners).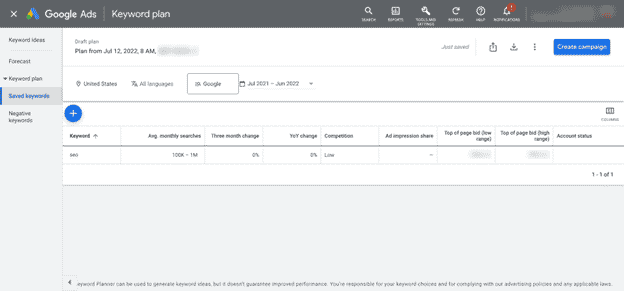 3. Calculate Potential Organic Traffic From Your Listing
Gather the information you have on hand to determine the ROI:
The potential volume of searches
Rank (or where you think you'll rank)
CTR for the first-page position
Cost per click
For the case of the above example, it would be 100,000 to 1 million monthly searches at a $9.71 cost per click (CPC). We'll be factoring in the position 1 result, which has a 28.5% CTR.
Follow this formula to calculate the ROI:
Search Queries x % click-through of location = Visitors
Visitors x Cost Per Click (CPC) = Net Returns
Net Returns – Cost on Investment = ROI
For the example above:
Given: Search Queries = 550,000 (average of 100,000 and 1 million)
% clickthrough of location = 28.5% (or 0.285)
Cost per click (CPC) = $9.71
Calculation:
Visitors = Search Queries x percent click-through of location
          = 550,000 x .285 = 156,750
Gross value = Visitors x Cost Per Click (CPC)
          = 156,750 x $9.71 = $1,522,042
Let's say you spend $15,000/month on SEO. A year's worth would be $180,000. So your ROI would be:
ROI = Net Returns – Cost on Investment
          = $1,522,042 -$180,000 = $1,342,042
The Gift That Keeps on Giving
The fascinating part about this is that SEO is the gift that keeps giving.
Once you achieve the first-page number 1 spot, it becomes less and less expensive to maintain, but the net returns typically stay within the same range.
That said, any time you achieve a number 1 ranking on a high-profile keyword, you will notice that results for other keywords on your site typically improve, and long-tail keywords do too.  
For example, we used "SEO" as a keyword, so related long-tail keywords for us would be "Colorado Springs SEO Companies," "Colorado Springs Search Engine Optimization Companies," and so on.
Now you know the value of getting to the top of Google results, you might be wondering: How do I get on the first page?
How To Get on the First Page of Google
Ensure your website is in the best shape
Look at the top-ranking results
Choose keywords carefully
Increase link-building efforts
Write for humans and robots
Rank for local SEO
Here's a step-by-step guide for ranking on the first page of Google organically:
1. Ensure Your Website Is in the Best Shape
Google ranks websites according to various factors, meaning you should consider a holistic SEO strategy and not just focus on one aspect over the other.
You may be creating high-quality content, but if the search engines can't index it, your page still won't rank.
Give your website a fighting chance of ranking on the first page of Google by ensuring that it offers a top-notch user experience. Some guidelines for usability include:
Mobile-friendly
Fast-loading
Clean user interface (UI)
Navigable (or has a good site architecture)
Secure
If you don't know where to start, consider an SEO audit.
2. Look at the Top-Ranking Results
If you want to rank on the first page of Google, it's worth checking out who you'll be up against.
If most of the top results are from established organizations and you're just starting, it will be an uphill climb.
But don't let your research session be a total waste. While you're at it, go through the web pages of those ranking websites and note what they do well and what they could improve:
Does their website load fast?
Is it easy to navigate?
Can you find the information you need quickly?
Is there any information they haven't covered or keywords they haven't targeted?
If you want to learn more about what to look for on a page, schedule an SEO consultation with Infront Webworks today.
3. Choose Keywords Carefully
If your target keywords are too competitive, consider choosing another search term.
Most websites will give general advice about targeting long-tail keywords. While the point is valid, it oversimplifies the entire keyword research process because you also need some shorter keywords.
Getting to Google's first page requires some keyword planning — creating a keyword map is one of the ways to do so.
Keyword mapping involves discovering the right keywords to target and matching them to the appropriate page. Benefits of keyword mapping include:
Organized site structure
Better internal linking
Appropriate content ideas for each page
Contact us for help with keyword mapping.
4. Increase Link-Building Efforts
Another way to improve your website ranking is to increase backlinks to your site.
Backlinks are "votes of confidence" from one site to another and are part of Google's ranking factors.
The more websites linking to your website, the more authoritative Google considers your page. But focusing solely on quantity doesn't guarantee results — Google prefers quality backlinks from relevant and high-authority sites in your niche.
Here are some ways to get backlinks:
Get featured in roundup posts
Guest post on related blogs
Create assets people want to link to, like case studies, infographics, or reports
Besides backlinks, don't forget to add both external and internal links to your related content when applicable.
5. Write for Humans and Robots
An age-old debate when creating web content is who do you write for — people or search engines?
Moz says you should write for both. 
To read more about creating consistent brand style guidelines and copywriting for an online audience, check out the book Writing for Humans and Robots: The New Rules of Content Style, by Maddy Osman, available in print and Kindle.
Proponents of Team Human would argue that you should write for people because they're the ones that read the content and buy the product. But what good is a piece of content if no one knows it exists?
That's why you should also consider bots when writing digital marketing content because they influence your position in the SERPs.
Create content that tells a story and is empathic and emotional — but at the same time, follow these practices to optimize for search:
Use headings and subheadings to break your content and make it skimmable.
Give Google an idea of the keywords you're using by including them in meta tags (like meta descriptions), alt tags, and URLs.
Use latent semantic indexing (LSI) keywords or related terms, so search engines can determine the context of a page.
Many English words have multiple meanings. Take apple (the fruit) and Apple (the brand), for example. Adding related keywords like "Mac," "iPhone," or "iPad" helps Google understand that the search intent is for the brand Apple.
6. Optimize for Local SEO
If you're a local business, one of the best ways to get on Google's first page is to focus on local SEO. Benefits of optimizing for location-based keywords include lower competition and attracting a relevant target audience.
Some ways to improve your business website for local SEO are to:
Make sure your landing page indicates your city or location.
List your business in online directories like Google My Business (GMB) or Yelp. Having a GMB listing helps you appear on Google Maps.
Target local keywords. For example, instead of "SEO service," go for "SEO service in [location]," or "[location] SEO".
Final Thoughts: The Value of Getting on the First Page of Google
Ranking for Google's first page is a lofty goal to work toward: Top results often get the lion's share of traffic, views, engagement, and conversions. Those rankings also improve visibility and build trust in potential customers, among many other benefits.
Getting to the top of Google's results is possible but isn't always easy. It requires investment in time, money, and knowledge — and even then, results aren't always guaranteed.
If you're going to hire SEO experts, put your resources towards those that have demonstrated proven results. Contact Infront Webworks for a consultation today.