Client Tested Methods to Show ROI from Your SEO Work
If you've ever worked in SEO or marketing, you probably already know what I'll be talking about here. However, if you're having issues showing the value of your work to your clients or you're new to marketing, this could be of some great use to you.
You may have heard a client say something like this

"If I'm getting all this traffic, where are all my customers?" or "How do I know your work is doing anything for me?". You know, they'd say it in a way an awesome person would………….
Now, before we start, I'm going to put it out there, it's not easy proving your worth as an SEO marketer in the beginning. In fact, it's probably one of the hardest parts of the job to get used to at first.
Why You Need a Tracking Plan
If you don't have a solid tracking plan in place, you might get stuck on one of the aforementioned client questions, or even worse, you could lose your client's faith by not being able to speak to the value you are providing them. That is never good.
Now, a good business should be tracking leads on its own. Whether they use a CRM, sales tracking, or whatever method they've found useful to help them run the business. In any case, it's good to have a solid tracking plan in place on your end to make sure you can prove your worth to a client at a moment's notice without them having to consult their own tracking tools.
One of the main reasons you should track your work and progress is that in some cases, small businesses are often started by people with little to no business experience. That doesn't mean they won't end up with a great business or be a great owner in the end. However, it can mean if the business isn't performing how they imagined it would, anyone they hire while they are adapting to their "sea legs" may get the ax due to the owner's lack of business experience. Even if any business underperformance has nothing to do with the marketing.
In other cases, you might find yourself talking to a CEO or owner that doesn't have much time for your explanations. When that happens, you need to be able to boil down what you are saying to make sense on their level. Usually, that involves speaking in terms of monetary gains.
Now let's explore a few methods of showing value in your SEO work to hopefully help you mitigate bad client experiences.
Show SEO ROI with Google Analytics Goals
For SEO, setting up goals in Google Analytics is probably the most basic way to show value in your work. Seeing how a website is performing with clicks, form fills, and landing pages can be a really valuable set of tools. Especially, if you want to show progress beyond overall organic traffic and keyword rankings.
New to SEO and need to know how to set up an Analytics account? Get Started with Analytics
For most goals, I would recommend Google Tag Manager (GTM). It can be slightly confusing at first but it's probably the best and easiest way to set up goals in the long run. Alternatively, you can set goals by hard coding tracking into your links, but many site builders won't allow hard coding of this type anymore anyway, so you might as well just use GTM.
For more info on setting up Tag Manager once you have Google Analytics in place just do a Google search. There are a lot of great explanations on the first page. You might just have to look around for one that caters to your setup or website CMS.
With goals in place on a site you can easily refer to them anytime you need to show ROI to a client. You can even assign a value to them so you can give an estimate of the ROI they might be seeing from your services.

Show SEO ROI with Google Analytics Annotations

Need to show value without goals?
Easy! As long as you have a few things in place. You may not even need all these at once when you get the hang of showing ROI with your SEO.
A form that retains a history of submissions
A page you can track organic traffic on where that submission form lives
A Google Analytics annotation of when you created or implemented a related optimization for that page
Let's say you set up a new page for an SEO campaign with a submission form, did some clever interlinking so that a certain page would be more visible to search engines, and/or some other clever SEO tactics. Go to your Google Analytics and set an annotation when you are done.
Using the annotated time stamp from your SEO work and showing the subsequent organic growth is a pretty concrete sign of how your work is impacting the business. Combine that with some clever Excel sheet magic about how it relates to ROI (more on that below) and you've got yourself some good leverage for justifying your existence alongside someone's business.
If you have a history of work or email chain of custody for when you optimized, you can even add annotations retroactively if needed.
Show SEO ROI with Page Visits
Usually using the annotation combined with the Behavior->Site Content->All Pages,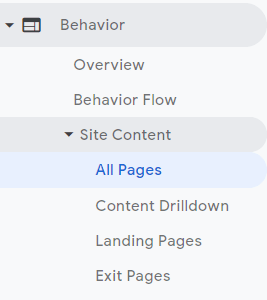 finding an SEO related page using the search

and either by editing the traffic type

or the secondary dimension to show the organic traffic only,

you can typically tell a good SEO value story based on that set of info.
You can also combine info to drill down even further using the number of visits to a page, submissions or clicks, and using a cost per lead model to figure out how much you are potentially making your client.
Finally, Showing ROI by Combining the Above Methods and The Magic That is Excel (or Google Sheets)
For me, it's a continuing goal of mine to show value without having to show-boat, brag, or even point out the work that I'm doing. I want my work to speak for itself.
To do that I've had to be able to quickly and easily show the value of my work. Sometimes you just need to be using spreadsheets to help get this point across.
Even if it's something as simple as:


Download this free basic ROI spreadsheet to get you started: ROI Calc
As you can see in the above graphic, by taking the methods described earlier in the blog and filtering some of those numbers through a similar spreadsheet, you can easily and effectively show value in your SEO work.
For more information on this, please visit our YouTube channel. To get a quote or if you have questions about our services, give us a call at (719) 577-4404!