Social media and Facebook, in particular, is a great tool for marketing your business online. The problem is that many people don't know how to use it to its fullest potential. In this post, we will go over the basics of getting started on marketing your business on Facebook properly.
So the first step, if you have not done so already, is to create a Facebook page for your business. You can do this easily by logging in to your Facebook account and selecting "Create the page" from the left-hand menu bar. Simply go through the steps of filling out information about your business.
Most people think that at this point their business page is completed, but it's actually not. What you have just created is a regular Facebook page. The next step is to visit business.facebook.com to create a business account. When you arrive at the page and select "Get Started" you will be taken through a very quick and easy registration process that gathers information about you and about your business. Simply answer the questions as accurately as you can.
When you have completed the registration process you will be taken to your business manager page, where all your business pages are listed. At this point, you will only have one business listed because you have just created the account. Now there are two more things you need to do before you can start posting as your business:
First, click on the name of your business, listed under the column, "Name". Second, click on "Use Facebook as your

 Page" in the upper right of the screen, and accept the confirmation pop-up message. Now you can actually post to Facebook groups as your business, as long as the group allows business postings, and many, if not most, do, and it will look professional, and official.
Content Marketing Guide
What you do on Facebook with your business account determines how successful your social media marketing campaign will be. A good activity to utilize is content marketing. Content marketing is when you post relevant articles from your website to groups, forums, and other pages on the internet that have the same subject matter in their content. In other words, if you are a mechanic, and provide many different services (alignments, oil changes, tune-ups) you will chose a specific service, and find a group on Facebook that is about that service, and post the relevant informative page to that group.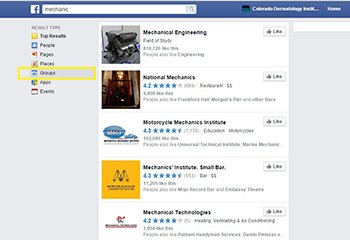 Facebook has many groups, so to find the one that's relevant to the service or product you sell do a search for it in the search bar. Facebook's search function is different from Google's so you might have to get used to it first. Once you have received all the search results click on "groups" from the left-hand menu bar to find only groups related to your service.
When you post to a group make sure you use a conversational tone so that you don't seem like a robot making an automated posting. Write a brief description of the benefits of your product or service, and copy and paste the URL of the page it is related to.
This might seem elementary, but there are many ways to mess this process up, and there are many benefits of doing it properly. Let's not forget, almost 20% of the entire world's population is currently on Facebook, and studies have shown that it is the most effective social media tool for generating engagements with links. That means if you post a link on Facebook you have a good chance of receiving some clicks from it.
Content marketing is an effective way to get your message out there and to generate traffic to your website. At Infront Webworks we are a certified Google Partner, and provide very effective content marketing strategies for clients in all verticals. To learn more about our SEO and internet marketing services contact us today.