Social media marketing is a very useful opportunity to market your business in a new way.   Facebook is one of the top leaders in social media marketing, but most business owners just don't know how to get started with a proper Facebook page setup.
Facebook is a great marketing tool for small businesses to build a brand, get out in front of current customers and reach out to targeted audiences.  With over 1.79 billion active monthly users daily, now is the time to start implementing Facebook into your business marketing plan.  So where do you start?  To do any type of marketing on Facebook, you need to have a Facebook account and Facebook Business Page.
5 Quick Steps To Creating Your Facebook Business Page
Step #1:  Create a Business Page For Your Business
A Facebook Business page needs to be set up through a Facebook Personal profile page.  Login to your Facebook Personal account.  On the left side menu, click on the Pages tab.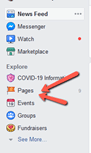 Once the new page opens, on the upper left corner, you will see a green "Create Page" button.

On your new page, you will see two options on what type of page to create – "Business or Brand" and "Community or Public Figure".  Since you need to create a Facebook Page for the business, choose the "Business or Brand".
Now is the time to add some of the basics of your business to your new page.
Page Name
Categories
Business Address
Business Phone Number
As a note, you can always change the category at a later date, but not the page name.
Step 2:  Add The Profile and Cover Photo's
Facebook will ask you to upload a profile photo (logo) and a cover photo.  This step is a way to show a first impression image or video to your audience.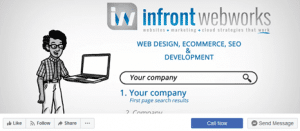 Profile Picture – 170 x 170 pixels
This image will appear in several places on your Facebook page and actions.  It will appear in the top left corner of your page next to the cover photo with your business page name.  It will also appear as an icon when you publish a post and every time you comment.
It is best to make the profile photo 170 x 170 pixels.  Square images are best with some spacing around the image because Facebook will crop it into a circular image.
Cover Picture – 820 x 462 pixels
The cover picture is important since it is the first visual element will see for the Brand of your business.   Facebook makes adjustments to the cover photo automatically based on desktops, cell phones, or tablets.  We have found that an image 820 x 462 pixels works best to meet all three device options.
It is important to have this cover photo professionally designed.  There are several ways to get your cover photo designed.  If you have graphic design skills, you can make it on your own.  A second option is to use an online tool like Canva.  Canva is a free tool with several templates to use for the Facebook cover photo.  A third is to use an inexpensive online service called Fiverr.  For about $5 you can hire someone to make a cover photo for you.
Step 3:  Complete all Page Information
Completing your new business page information takes a little more time.  There are several items that need to be completed.
Description – This lets users understand what your page is about.
Categories – You can list 3 categories to help users find your page within Facebook.
Contact Information – List your website address, email contact address, and business phone number.
Location – If you have a physical location where your customer visits your business, you can list it here.
Hours of Operation – list the hours you are open and the days of the week.
More – You can list additional information here, including the price ranges of your products or services.
Once the details have been entered, they will appear in the About tab of your business page, where additional information can be added over time, like your business story, awards that you have received, menu (if you're a restaurant), etc.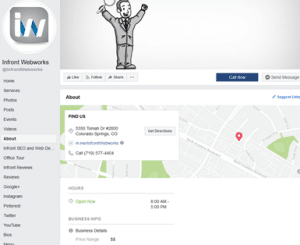 One additional great option that you are able to implement is creating a Username for your business page.  This username will help people find your page through a custom URL (e.g.:  fb.me.Infront_Webworks)
Step 4:  Add Additional Collaborators/Editors to Your Page
If you have an internal marketing team or a 3rd party that will be performing the Facebook marketing activities, you will need to grant them access to the Business Page.
Here is a list of the roles that you will be able to choose from per individual.  We call these collaborator roles.
Admin – This role will have complete access to everything on the business page.
Editor – This role can do editing on the business page, make posts, create ads, send messages and view insights for reporting.
Moderator – This role can send any messaging for the page, respond and delete comments and view insights.
Advertiser – This role can create ads and only see who created posts or comments
Analyst – This role can see who created posts or comments and can view insights (Stats)
To add the collaborators required, go to your business page, and click on Settings in the left-hand column.  The collaborator will need to Like your business page first.  Then you can add them by name or email address.  You will add them and assign a role to their name.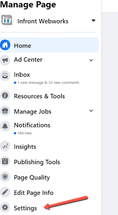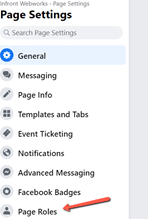 Step 5:  Publishing Your First Business Post
Now is the time to start adding content to your Facebook page, so visitors can see what your business is doing, learn and be social with your page.  Adding content is done by making and publishing a post.  A post can be an update of your business, a photo or video related to your business, a link, an event you want to share, or anything fun/educational that you can share with your page viewers.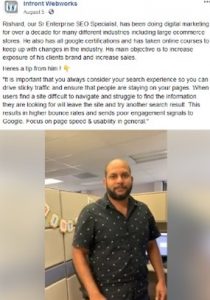 New post content will help your followers be more engaged with your business.  The post content needs to mix up, so your followers don't get bored.  Remember Facebook is a social site.  They want to be social.  They want to see what other people are doing.  They want to learn and get valuable information.  They don't want to be sold something.  Therefore, the posts on your business page need to be mixed up with content like company gatherings, discounts, education product information, industry/company news, and fun videos so people can interact with your business page.
Now Your Facebook Business Page Is Up And Running
Over the next month, make sure that you are inviting people to Like your page along with staying active on the page every week, by producing new Posts.
As your page ages a little and builds up Post content, you can start thinking about setting up the Facebook account for getting in front of Facebook users that are not following your page via boosting posts and Facebook ads.
We'd love to hear from you
What have you learned along the way and what Facebook Page tips do you have?
Learn more about Facebook Marketing for Business.