When it comes to any website project one of the first questions we always ask is "how will this be measured". In SEO we measure success by rankings and organic website traffic (among other factors) and Google Analytics data is an imperative part of measuring those Key Performance Indicators (KPI's). Google Analytics allows admins to track visitors to their site, track how long they stay on pages, what search queries they type, and so much more. As defined by Google "Google Analytics gives you the digital analytics tools you need to analyze data from all touchpoints in one place, for a deeper understanding of the customer experience."
For SEO purposes, Google Analytics (GA) allows us to know what pages are performing according to the user behavior and which need work, whether you are getting new visits or return visitors, how engaged those visitors are, and if those visitors are good or bad traffic and more. GA also allows admins to do some unique and defined funneling and conversion tracking. BUT you must have GA installed in the backend of your website correctly before you can access any of this extremely useful data it holds!
Steps to Install Google Analytics
Google Analytics – Step one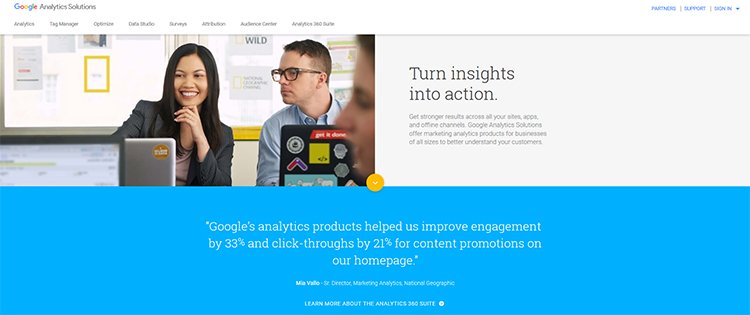 Sign up (it's FREE). If you want to use a Google product you need a Google login (personal or business) you can create this login from any Google access point but I recommend visiting the Google Analytics website and either logging in there or creating a login there if you don't have one.
Google Analytics – Step two
Set up your account and GA property. When you sign in for the first time you'll be greeted with a Google page informing you of the next steps in the process "1. Sign up for Google Analytics 2. Add Tracking Code 3. Learn About Your Audience" from here click "Sign Up".
Next, you will provide Google with information about your website in the prompted form. Questions include what name you want to give your account, your business name, your website name and URL, industry category, and reporting time zone.
You can have up to 100 GA accounts under a single login.
You can have up to 25 views per property.
Next, Google will ask about your data sharing preferences. Though your data is confidential Google asks for access to it for maintenance and technical use (we see this type of data sharing prompt on most devices and services we use). Google recommends allowing all sharing options – products & services, benchmarking, technical support, and account specialists. Read through this section and select as many or as few as you feel comfortable with.
Google Analytics – Step three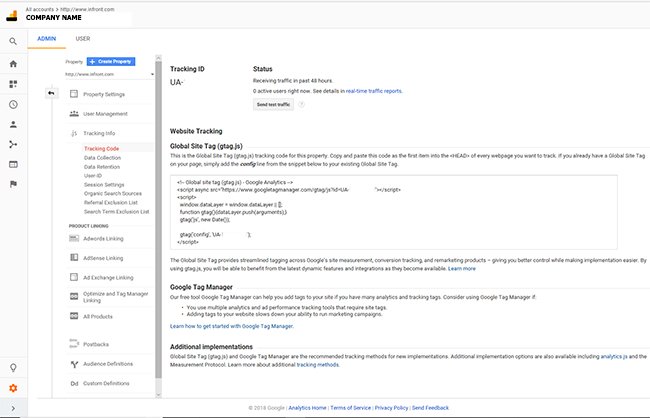 Installation! After accepting Google's terms and conditions you will be placed on a page providing your tracking ID (this will start with a UA-) and a Universal Analytics Tracking Code. This code is specific to this property, if you have multiple websites they will each have unique tracking ids and codes.
Please note, this step will require you to have access to your website back end Content Management System (CMS) or FTP (File Transfer Protocol). If you work with a webmaster or agency you will need to provide them with this code for installation. How you place this code on your site will be dependent upon what CMS provider you're using. Most WYSIWYG such as WordPress (using the Yoast plugin or other frameworks) will have a designated field to place your
Google Tracking ID or code into, others will require you to place the code within your sites HTML before the closing head tag (</head>).
Google Analytics – Step four
Confirm installation. It's always a good idea to double-check your work! Once you've installed your google tracking code/ID open your website in a browser and open your GA account in another. Review the "Active Users Right Now" pane on the far right of the GA "Home" tab. It should show at least 1 visitor – you, if you see this number (or a larger count) then you can confirm your GA is firing correctly, if your number remains 0 you'll want to review your installation or contact your webmaster or agency.
Note this number displays the number of people on your site right now because this is a "real-time" display. Any other data within your GA account will have a 24-hour delay. Meaning – today's data cannot be accessed until tomorrow.
At this point GA is officially installed on your site and data is going to be available for you to make informed decisions on as soon as tomorrow! However, moving on and setting up goals, site search, funneling and more will give you greater and eve more accurate data.
Some places to go to learn more about Google Analytics:
Google Academy for Ads– Google has some excellent Google analytics training material and for those interested offers free Google Analytics certification testing for those who would like to test their Google Analytics Skills.
Google Analytics YouTube Channel – Great resource for honing your Google Analytics skills.