What is a Google Search Pin, Why is it Important?
Infront Webworks Local Seminar Can Put Your Colorado Springs Business on the Map by End of Day!
Join the Infront Webworks team, and the Colorado Small Business Development Center, as they host a Google Pin placement seminar. The event is scheduled for November 9th, 2015 at Library 21c from 9:00 AM to 12:00 PM. Seats are limited register in advance to reserve your seat. A $10 reservation fee is required.
Topics to be covered:
What is a Google Search Pin, why is it important for my business?
How to get pin placement on Google Maps, and strategies to assist getting it on page 1 of google.
How to utilize and leverage the free Google My Business applications.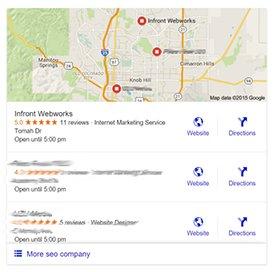 Infront Webworks will host a Q&A session at the end of the seminar, representatives will also offer free business verification service for Google Maps.
* Light refreshments will be available.
Visit with Infront Webworks specialist to learn about upcoming Google trends, google ranking factors, and how SEO is a viable and accessible option for small businesses.
80% of consumers find local information online
1/3 of consumers that looked for local information visited a related store that same day
Statistics like these show the importance of an online presence. Google recently posted a number of articles referring to "micro-moments" explaining the way our consumers function and look for information.
If you are looking to increase your bottom line and compete in the current marketplace it is important to improve your local business search listing – what better place to start then an outlet that is completely free and provides a 100% ROI?
Even if you don't know what a Google Pin is, if you have one, or how to get one – that's OK! If you have a pin but it's not verified – that's OK too. Infront Webworks representatives will educate all seminar attendees, answer any questions you have, and even verify your pin on the spot.
Speaker(s): Craig Mount- Google my business listings and placement strategies
Andy Meng- Responsive Design options
Reg Franklyn- Google My Business Virtual Tours
Sponsor(s): Infront Webworks, Small Business Development Center, Colorado Springs Regional Business Alliance, Colorado Springs Better Business Bureau
Seminar Location: LIBRARY 21C – 1175 Chapel Hills Dr, Colorado Springs, CO 80920
Fee: $ 10.00 (Seating availability is limited).
Payment must be completed upon registration through our online portal to confirm your seat!
https://clients.coloradosbdc.org/workshop.aspx?ekey=70350129
Infront Webworks: Infront is a full-service web company that provides business with professional websites, search engine optimization (SEO), marketing, and cloud strategies. The Infront team has more than 20 years in the industry. All of our services are focused on making ever website work. It's not our job, it's our craft.