Infront Webworks SEO and marketing team is always striving to keep its team on the cutting edge of best practices, which is why we're proud to announce that our team now boasts three 5pecialists! Rory, Jason, and Mike are Infront's newest Certified Google "5pecialists". Google's vigorous "5pecialist  challenge" was designed to test applicants' knowledge of Adwords (PPC), Mobile, Display online advertising, and Video ads best practices. To receive certification, staff members were required to pass all six comprehensive exams by Sept. 15th, 2015.
Thousands of SEO and online marketing specialists started the rigorous testing on August 15, 2015, when Google announced their "5pecialist challenge". To receive certification, advertisers were required to pass six comprehensive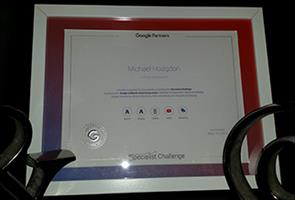 AdWords exams; AdWords Fundamentals, and five supplementary advertising topics, including search, display, video, shopping, and mobile.
Infront Webworks Google certified partner team takes tremendous pride in offering award-winning website design and being among the best SEO and online marketing teams available, which is why our team continues to stay on the cutting edge of technology to serve our clients.
Having passed Google's "5pecialist challenge" exams, our online marketing and SEO staff now consists of Google Certified Experts with 27 Google Certifications between them. We will continue to pursue the knowledge that best serves our Colorado Springs, national and international clients.
If you're interested in receiving online marketing or SEO assistance from our team of Senior SEO Specialists, please contact Infront Webworks today for a quote.
For information on our SEO packages.