A glaring difference between shopping online and in real life is that it's much easier for us to just abandon our items mid-way into the buying process, giving little to no thought about the items we've added to our shopping carts.
This is one of the wonders and pitfalls of shopping in the digital age.
As an e-commerce site owner, it's your job to find ways to would prevent your online shoppers from abandoning their carts.
According to Statista, as many as 75% of shoppers ditch their shopping carts before getting to the final step of purchasing.
Can you imagine that? For every 100 people who start the buying process, 75 of them never complete their transactions. That's a lot of potential revenue lost right there.
Fortunately, there are several clever solutions marketers can try to reduce the rate of shopping cart abandonment for your e-commerce store. And they're not that hard to do, either.
Add Trust Badges During Checkout
One of the best things you could possibly do to help customers feel more secure is to add trust badges during checkout if you haven't already done so.
Displaying logos or badges of certifications, data encryption services you're using, and other types of visual proof of security can greatly boost a customer's confidence.

It isn't hard to understand the mentality of the customer. There are many reports of people having their credit card information stolen online, or their accounts being compromised. For this reason, it pays to invest in other security features and certifications if it means people are more likely to trust in your e-commerce site and complete their orders.
Remind Them of Abandoned Items In Their Cart
Customers who have signed up on your eCommerce store are required to provide their email address. This is one great example of a retargeting email marketing campaign, sending reminders that let them know they haven't completed buying the items in their carts.
You'll need a strong and effective call-to-action (CTA) for this to be effective, however. One common strategy is to include an image of the product then draw attention to the button that redirects them back to their shopping cart in order to buy that product.
This email template from Asos is a wonderful example of that approach: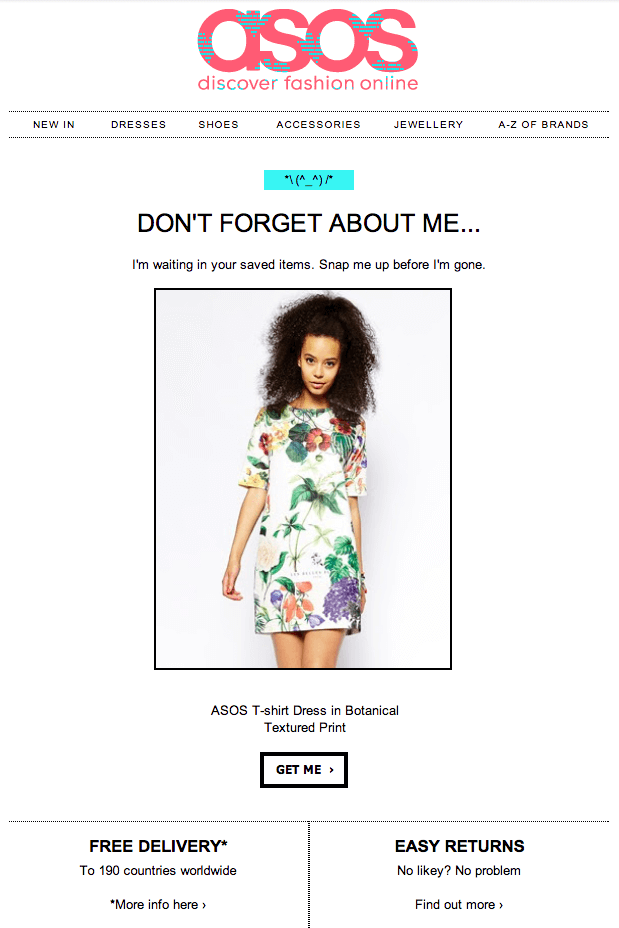 Make Checkout Quick and Easy
Everyone's in a big hurry these days. And as if online shopping isn't already convenient, shoppers are always craving for faster and more convenient methods to buy stuff.
Here are some quick tips on how to speed up your page loading time that can really do wonders to reduce shopping cart abandonment:
Keep the page count less than 5 from the moment customers click "Proceed to Checkout" until they complete the purchase
Optimize your pages' loading time by compressing data or using a content delivery network (CDN)
Allow auto-fill on forms or save their data (billing address/shipping address) for them to choose as an option in the future so they don't have to manually re-type their information.
Use Keywords Smartly
Believe it or not, your keyword strategy plays an important role when it comes to your website's click-through rate.
By targeting the right keywords, you not only improve your website's visibility in search engines — but you also make sure your content aligns with the expectations of your customers.
Remember, the second your customers realize they came to the wrong site, they are as good as gone. That's why you need to perform extensive keyword research to identify keywords that potential buyers are more likely to use.
You can do this with a keyword research tool like the Google AdWords Keyword Planner that allows you to create filters, which can be used to scrape keyword suggestions that are viable in terms of competitiveness and include commercial-related terms.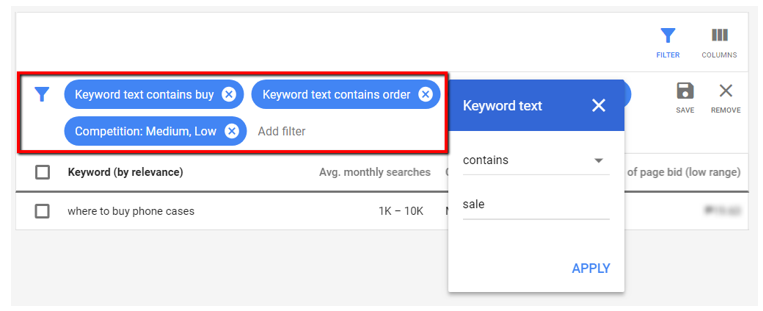 When using keywords on your e-commerce site, it's important to mention it at least once in specific elements, such as:
Page Titles
Image Alt Text Tags
Image Filenames
Headers
Main Body
Meta Description
URL Slug
If you're setting up your e-commerce site from scratch, consider registering or buying a domain name where you can insert your target keyword. Doing so will improve your website's rank worthiness as well as help capture the attention of your potential customers — just remember not to use an exact match domain name that search engines might pick up as a manipulative tactic.
Include a Progress Bar During Checkout
One feature digital shoppers really appreciate in e-commerce stores are progress indicators. They give them a better idea of just how much more time and effort they need to put before finally being done with the buying process.
It's like being able to see a friendly salesperson in front of you scanning the product, displaying the price, and thanking you for handling your credit card so she can complete your purchase.
Offer Guest Checkout
If you're using an e-commerce platform like WooCommerce, make sure to enable the option for customers to checkout their items without the need to log in.
Some users appreciate the freedom of not having to sign up, especially if they don't see themselves as returning customers yet.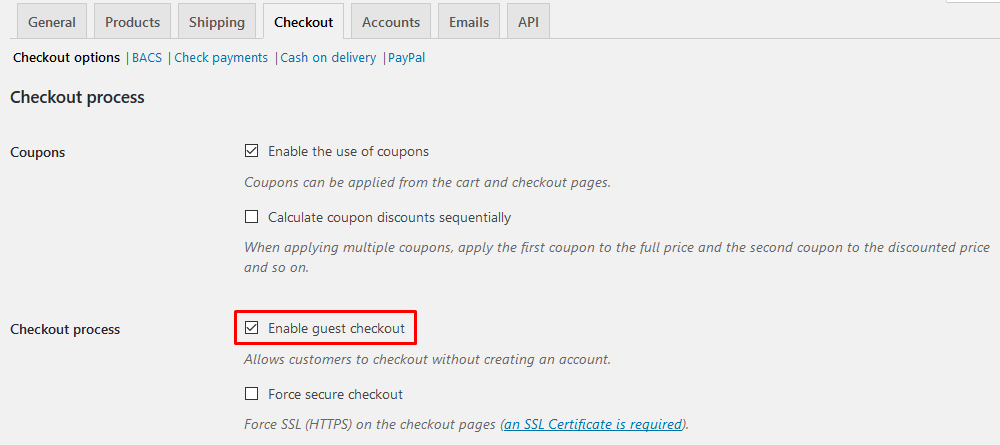 Just don't forget to offer them the option to create that account and sign up near the end of the checkout process. They'll feel more satisfied with their experience knowing you're not pushing to get their information, which is a big deal for many people who are concerned about online security.
Keep Their Items Visible
When you're doing your shopping from a mobile device, it can be easy for someone or something else to catch your attention.
You look away for a minute or two, and when you refocus your attention on your shopping, you completely lose confidence or forget the details of the product you added to your cart. Maybe it was the wrong color, the wrong size, the wrong model.
Having to go back and confirm these things can be annoying. This is why e-commerce websites should always include a visual summary of what's in a customer's shopping cart to reduce confusion.
This gives them confidence in the buying process knowing exactly what they're getting without room for doubt or concern.
Offer More Payment Options
You really can't go wrong offering more options to your buyers, including what they can pay with. The more payment options they can choose from, the more likely they'll be able to complete the transaction.
Imagine if you were only accepting Visa or Mastercard. Your customer has those two cards but is close to maxing out both. However, he does have his American Express card that's perfectly fine to use.
The moment he sees you don't allow payments through he's preferred card, he'll just move on to another e-commerce store that sells that product and accepts his AmEx card as a payment option.
Key Takeaway
Cart abandonment isn't an unsolvable mystery. It may not be possible to eliminate the situation completely, but there are tried-and-tested methods you can use that will help lower your own abandonment rate by a large percentage.
Just remember that it's all about customer experience. If you're mindful of what your customers want and can implement the necessary changes to help them build more confident shopping with you, then you're sure to see a surge in sales in no time.