I am new to Infront Webworks and before I joined the company, it was important to me to find out what differentiated this company from the rest.  One of the things that stood out to me was their authentic adherence to a central purpose.  These people are the top in their field and they are all about making sure our customers are successful while offering our services at a reasonable cost without any hidden strings attached.  They are all about building and maintaining trust with their clients while providing excellent service with high-quality results.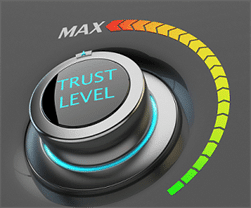 I believe consumers care more than ever about the "why" in the companies, they are involved with, whom they work for, what they buy, and which places of business they frequent.
When you define your purpose, it can be instrumental in attracting and retaining long term clients and customers. People want meaningful connections with a company that taps into its purpose and understands what problem it wants to solve.
In order for you to ensure you're creating a company that consumers will trust, and choose over your competitors, you need to ask yourself two questions:
Why do I want to solve this problem more than others? What made you decide to tackle this in the first place? What would success look like to you?
How does this business help me achieve that purpose?  When it comes to purpose, lip service alone will not cut it.  A value isn't valued until it costs you money.
A recent new customer was explaining how their previous SEO company signed them up for a plan and then nickel and dimed them. Everything the customer wanted was at an additional cost. Another customer explained that while their plan was at a reasonable cost, they didn't see any performance changes and never had any communication from their previous company.  These companies failed to understand the intrinsic value of trust from their customers.
If you make your purpose the foundation of your business, and focus on quality service and maintaining the trust of your current clients, customer loyalty and new customer growth will follow.
Save