We feel incredibly honored by the judges at US Search Awards for shortlisting us in four categories including best small agency. Being recognized validates our commitment to producing value and impact on the lives of clients with Infront Webworks, an award-winning digital marketing and SEO company.
Infront Webworks is proud to be a finalist for four different categories in the US Search Awards! We're excited about what this recognition means not just for our team, but also as an acknowledgment of how much we care about creating engaging digital marketing strategies that will grow your business.
Top Digital Marketing and SEO Awards
The US Search Awards are among the top digital marketing awards in the nation. They recognize achievements within this vibrant sector and have been awarded for years, which is no easy feat with hundreds of entries from reputable SEO agencies vying to take home gold every year. This is an event for marketers to pay attention to.
The awards attract some serious talent; whether you're looking at website design or social media prowess – there's always something new and interesting on display here!
Trustworthy winners: The Academy selects only those who have provided service with honesty, integrity, and unparalleled customer satisfaction as their goal through hard work is to produce the finest quality web content possible.
Infront Webworks recognized as a US Search Awards finalist in 4 categories:
BEST USE OF SEARCH – HEALTH – Creating Authority In The Health Niche
THE BEST USE OF SEARCH – REAL ESTATE & PROPERTY – Infront Webworks & We Are 307 – Real Estate Lead Growth Campaign
BEST LOW BUDGET CAMPAIGN (SEO) – Infront Webworks & We Are 307 – Low Budget High Growth in Real Estate SEO
SMALL SEO AGENCY – Infront Webworks
When asked about such prominent award nominations, Mike Tortorice, Digital Marketing Director said, "The U.S. Search Awards recognizes outstanding success and validates our commitment at Infront Webworks to produce value for the clients that can have a tremendous impact on their lives. Which is why it feels great being shortlisted in four categories including best small agency of the year!"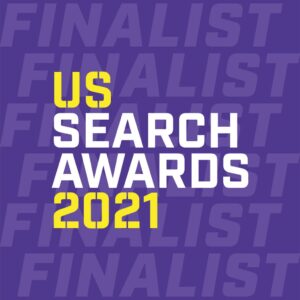 Judging Criteria
According to the US Search Awards, the judging criteria are based on many factors. The US Search Awards judges will be looking for clear objectives, creative and effective implementation, and tangible demonstrable results. Judges also consider the structural presentation of each entry to distinguish a campaign award winner.
Entry must include information under the following headings:
Total Budget
Objectives
Strategy & Target Audience
Creativity & Implementation
Results & Evaluation
Why We Pursue SEO Awards
The US Search Awards, a prestigious award show for SEO companies in the United States and around the world, is your chance to prove that you deserve industry recognition.
The awards focus on strategy development, structure implementation, and execution of campaigns by teams working together effectively – they're not just about vanity: it's all about raising service levels.
Judges are looking for agencies with proven track records from top clients who see real ROI in their work because only then can we guarantee excellence when serving our own customers' needs!
"Given the challenges our clients faced from Covid, we take special pride in the results we were able to achieve for them and for the US Search Awards recognition of that work, " Mike Hodgdon, COO of Infront Webworks
About The US Search Awards
The 2021 US Search Awards, brought to you by We Are Search is a competition that celebrates the very best in SEO, PPC, and Content Marketing this year.
These awards attract 100s of companies from across America with their people representing some leading digital marketing agencies.
All categories are judged fairly against international standards by an impartial team which ensures that all entries receive equal treatment- ethical and transparent too! Recognizing excellence means celebrating your hard work so we're thrilled to announce: The USA search award has achieved Trust Mark status approved by Independent Award Standards Council.
The awards will take place on Thursday, October 7 in Las Vegas. It will be a night to be shared and remembered.

Looking Back
As we wind down 2021, the Infront Webworks SEO Team has worked hard during the pandemic to make sure their clients were successful. In taking the time to fill out the entry form they were able to reflect on some proud moments:
The expert SEO staff has grown to a team consisting of SEOs with over 115 years' collective experience in digital marketing, and SEO.
Collectively our team completed over 85 trade certifications in the last 12 months
Infront Webworks broke 145 Google Reviews and maintains a 4.9-star rating
20+ years in business and maintains an A+ rating by the Better Business Bureau
Google Certified Partner Agency
2020 Global Marketing Award Winner
2021 Impact Company of the Year Award
Waiting for the Final Announcement
Stephanie Hooper, SEO Manager said "Our office anxiously awaits to find out if we are one of the lucky few who will win our categories in this year's US Search Awards. It's been a while since I saw my team so optimistic! Keep your fingers crossed for us as well! Good Luck to all the finalists!"
US Search, "Ask not what Search can do for you, but what you have done for Search in 2021".