B2B research, ratings, and reviews company Clutch named the top Colorado Springs Digital Agencies, Web design, and development companies for 2018 and Infront Webworks was proud to be listed in all 3 categories. Companies make Clutch's list of top-performers due to their market presence, work quality, services offered, and client feedback.
Colorado is a state bustling with innovative marketing and technology companies. Infront Webworks is proud to call Colorado Springs our home and happy to say that we've helped businesses and organizations both in the area and all over the country with their website development, SEO, and digital marketing needs. 2017 was a huge year for Infront, becoming a US Search Awards finalist. 2018 has also gotten off to a great start as we became a finalist in the Interactive Marketing Awards in 3 categories (Best Interactive Marketing – Retail / eCommerce, Best SEO Campaign, and Search Agency of the Year), and also named by TheManifest.com in the "Top 15 SEO companies from around the world". All this great recognition is exciting, but we always keep our efforts focused on the work we do for our clients. We're in constant communication with our clients to make sure we deliver exactly the results they're looking for. We look for independent 3rd parties like Clutch in order to keep a pulse on how satisfied our customers are and maintain our quality of service to our "Best of Business" peers in an unbiased manner.
We joined Clutch over four years ago to ensure our Digital services compete with the best in the country and because they report accurately. Because there are many Digital Agency Ranking services that companies "pay for placement" it was important to us to align with one that "Top List" placement couldn't be bought and that offered companies looking for the best, the ability to find the best.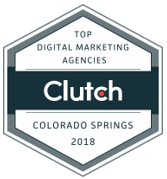 Clutch started out doing research on business service companies around the world, and now even conduct research on a city level. Clutch's research methodology uses criteria such as clients, marketing presence and experience to rank companies. The most important aspect of their ranking system is client reviews. From our first review in 2014, to the four reviews we've already collected on Clutch this year, we've got great feedback and praise from our clients through Clutch's platform. A recent reviewer, Jeff Anderson, said this about working with us:
"Whenever I request web work, their team sends a summary report of the project and cost for services. On SEO, their team collaborates well with another vendor we work with on marketing.."
Another reviewer of Infront Webworks was really happy with the SEO work we did for his company. He said,
"Infront's efforts have helped our website register on the first page of Google for our services."
All the great work we've done for our clients has landed us in Clutch's recent Colorado Springs Press Release announcing top digital marketing agencies in the area.
With our diverse client base and our deep knowledge of search engine optimization and digital marketing, we also appear in the Top SEO Agencies list on Clutch's sister website, The Manifest. This list features Infront Webworks as a top SEO company not just compared to other Colorado Springs companies, but as a leader across the world!
Interested in working with Infront Webworks? You can check out some recent case studies to learn more about our capabilities and past projects. We also encourage potential clients to check out the research that Clutch has done on our company. If you've worked with us and have not yet left a review for us on Clutch, we encourage you to do so!