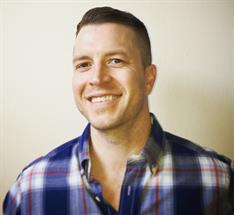 Infront Webworks, an online agency and industry leader in website design, digital marketing, and search engine optimization (SEO), today announced Ryan Knaak has joined the Digital Agency's team of expert and innovative staff as Senior SEO and Digital Marketing Specialist. Ryan comes to Infront Webworks by way of Delray Beach, Florida and has extensive agency-level SEO experience.
Ryan Knaak is a results-driven SEO specialist and Marketing executive with 6+ years of experience helping small and large businesses reach their full potential through advanced SEO skills, compelling ad creation, and implementation through Google Adwords and social media, which in return drives the desired traffic that leads to customers and a positive ROI for the client. Ryan believes that keeping an open line of communication with his clients is one of the most important aspects of the process, and prides himself on the relationships he has built with his clients throughout the years.
Ryan has a proven success record in On-Page SEO, Off-Page SEO, Google AdWords, and Facebook ads through advanced knowledge and certifications in Google Analytics, Keyword research, Reputation Management, HTML 5, CSS, WordPress, Content Creation, and Customer Relationship Management.
Coming from sunny south Florida, but originally from Montana; Ryan is thrilled to be able to come to Colorado and is looking forward to planting some permanent roots in the area. He is an avid outdoorsman and you might be able to catch him and his dog at the park or on the trails every weekend.
When asked about Ryan joining the Infront Webworks expert SEO team, Michael Hodgdon, Director of Marketing and SEO at Infront Webworks said "Our commitment to hiring expert SEO and online marketing talent from across the country is what sets Infront Webworks apart from our competitors, and we couldn't be happier that when Ryan decided to move to the Colorado Springs area he did his diligence and chose Infront's SEO team as the place to further his career." He went on to add, "Although we had recently added two exceptional Senior SEO Specialists to our team, when an SEO expert with Ryan's skill set contacts you, whether your actively hiring or not, you make room on the team."
About Infront Webworks
Infront Webworks is a full-service Google Certified Partner online Agency. Through a team of renowned experts, the award-winning company provides clients with professional websites, search engine optimization (SEO), marketing, and cloud solutions that deliver client results; all under one roof. With 20 years in the industry and countless "Best in Class Awards", Certifications, and a client portfolio that includes brands like YMCA, Harley Davidson, Goodwill, GE Johnson, and over 800 other clients, Infront Webworks' remains a trusted source for website solutions.
Save
Save
Save
Save
Save
Save
Save
Save