Microsoft is ending support for its Windows 2003 server in July 2015. What this means for owners of Classic ASP sites is a mandatory switch to ASP.net, right? No! What your web hosting company may not know is that you can keep your Classic ASP site, and simply move it to a Windows 2008 Server. That's right, you can keep your Classic ASP site, and run it on Windows 2008 OS with all the up-to-date security features. Let's get into some details about this issue.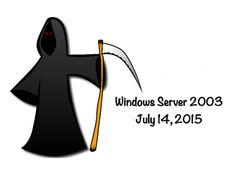 Do I have to change my website?
No. You can keep your Classic ASP site into 2015 and beyond. Since most Classic ASP sites have historically been hosted on Windows 2003 servers, all you have to do is move it from a Windows 2003 server to a Windows 2008 server.
Do I have to change hosting servers?
Yes. You will be vulnerable to attack as soon as Microsoft ends support for Windows Server 2003, and discontinues the making of security patches for it in July of 2015. This exemplifies the cat and mouse game Microsoft plays with hackers: they try to break into a website; Microsoft installs security updates for that server. These security updates keep hackers at bay, and keep the website safe. However, when there are no more security updates, and Windows server 2003 is left to fend for itself, the floodgates will be open to hackers and they will eventually find a way to compromise the site. So while you don't have to change your website, you do have to move it to a server that is being regularly supported with security updates.
How Long Will it Take to Move the Site?
Moving a Classic ASP site from Windows 2003 to Windows 2008 takes our developers at Infront Webworks between three to five hours. It may vary depending on the size of the site, and other factors.
What are Some of the Challenges of This Move?
The fact that most Classic ASP sites were running on Windows 2003 means that they were running in a 32 bit environment. Moving them to a Windows 2008 server means that our developers have to make sure the compiler components in the site work in a 64 bit environment. However, the result is often that the website runs faster and more efficiently, so it benefits the end user as well.
Infront has over 20 years of hosting experience, and we have converted over 300 sites from Windows server 2003 to 2008. If you have a Classic ASP site that is still running on a Windows server 2003 give us a call to help you move it today.