All Souls Unitarian Universalist Church
A Church Helping Their Community
The All Souls Unitarian Universalist Church has been in Colorado since 1891. The people there are dedicated to helping local non-profits and those in need from their downtown Colorado Springs location. Part of this is ensuring that the community is aware of their presence. To do that, they needed a fresh and welcoming website that encourages users to visit and offer or ask for help.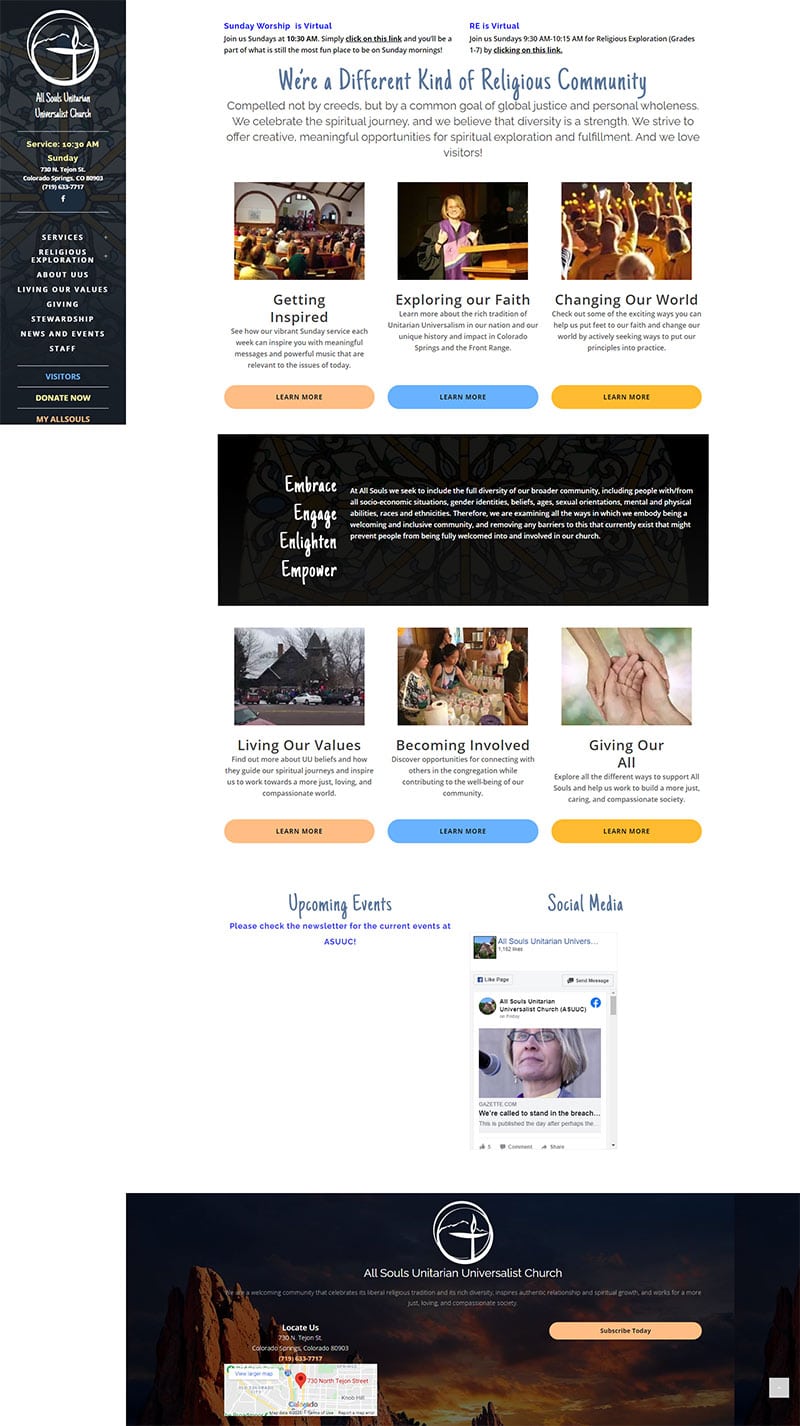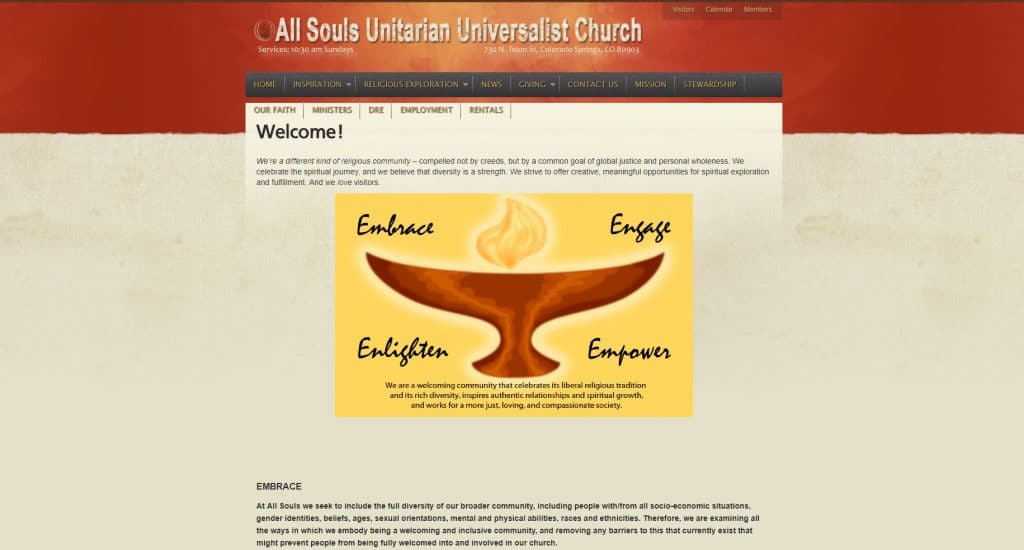 Non-responsive and outdated website making it hard for people to connect with them.
Key information such as their opening times and services was hard to find. So, the first thing they needed was an updated navigation bar, to ensure users could easily find what they were looking for.
The landing page needed an immediate update, as it was light on helpful information, yet overwhelmed with text.
It also needed an easily accessible and easy to use calendar for booking events at the church.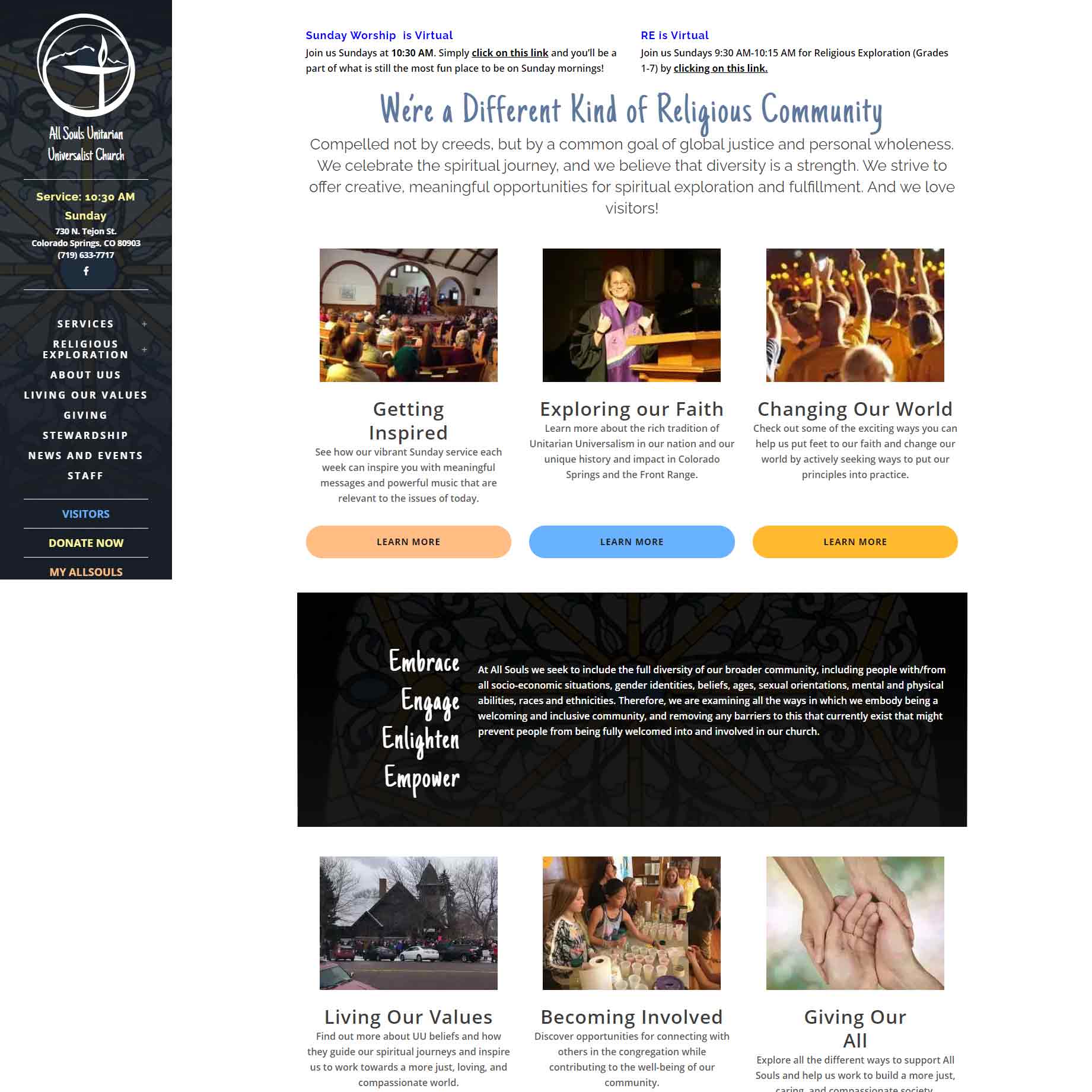 Members of the church have an easier way to update the website with the transition into WordPress.
Added a Google Calendar, designed specifically for their room booking needs.
Upcoming events and a social media feed were added to the front page to give it additional flexibility and draw attention to important information and events going on.
The service hours text was enlarged and contrasts against the background to help it stand out.
Changed the colors from reds and yellows to contrasting white and blues to make the site feel more welcoming and encourage users to spend more time there.
The website is now more welcoming, with visually appealing colors and a format that makes discovering information so much easier for the user. Since the church's Facebook feed is right on the front page, any updates can be discovered by users the instant they are made. And with the Upcoming Events listed, new users and returning visitors can easily discover the event information they are looking for. With the Google Calendar, the All Souls Unitarian Universalist Church will find it easy to keep track of events and reservations for their church and help spread the word of what they are doing for the community. And with WordPress's easy-to-use interface and training, they can keep their website updated with ease.