Home > Content Marketing Increases Business
Content Marketing increases business over 1000%
Industry: Medical Practice
Content Marketing Increased business over 1000%
This Doctor's office wanted to increase brand awareness, provide useful medical information about their area of expertise, and increase conversions and rankings for their site.
Infront Webworks focused on helping the client achieve these goals over the past year with the following strategies:
Publishing timely articles that would attract immediate attention with people suffering from different symptoms.
Filling the site with evergreen articles that are related to their practice and would continue to provide value over time.
And watching the trends and quickly creating content that would maximize the interest level and timeliness to what people were currently searching for in this industry. These included allergy seasons, temperatures, back to school, smoke inhalation from fires, and more.
We also kept the content that was already performing well updated to maintain rankings and current information.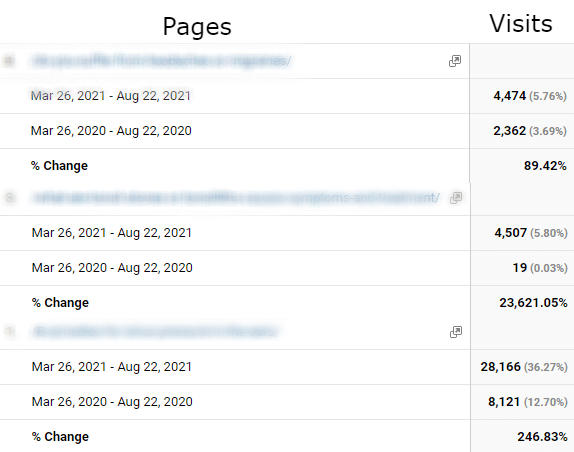 By publishing content related to both timely trends and evergreen content with lasting value, we helped this client become a web destination for their specialty.
A Recipe for Success: The editorial mix of timely content and evergreen content. The goal conversion rate went up 670% and goal completions went up 834%. They experienced an increase of 102% for keywords in the #1 position, 129% increase in keywords on the front page. People requesting appointments increased by 1,052% with 35 featured snippets, and 120 People also ask links. The partnership helped this doctor's office achieve the industry authority they were seeking. They have had the best financial year they have ever had on record.