Galvan and Gardner began with Infront Webworks in May of 2017. With a newly designed website that was not optimized and poorly constructed they needed help with their overall online presence from local to organic search. From a search perspective they only had branding going for them and had several on-site issues as well as offsite issues that were holding the website back from its full potential. There request was to improve their focus of rental property management keywords and their overall website visibility.
Issues faced when SEO project initially started:
Onsite implementation was focused towards brand and brand only
Implementation of SSL certificate was done improperly causing duplicate issues
Broken Links
Broken image links
Technical website issues from poor Joomla implementation and lack of proper updates
Overall SEO Strategy:
Onsite optimization items that needed optimization
anchor text optimization, duplicate content assessment and resolution, META Tag optimization, H1-H2-content optimization, image and text link "Title" optimization, interlinking, site content edits, redirect URL issues solved, Robots.txt creation, semantic content strategy, local Schema implementation, text/content optimization,, XML Sitemap creation and installation, Original SSL implementation fixed, Site speed issues addressed
Off page optimization
Google My Business Optimization, NAP consistency audit and clean up,  backlink building, Social Signal building, YouTube Video Optimization
Results: Over the period of May 2017 through March 15th, 2018 we improved organic traffic 525.59% and secured  top fold page 1 placement for many variations of their main keywords regarding property management.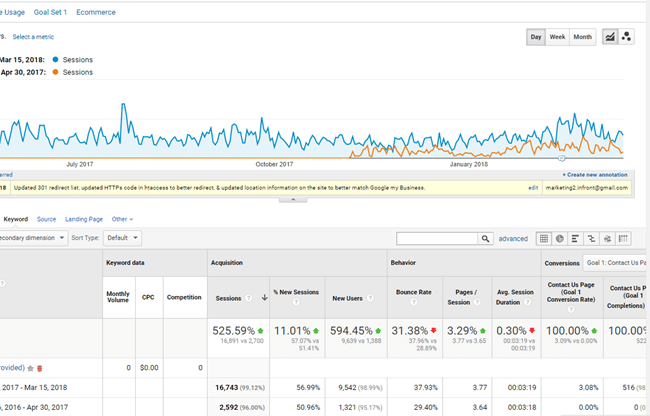 Along with Organic we have seen steady increases with their local map listings improve month over month throughout the campaign.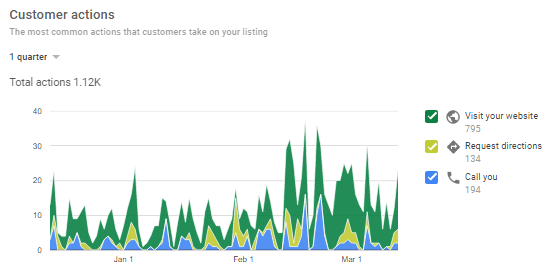 Before coming to Infront Webworks, Galvan and Gardner were not ranking for property management keywords and through steady SEO has gained top fold page 1 placement giving the company a huge increase in organic ranking power and increasing their bottom line through an increase in homes they now manage. They are still a client with Infront Webworks in our Fully Managed SEO package.