Price Rite Pool & Spa Service, Inc.
Keeping Pools in Top Condition
Price Rite Pool and Spa knows how important it is for their customers to choose an accredited pool service company. They need to ensure their pool and/or spa remains fully functional for when their customers feel like taking a dip. At Price Rite Pool and Spa Service Experts they specialize in ensuring that your commercial or residential swimming pool, hot tub, or spa is always in excellent working condition. With 23 years of experience backed by their local knowledge, they needed a website that showcased their professional expertise, and emphasized their status as a state-licensed pool repair company.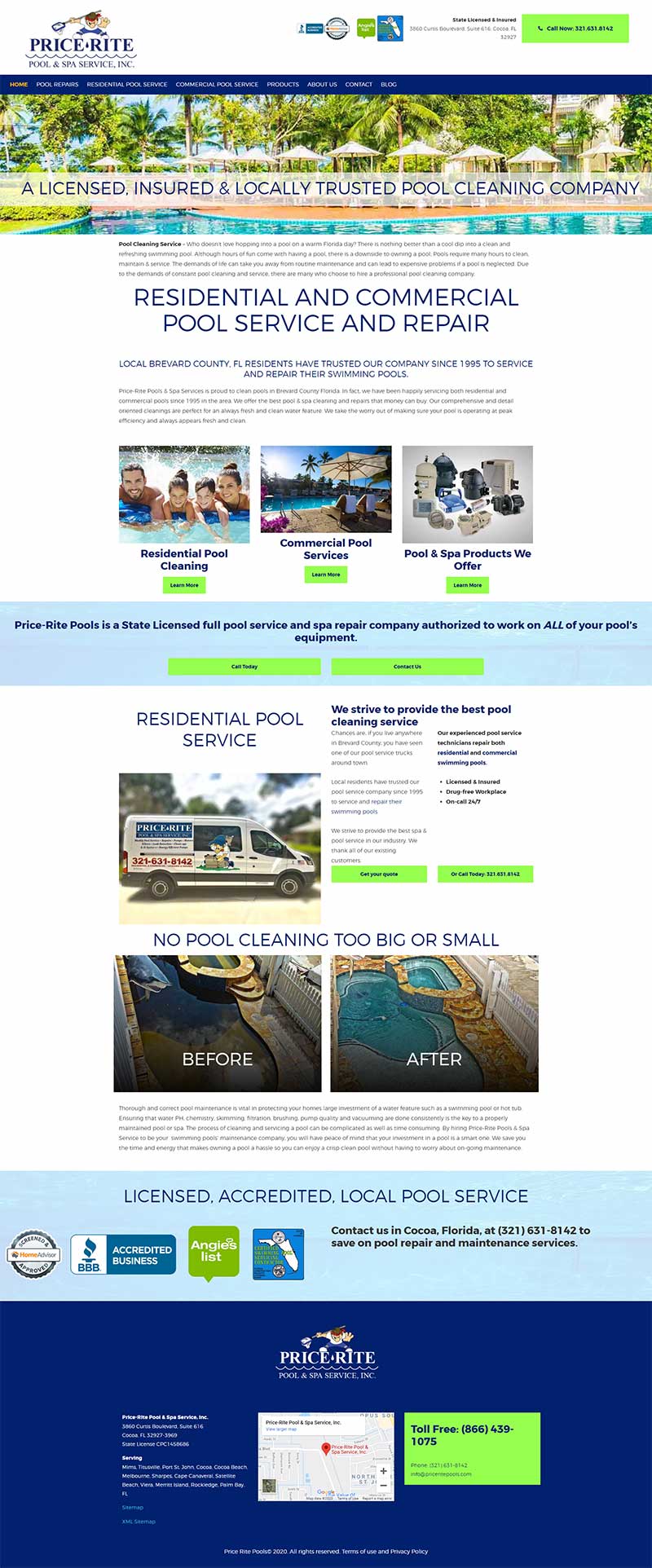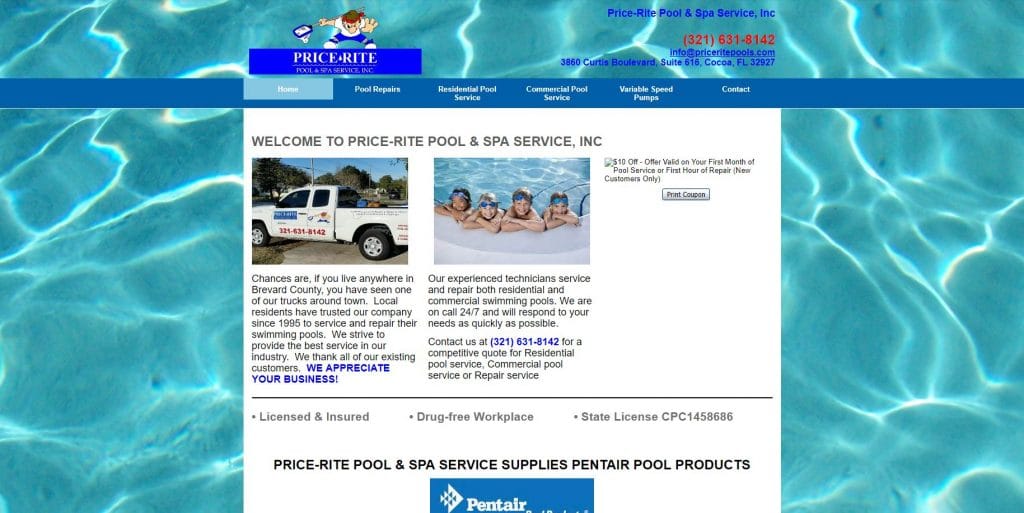 The previous website design was dated and lacked good content for SEO.
The legacy site didn't highlight the strengths of Price Pool & Spas pool repair expertise.
The site was not mobile responsive and was difficult to read on mobile screens.
The non-responsive design didn't evolve as screen sizes increased, leaving a great deal of side and background image, overpowering the content on the site.
The site lacked Google Analytics tracking or responsive phone numbers for conversion & goal tracking.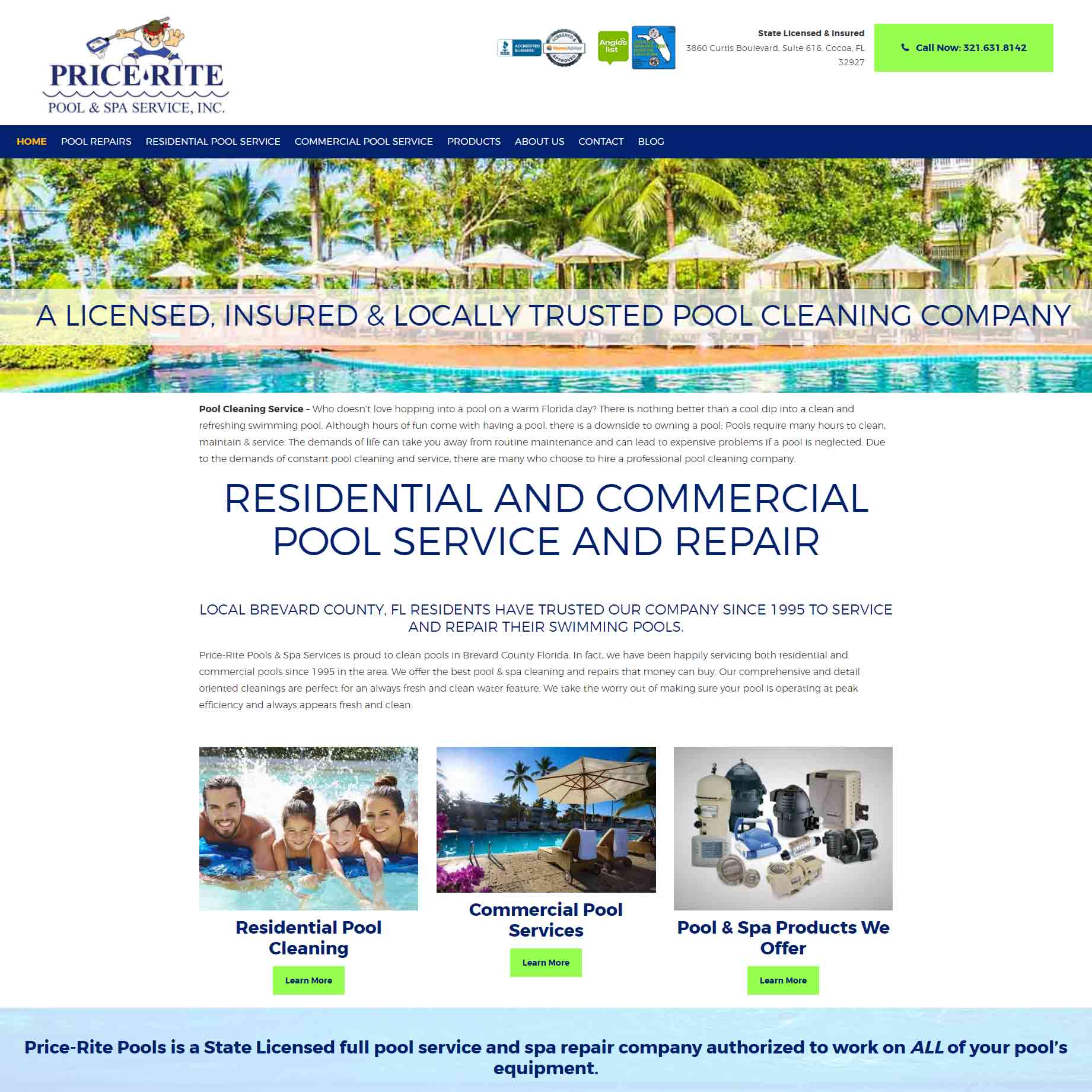 Created a visually appealing and professional website.
Improved navigation and easily understood content.
The new landing page was designed for ease of use, while highlighting the professionalism of the company.
The site captures consumers and guides them through a clear sales funnel, whether it's scheduling service or buying pool products.
An updated header displays the logo, company accreditations, phone number and highlights their state license.
New quality professional images, and product brand names are now front and center which helps consumers find either the brands they were interested in, or perhaps discover something new.
Responsive design, so that the site users can easily navigate the website on all viewports.
Improved site speed metrics which will support their SEO marketing.
Price Rite now has the advantage of having a clean and professional looking website. So whether the user is looking for a residential or commercial service, or maybe just a pump for their pool, they find a welcoming, easy to navigate visually appealing website. Now customers can easily go through the Price Rite Pool and Spa's website to find exactly what they need, with the company's accreditations clearly visible, which helps boost their business.