Colorado Springs Local SEO & Digital Marketing Company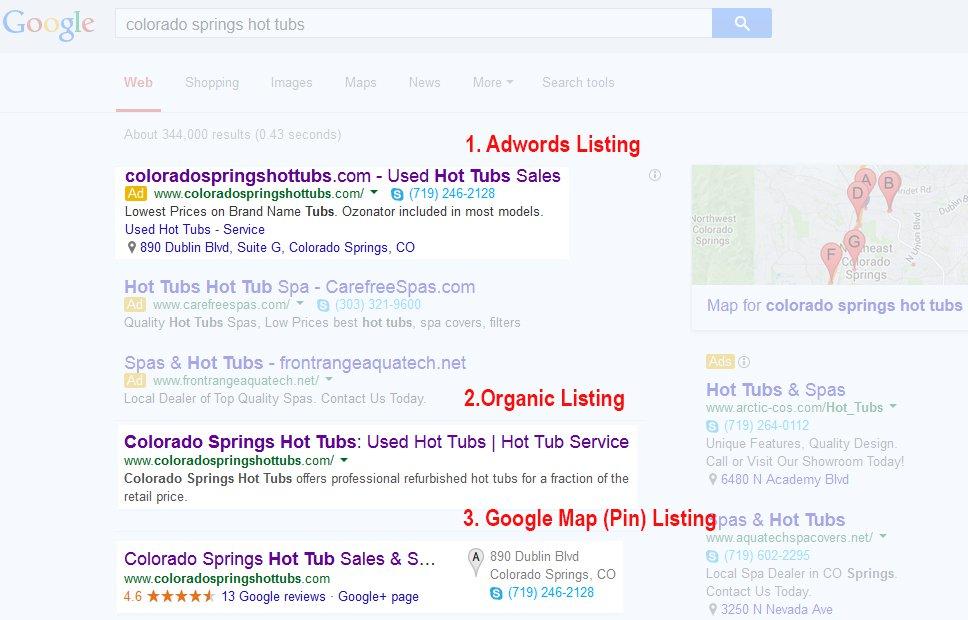 Effective search engine results for your Colorado Springs company should incorporate multiple first-page listings. In many cases, between organic results, Google Pin (the map), and Adwords our Colorado Springs Local SEO clients can have as many as three listings in the top fold (without having to scroll down) of Google's first page. Don't chance your SEO, go with Colorado Springs' top SEO company!
Our team of Colorado Springs SEO consultants are experts at achieving top placement in the three Listings available in the top fold of page one on Google.
This one sounds simple, but the trick is, frankly put, "don't overpay." Many businesses using Adwords still remember and practice, "bid the most, get the most traffic and highest placement." Those days are long gone. Google uses quality scores to list Adwords placement now, so a well-written ad linked to a properly optimized landing page can far outperform and underpay an ad bidding much higher for the same keyword. Our team of SEO experts all have certified in Google Adwords and Infront Webworks is a Google Certified Partner. We are best suited to deliver the top return on investment (ROI) and handle your Colorado Springs business's Adwords Campaigns.
Colorado Springs Local SEO or Map Pin Listing
Google Map Pins, often referred to as the Local 3-Pack or snack pack (because of recent changes to Google's results where they now only list three pins on page one) has become more important than ever. These listings have their own algorithm based on local citation, completeness of Google My Business and Google Plus profiles, and a number of other factors. Our SEO agency is partnered with Google's Let's Put Our Cities on the Map program and is authorized to expedite pin verification and fast-track your local pin setup.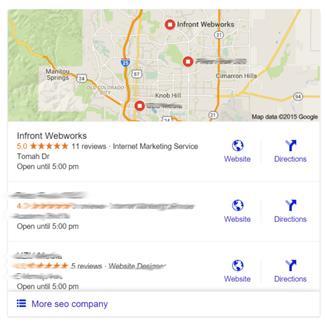 Colorado Springs Organic Listing
Simply put, organic search is where we excel! For Colorado Springs' top SEO services, you can trust Infront Webworks' team of seasoned SEO specialists. Infront's SEO team has been getting Colorado Springs company websites on the first page of search engines for more than 19 years.
We Handle Every Aspect of Your Colorado Springs Local SEO
Inconsistent business location information across online maps, directories, and search engines costs you sales. Our Colorado Springs local SEO specialists control your company listing across 50+ directories through our PowerListing Suite. We are global partners with directories, including Apple, Bing, Facebook, Foursquare, Yahoo, and Yelp. We optimize every aspect of your onsite optimization and handle creating and submitting to all relevant search engines, directories, and review websites so you dominate the search results pages. Choose Infront Webworks for you Local SEO Services.
Our SEO specialists team's strategy is simplistic: we strategize, implement, and analyze! From the first day we on-board you as a client, we have multiple Colorado Springs SEO experts auditing, strategizing, implementing and analyzing your website's SEO presence. Our team does not consist of any interns, we are a BBB A+ rated, Google-certified, award-winning staff of SEO experts who specialize in Colorado Springs SEO!
STRATEGIZE: We have Colorado Springs SEO experts working on every facet of your project!
Infront Webworks' fully managed SEO strategy starts the minute you contact us. All of our Online Digital Strategists you meet with initially are SEO experts. We don't hire salespeople to introduce our packages to potential clients. We use Online Digital Strategists who have all previously worked as Colorado Springs SEO experts, so from your first meeting with our team, your digital and search strategy begins. After hiring us to manage your search engine optimization, we start the onboarding process of adding you to our project management system, setting up infrastructure to track baseline statistical data, and meeting internally to set up the initial month's strategy.
IMPLEMENT: Once the strategy and research is complete, our Colorado Springs SEO experts get busy!
We prioritize and handle absolutely every aspect of your website's SEO. We completely audit your site for anything that can affect your search placement, do a complete keyword portfolio, and make website code changes to fully optimize your website for search crawlers. Depending on the maturity and your website's current placement, there is a wide range of other services that we perform, including:
As a Google Certified Partner and a partner in Google's Let's Put Our Cities On the Map program, our team is one of two companies we know of in Colorado Springs that can set up your Google My Business pin, submit it for verification immediately, and circumvent the postcard or call verification process.
Through PowerListings, we submit to targeted, relevant directories and review sites while making sure your listings are present with the correct information. Once set up, we automatically add missing listings and update critical fields like name, address, phone number, and categories across the network. We can change your information anytime and it will update everywhere. We also have partnerships with local Colorado Springs directories to get featured listings in those directories.
An extensive review of more than 200 SEO factors, prioritization, and an internal plan to implement updates and changes to Colorado Springs SEO factors.
ANALYZE: We provide real-time reporting for all aspects of your SEO
Infront Webworks' SEO fully managed packages come with full transparency. We provide online real-time dashboards for reporting SEO work that is being done, real-time key performance indicator (KPI) dashboards, and a PowerSuite platform for updating all your directory listings from one location. With our SEO dashboard system, our clients can log in at any time and find out SEO results, project progression, and level of achievement on key performance indicators (KPIs). Although all of the previously mentioned statistics, analytics, and tracking are reviewed in our monthly meetings with you, we feel it's imperative you have visibility of your project all the time.
Don't Forget About Your Colorado Springs Mobile SEO
With mobile SEO evolving every day and with mobile search results different from desktop, it's important you go with a team that will work on your mobile search results as well as your desktop results. As a Google Certified partner, we understand intimately how to perfect your listing for optimal placement in Google's mobile results. As a partner of Google's Put Our Cities On The Map program, we can verify your Google My Business listing and expedite getting your Colorado Springs Mobile SEO up and running before our competitors.
Local Colorado Springs SEO Experts
The Infront SEO agency team is proud to deliver first-page search results for clients all over the world and can help you dominate your local Colorado Springs search results. If you are looking for first-page organic placement, first-page Google Places (your company map/pin) placement, growing your online reviews, strengthening your review directory presence, or any combination of these, we can help! Our Fully Managed Colorado Springs SEO Packages start at $650 monthly. We also offer in-person consultations for Denver SEO, Pueblo SEO, Boulder SEO and surrounding cities. Call today and ask about our Colorado Springs SEO programs that focus on local placement.
Choose Infront Webworks For Your Local Colorado Springs SEO Company - The Colorado Springs SEO Experts