Traditional marketing is becoming less and less effective these days as your potential clients demand more valuable content from your business. It should reach them in a way that feels more natural and non-disruptive; moreover, content marketing is important for business by attracting, engaging, and delivering information that your target audience desires.
By developing valuable content, it helps you increase conversions, improve brand awareness, increase revenue, and establish yourself as an industry leader. Who is going to say "No" to increased revenue and becoming an industry leader?
Outbound marketing strategies these days are more about interrupting your audience. They aren't as effective at converting your audience like they used to, mainly because the people of today are so bombarded with ads everywhere.
Overall, your audience will convert better when you reach them organically. Tell them a compelling story so that It feels more authentic and engaging. The content that wins in a campaign is something that is unique, authoritative and attracts your audience's attention.
Doesn't your attention always go to the people who tell the best stories?
See actual results from one of our content marketing case studies.
What is content marketing?
The Content Marketing Institute defines content marketing as a marketing technique of creating and distributing valuable, relevant, and consistent content to attract and acquire a clearly defined audience – to ultimately drive profitable customer action.
Content marketing is a long-term strategy focusing on developing strong relationships with your audience by delivering high-quality content that is relevant to them consistently.
Ultimately, this strategy shows that you care about your customers in the long run.  In today's world, people want to feel like you truly care, and that your relationship is more than just purely transactional. Gaining the trust and attention of your target audience is such a valuable resource.
Building relationships between your customers and your business for increased loyalty.
Boosts Conversions and increases revenue.
Educating your audience about the products and services offered and how your offering is going to solve their challenges.
Creating a community around your brand and increasing brand awareness.
What are some of the different types?
Social Media
Case Studies
White Papers
Infographics
Blog Content
Podcasts
Videos
Vlogs
Slide shares
Paid Ads
Newsletters
Emails
Company news
Guides
FAQ's
Q&A
Interviews
Memes
Predictions
Timelines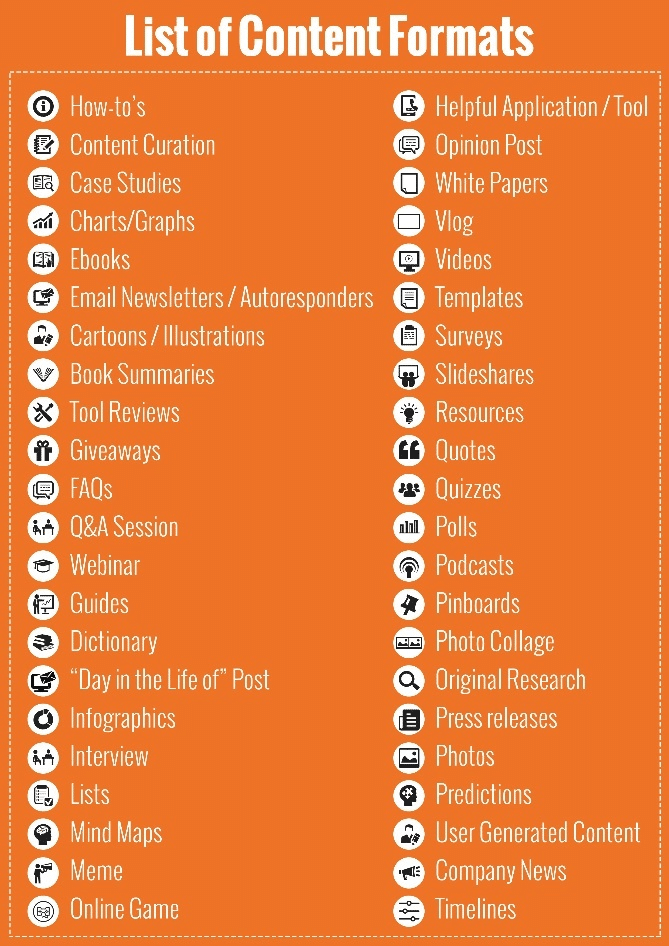 Content Marketing Overview
Joe Pulizzi founded Content Marketing Institute in 2010, and they are one of the best resources when it comes to researching content marketing statistics.
Here is a great video they put together about the history of content marketing.
Content Marketing Strategy
It is important to remember that content marketing is all about why you are doing it. When creating new content, focus on the people you are helping and the way you will help them. The content that you are developing should aim to be unique as possible.
Your content should cater to the right audience with the exact problem that your product or service solves, and if not, then your efforts are done in vain.
Content marketing is working well for many businesses, and these are the results for companies' top priorities:  Growing SEO is first, but blog content is second. Why? Because it achieves great results!
Company's top priorities for inbound marketing projects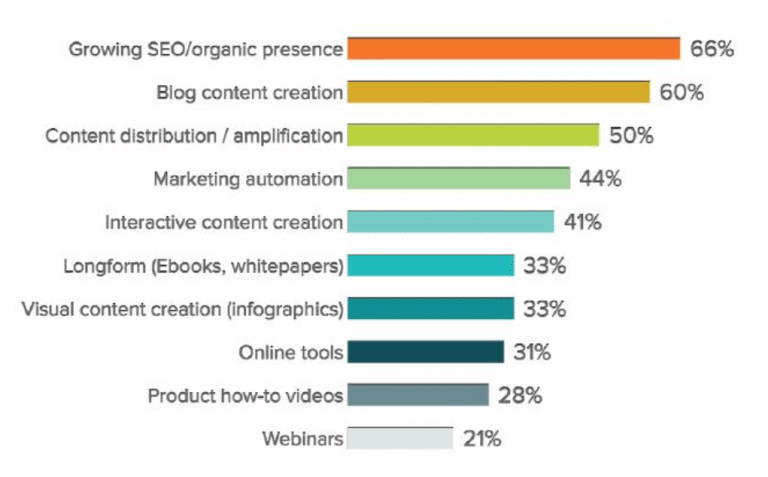 Check out one of our content marketing case studies that focus on building great content for their company's target audience.  A medical practice that focused on high-quality content increased its business by over 1000%.  The goal of this doctor's office was to increase their brand awareness, provide useful medical information about their area of expertise, and increase conversions and rankings for their site.
The editorial mix of timely content and evergreen content resulted in their goal conversion rate going up 670%, and their goal completion rate increasing 834%. They experienced an overall increase of 102% of ranked keywords in the #1 position, and a 129% increase in ranked keywords on the front page.
People requesting appointments went up 1052% with 35 featured snippets and 120 "People also ask" links. The partnership helped this doctor's office achieve the industry authority status that they were seeking, and they have had the best financial year ever since!
10 Reasons why you need content marketing
Content marketing is at the heart of every digital marketing strategy.
The return on investment is impressive. It generates 3x as many leads as traditional advertising. Source: CMI
It helps you rank better with SEO. Strong content generates more traffic. It helps search engines understand the purpose of your business and Google loves fresh content. So, posting regularly helps keep you ranking above your competition.
It is cost-effective. Content marketing costs about 62% less than other marketing avenues. Source: CMI
It helps build trust with your audience. They read your content and get a better understanding of your business, and the products and services you offer that can help them.
It strengthens customer relationships. Existing customers are worth their weight in gold. A good content strategy improves customer retention. It costs 16x more to build a relationship with a new customer than it does to cultivate relationships with existing customers.
Show your audience how you are better than your competition with exceptional content. Set yourself apart from the crowd and show people what makes your company special.
People share great content. This increases your audience reach and brand awareness.
It keeps people coming back for more. By becoming a trusted resource, your credibility increases and so do conversions.
It creates attraction. Push marketing is not nearly as effective as pull marketing. Give your potential customers what they are looking for instead of getting in their way.