BigCommerce: How We Unleash Power, Punch, and
Performance On Your Ecommerce Site
Why do so many eCommerce companies hire technology professionals? Because they know (or have discovered first-hand) how important all the details and ongoing analysis are, important considerations that often end up neglected. Want to add an extra mailing list signup button so you can further your list building? Need to change your site to promote a big marketing push or product launch, or want to be assured your site is loading quickly and is secure? We take care of it all, including, and most importantly, a robust search engine optimization (SEO) strategy.
We will make sure your store is established correctly and remains that way! This allows you to use your time attending to all the other important business considerations, not the information technology considerations, which are always changing.
Depending on needs and preferences, Infront Webworks uses one of several eCommerce platforms to build websites. One of these is BigCommerce, a cloud-based shopping cart software provider for selling physical or digital products online. According to BigCommerce, with over 65,000 clients in 150 countries and $9 billion in processed transactions, BigCommerce is one of the largest e-commerce platforms on the market. BigCommerce's reputation is growing; it is easy to understand why.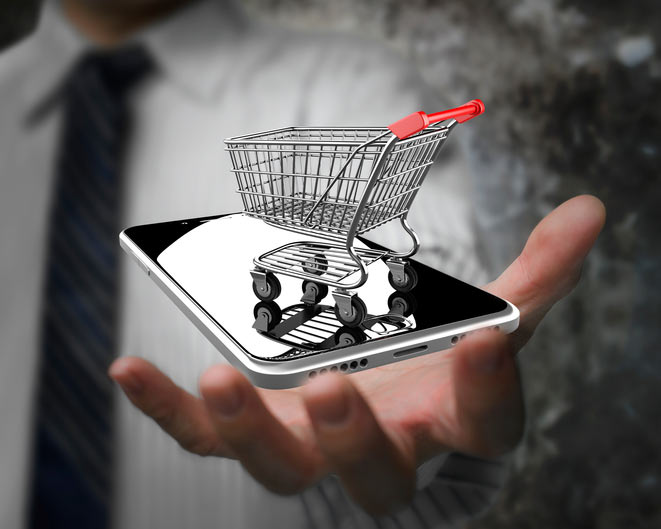 Why Is BigCommerce So Popular?
1. BigCommerce is powered by a comprehensive set of e-commerce tools.
Pull off just about any eCommerce trick in the book with BigCommerce, including website integration with email newsletter tools (autoresponders), creation of  promotional campaigns, unlimited product variations, shipping and tax configurations, secure payment gateway integrations, handling returns, store statistics reporting, social sharing, product wish list, product reviews, and more!
2. BigCommerce grows sales by integrating with social channels.
Establish your store on Facebook, or integrate it with eBay, Google Shopping, and a whole range of product comparison sites such as Shopzilla, Bizrate, and Beso.
3. BigCommerce has a large App store so as your needs change, your site changes with them.
If you need tools other than the ones that come with BigCommerce, an App store allowing you to "bolt-on" more advanced tools to further develop your store provides the next level of sophistication.
These Apps, offered by third-party developers, include sophisticated tools for accounting, shipping, promotion/marketing, order management, live chat, email marketing, analytics, and more.

Why else is BigCommerce worthy of attention?
BigCommerce integrates with

Google Shopping

to connect with those shoppers.
Microdata and reviews on your site are all posted on search engines.
BigCommerce allows us to use a wide range of

marketing features

, including promotions and coupons, email marketing, SEO, social media marketing and multi-channel marketing.

Customized shipping

is a requirement for most online stores, and BigCommerce has it.
Sites hosted on BigCommerce are level 1 certified

PCI compliant

, which means your customers don't have to worry about their personal and financial information. Your store's infrastructure is also protected with enterprise-grade network architecture.
Consider This:
Hiring professionals for your online store helps ensure you don't have common problems now or ever. Updated and monitored ALERTS indicate when traffic issues are impacting your store, on-going evaluation and adjustment of all content delivery networks guarantee the fastest eCommerce transactions possible, and detailed analysis of much more, such as a site's page load times and resource timings.
With your vision of your site as the starting point, we can construct your beautiful and efficient online store.