One of the more common questions I hear when discussing traffic reports and analytical data with clients is "is my website's bounce rate too high?" That's a great question, and here's my quick answer: it depends. There are a lot of factors that go into a good analysis of a bounce rate. Answering a question with a question, I like to respond by saying "high compared to what?"
For the record, a "bounce" is when a visitor shows up on your website and then immediately hits the "back" button on his or her browser without looking further or clicking anywhere on your website. A "bounce rate" is the percentage of total visitors that come to your website that then bounce off of it.
The idea is that you want to keep as many visitors on your website as possible, so theoretically, the lower your website's bounce rate, the better your conversion rate, or at least the higher the potential for conversions, because more of the people who visit your website like what they see, and click around on your content. But that's a theoretical idea formed in a vacuum; in real life, it's much more complicated.
Every website we build differs in its objective, target audience, industry, user behavior, and more. …and don't forget: there are lots of different kinds of websites. We build portfolio sites, eCommerce sites, blogs, subscription sites, informational sites, forums, web apps, and more. Each one of these has a different reason for existing, and each company behind the website has different goals for the business they hope to gain through it. Some websites are built for people to find information quickly and move on, or conduct a financial transaction. Some websites are built with the intention of drawing lots of visitors who will stay and linger, and browse and click around. All of these factors may influence your website's bounce rate, and you can't definitively say that a certain rate is either "good" or "bad." You've got to dig deeper than that.
While preparing this blog post, I pulled up the analytical data for ten websites in our portfolio, randomly, and have stacked them side-by-side to illustrate the difference between them. The ten I picked include: a Book Author, a Church, a Healthcare Organization, an online Health Supplement eCommerce Store, an Olympic Sport NGB (National Governing Body), a Members-Only Subscription Site, a Property Management Company, a Rental Center, a Restaurant, and a local Shopping Center. The bounce rates shown are an average for the year 2012.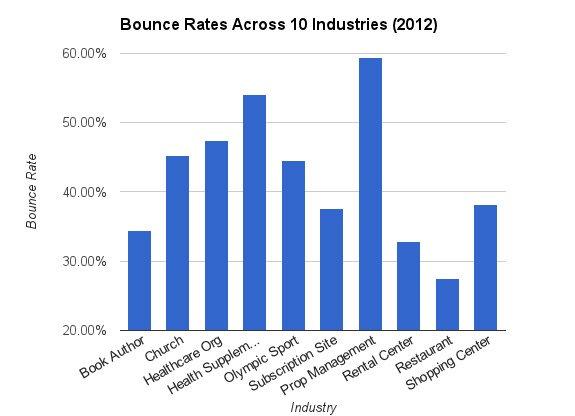 Note how there's a huge variation between the ten websites. The property management company has the highest bounce rate by far, at 59%. The Restaurant has the lowest at a mere 27%. The average across on all of them is 42%.
So what can we learn from this? Mainly, that bounce rates need to be analyzed individually, and that while you can clearly see whether your site's bounce rate is "high" or "low" compared to others, you can't answer whether it's "good or bad."
For example, people visiting the Church's website may be looking for service times and locations, and on this particular website, all of this information is right on the homepage, so visitors don't need to click anywhere in order to gain the information they are seeking. So a "successful" visit may very well be a visit that is technically a bounce.
The Restaurant's much lower bounce rate is probably due to the fact that most people visiting a restaurant website are looking to browse the menu(s), and indeed, in this case, the analytical data shows that the menu is where a huge percentage of visitors spend their time. The Rental Center, with a comparatively low rate of 32% has a catalog with inventory on the website, and people visiting the website are most likely looking for a specific type of product they'd like to rent, therefore they're going to spend more time on the site, clicking around until they find what they need.
If you really wanted to drill-down into a bounce rate analysis, you could (if you had the data), compare your website to others in your own industry. For example, if you view the chart below, you'll see a comparison of six construction companies whose websites we have built, and their respective bounce rates.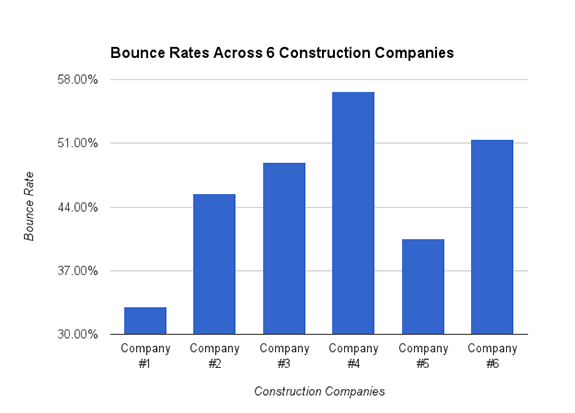 In this case, you can see that even within the same industry, bounce rates vary significantly. Yet, there's more to it than meets the eye: Company #1 has the lowest bounce rate at only 33%, and Company #4 has the highest at 56%, yet Company #4 has 324% more traffic than Company #1. So, again, bounce rate really isn't a number to get hung up on when reviewing your traffic reports. Even though Company #4 has much higher bounce rate, they may in fact get far more potential business from their website due to the sheer volume of visits.
If you're really concerned about your bounce rate, a good practice when reviewing your analytical data is to take it to the next step, and look at the "average time on site" of your visitors, and then start to analyze what they are clicking on, and then take a look at the "exit pages" (the pages visitors leave from). Also, take a look at your homepage, and make sure it's user friendly. Start to ask yourself questions such as "what do I want my visitors to do when they visit my website?" and "is the information my visitors are looking for easy to find on my website or homepage?". Take some time to analyze the leads you get as well, and see if they're the kind of leads you want. Make sure people aren't asking questions like "Where is your office located? I can't find your address on your website."
Answering questions like these, and always keeping the user experience in mind will really help you to gain a better understanding of your visitors, which will help make your website better. And the better your website is, the higher your chances of getting business from it. Which is why you have a website in the first place, right?
If you're truly worried about your bounce rate, or have other questions about how your website is performing, feel free to contact us and we'll see what we can do to help give you a boost in your internet marketing efforts.Save