In October 2020, Google introduced the most significant change to hit its famous reporting tool — Google Analytics 4 (GA4).
Unlike the previous version, which only considers website data, GA4 tracks and integrates website and app data into one Analytics account. Google also updated the data architecture and collection methods to reflect current changes in the way customers use technology.
Despite Google's good intentions while building GA4, it continues to receive backlash from the search marketing community. But, like it or not, Google has made it clear: the GA4 upgrade it's not going anywhere soon. 
New properties are automatically converted to GA4, and Universal Analytics will be deprecated on July 1, 2023.
So the question isn't whether you should upgrade to Google Analytics 4, but when?
Here's what we'll cover:
What is Google Analytics 4?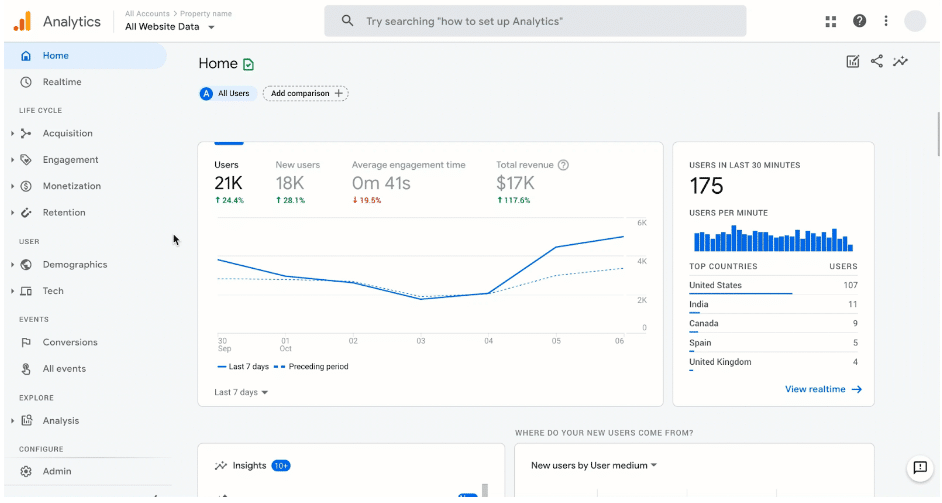 Google Analytics 4 (formerly known as App+Web) is the latest generation of web analytics platforms, which is set to replace the former property type, Universal Analytics (UA).
Google created GA4 using AI-driven technologies to address businesses' evolving needs and security trends. Some of the most significant changes to hit GA4 include:
Data collection.

With the advent of

omnichannel e-commerce

, GA4 collects data from both web and app to let businesses see unified user journeys and customer lifecycles across different platforms. 
Event-based tracking.

UA measured users by looking at device and platform sessions, which resulted in missed opportunities and data loss when switching devices. Now, GA4 uses an event-based data model to track user behavior. Using user IDs and unique Google signals, it's much easier to follow users along the customer journey.
With the shift to tracking events and parameters, GA4 also introduced new engagement metrics, like engaged sessions, engaged time, and engagement rate.

Data control and privacy. In the wake of data privacy laws such as GDPR and CCPA, GA4 offers new data controls for users to keep their privacy. These data privacy options include user ability to:
Control how they can collect, retain, and share their data.

Decide whether the data collected can be used to deliver personalized ads.

Delete Analytics data by submitting a request to Google.

 
Unlike its predecessor, GA4 does not collect IP addresses and store cookies.
Machine learning.

GA4 applies machine learning technologies to fill in data gaps the

GA4 upgrade

has changed. Predictive analytics finds trends in user behavior, allowing you to provide more intelligent insights and create forecasts.
In-depth Reporting.

GA4 introduces

Explorations

, which lets you access data and analytical techniques that aren't available in UA's default reports. These features give you a more in-depth look at your data to answer complex questions.
Expanded integration.

GA4 was designed to work better with other products such as

BigQuery

, Google Ads, and Google Data Studio.
These positives are great, but how does GA4 fare against its predecessor? 

Google Analytics 4 differs from the old Universal Analytics version in terms of data architecture, user interface (UI), navigation, reporting, and even terminology. The most glaring difference is the change in data modeling.
Universal Analytics is limited to tracking independent web sessions, while Google Analytics 4 has expanded to track data across App+Web properties, giving users a broader perspective of their data.
That said, GA4 is still ironing out some kinks, so it doesn't have all the UA features we're used to. These are some of the significant issues the GA4 upgrade has yet to address:
One of the top problems plaguing the GA4 upgrade is the lack of compatibility with other tools, which is understandable because it was just released.
We asked one of our Big SEO Tools Vendors if everything was now compatible with Google Analytics 4. They shared, "We are now working on the possibility of integrating GA4. 
The implementation, unfortunately, goes a bit slower than we expected, since Google offers API documentation only in beta at the moment."
Some marketers who have shifted to GA4 plan to supplement tracking with third-party solutions and shift to GA4 completely once it outperforms these apps.
The GA4 upgrade considers the stronger data privacy laws by reducing reliance on first- and third-party cookies to track data.
Instead, it uses machine learning technology to fill in data gaps (e.g., users that do not consent to be tracked) and provides predictive metrics such as purchase probability, churn probability, and revenue prediction.
Unlike UA, GA4 only stores data for up to 14 months. Additionally, it does not carry over your historical data from UA. GA4 only starts tracking data once you've upgraded.
You don't lose your UA data by upgrading to Google Analytics 4. You can still keep your UA account and its data until it goes away on July 1, 2023.
When you upgrade to Google Analytics 4, we recommend creating a new property so you can always access data from your current UA property.
Understanding Event-Based Tracking
Today's brand interactions aren't limited to company websites; users connect with brands through multiple channels and devices. Event-based tracking is one of the biggest changes to hit the GA4 upgrade. 
Let's see what it is and how it benefits your business.
What it is and How it Works
Events are designed to track actions within your website pages and apps. Even before the GA4 upgrade, UA was already supporting event tracking. 
Every time you create an event in UA, you need to include four specific parameters or meta-information to analyze the event better. These four parameters are:
Event category (required)

Event action (required)

Event label (optional)

Event value (optional)
However, UA is limited to these four parameters, which affects reporting and the potential information you could collect.
In contrast, GA4 is more flexible regarding parameters. Besides the Event name, which is mandatory, you can add up to 25 parameters. GA4 automatically records these parameters, but it's up to you if you want to use them in your reports:
Language

Page location

Page referrer

Page title

Screen resolution
What Changed (vs. Universal Analytics)
By shifting to event-based tracking, the GA4 upgrade gives businesses a chance to reexamine the customer journey.
UA tracked actions (or sessions) as events; GA4 treats all user interactions as separate events.

How does that nuance affect reporting?
In GA4, everything you do is tracked — not just the actions you've followed within a page — so you can create more robust and flexible reports.
For instance, let's say you want to determine which type of ad performs better for a particular campaign: a sidebar ad or banner ad, so you set up an event that records clicks.
Since you can only record data for one event at a time, you'd have to create another label for another ad type (e.g., campaign_sidebar and campaign_banner).
There's technically nothing wrong with that, but it poses a problem during reporting. If you want to measure the performance of the whole promotion, you'd have to include both labels, or else there'll be missing data.
Moreover, with UA, we could only report clicks. 
With GA4, you'll be able to collect other data besides clicks — GA4 records user detail, the action performed on the page, transaction and product details, and even information you've collected in another platform, like your CRM.
How to Leverage New GA4 Features
The GA4 upgrade allows you to record up to 500 unique events and introduces the following features:
They are mandatory and cannot be disabled. All GA4 reports include these events. Examples include:
First visit

Page view

Session start

User engagement
It lets you track optional events automatically. Examples include:

Outbound clicks

File downloads

Site search

Video engagement
A list of custom events and parameters that Google thinks users might find helpful. There are events applicable to all properties, games, and e-commerce shops.
If you think there's an event lacking after looking through the first three options, you can create your own custom event.
We won't be going in-depth with setting up event tracking, but if you want to learn more, these resources can be helpful:
Moving to event-based tracking in GA4 also changed Google's approach to e-commerce reporting, which is reflected by schema changes and the need for additional data layers to monitor transactions.
We also won't be expounding on e-commerce implementation in this article, but here are a few resources to check out:
How to Upgrade to Google Analytics 4
Like any new tool, GA4 can be intimidating when you first try it out, but you'll eventually get the hang of it with continued usage.
Google allows you to test GA4 while still maintaining a UA account. There is no better time to prepare for GA4 than now — before Google takes away Universal Analytics forever. 
Using Google's Setup Assistant is the easiest way to upgrade to Google Analytics 4. This step-by-step guide walks you through the process:
From your Google Analytics account, go to the Admin area. Click on the gear-shaped icon on the lower-left corner of your screen. From there, click Property > GA4 Setup Assistant.
We confirm that the account is still under UA because it has three columns. Once it's transformed to GA4, you'll see two columns in the Admin area instead.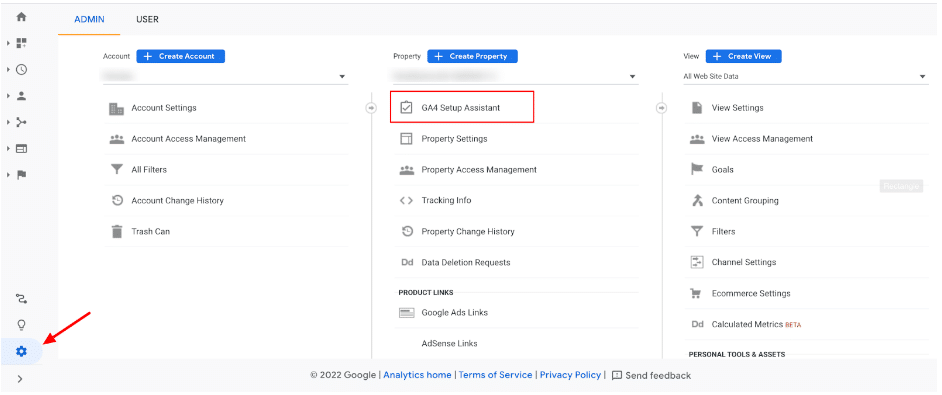 You will be led to the Google Analytics 4 Property Setup Assistant page. You'll see two options on the page:

Create a new GA4 property

Connect with an existing GA4 property
For this tutorial, we're assuming you don't have a GA4 property yet, so click on the blue Get Started button.
Then, click on the Create Property button. The last option will be checked or not, depending on the configuration of your tracking tags.
Note: The GA4 setup assistant works automatically with gtag.js:
If you used the gtag.js on your WordPress website, it means GA4 automatically collects data using your existing tag. You can then proceed to the next step.
After creating your property, the setup assistant will inform you that setup was successful. Click on the blue See your GA4 property button to check your GA4 dashboard.
Confirm that you've shifted to GA4 by checking your Admin area. You should have two columns (instead of three) like below:

Note: The setup assistant automatically activates enhanced measurement in your GA4 property, so once you've confirmed, you're ready to go.
Follow these steps if you don't have the gtag.js setup.
1. On your GA4 dashboard, navigate to Setup Assistant > Tag Installation. That will lead you to the Data Stream page.
2. On the Data Stream page, select the data stream you wish to create a tag for.
3. Clicking on the selected data stream opens the 'Web Stream details' window. Copy the Measurement ID on the top right side of the window. It is the equivalent of the Tracking ID you'll find on your Universal Analytics property.
5. Click on Tag Configuration and choose Google Analytics: GA4 Configuration as the tag type.
6. Paste the measurement ID you copied from GA4 into the GA4 tag configuration.
Reminder: Be sure to copy the correct GA4 measurement ID, as it's one of the more common tag setup mistakes.
7. Scroll down to add the trigger (which determines when your GA4 tag will fire). Choose All pages so the Tag Manager will add a tag to every page on your website. Click Save to save your settings.
Checking the Data on Your GA4 Account
After setting up the tag, you can check whether the tag works correctly.
Go to the Tag Manager homepage. Click on

Preview

.



2. Enter your website's URL and click Connect.
3. If your website has connected, you should see this configuration at the bottom right corner of your website.
4. Once your tags are firing correctly, you can publish the changes. Enter a version name and click Publish on the top right corner of the window.
Congratulations! You've successfully completed your GA4 upgrade.
If your Google Analytics or Google Tag Manager account isn't working, you can check these resources for fixes to common mistakes during GA4 setup:
What to do After Upgrading to Google Analytics 4
When you finish upgrading to Google Analytics 4, your existing reports will be the same as your Universal Analytics property because the upgrade process creates a new property. You will have Universal Analytics and a GA4 property running in parallel.
Here are some things you can do after upgrading to Google Analytics 4:
Enable cross-domain measurement.

Also called site linking, this GA4 feature allows you to see sessions from two related websites to measure the customer journey more accurately. 
Plan for the future.

Think about the events you're currently tracking on UA and how they fit into GA4. With the GA4 changes, you may have to rethink the type of events you track.
Run parallel reports between GA4 and UA.

It'll help you see how similar properties compare on both platforms. Aim to at least gather a year's worth of data before Universal Analytics goes away in July 2023.
To start, check the events reports in your UA property by going to Behavior > Events > Top Events. Check whether any of these events would be replaced by the automatic tracking feature in GA4. If all of your UA events are covered by GA4, you're good to go.
If not, you'll need to create a custom or recommended event.
Set up data layers for e-commerce.

If you have an e-commerce property, you'll need to add two pieces of code to pass purchase and product details.
The first kind is the purchase data layer, which is responsible for conversions and sales revenue.
The second kind is a product data layer, which sends product information to GA4.
The Search Engine Journal shares a helpful tutorial for setting up data layers.
Final Thoughts — Everything You Need to Know About the GA4 Upgrade
Google introduced Google Analytics 4, the latest version of its popular analytics platform that reflects the changes in how we interact with businesses.
Although it was met with mixed reviews, it's still worth upgrading to Google Analytics 4 — improved features include cross-platform tracking, AI-driven insights, user privacy, and control of data. 
It's easy to upgrade to Google Analytics 4, and it's best to start now and see how it stacks up to Universal Analytics before it completely goes away in July 2023.
If you're ready for a GA4 upgrade, Contact Infront Webworks for an SEO consultation today.