What is SEO reporting and why do you need it?
What is SEO Reporting?
Why do I need SEO Reports? Why are they important?
What tools do I need for SEO reporting?
What information should I include in my SEO reports?
First, What is SEO Reporting?
SEO reports show your results for search engine optimization on and off your website. SEO or search engine optimization is the practice of increasing visibility for a website in the search engine ranking positions or SERPS.
The reports show top keywords, overall keywords, ranking improvements, visitors, traffic comparisons, and conversion metrics.
So, after we work on the SEO for a site, we want to find a way to show bosses or clients what we did and why it matters. Reporting may not be the most important work we do. But it is what pays the bills. It justifies the client's investment in your services.
And let's face it, if you can't measure it, did it really happen?
Why do I need monthly SEO Reports? Why are SEO Reports Important?
SEO reports help you to educate your clients. They help to establish trust and rapport. And they document the improvements and the benefits of the SEO work you have been performing for the client.
You want to show clients that the work you are doing is working and getting results that positively impact their business. SEO reports also show the next high-level opportunities and what you should work on next.
And according to Backlinko, the #1 result in Google has a CTR Click Through Rate of 31.7%. And the #1 results in Google have a 10x higher CTR compared to the #10 result on the front page.  So, we want to get you as close to that #1 position as possible. See below: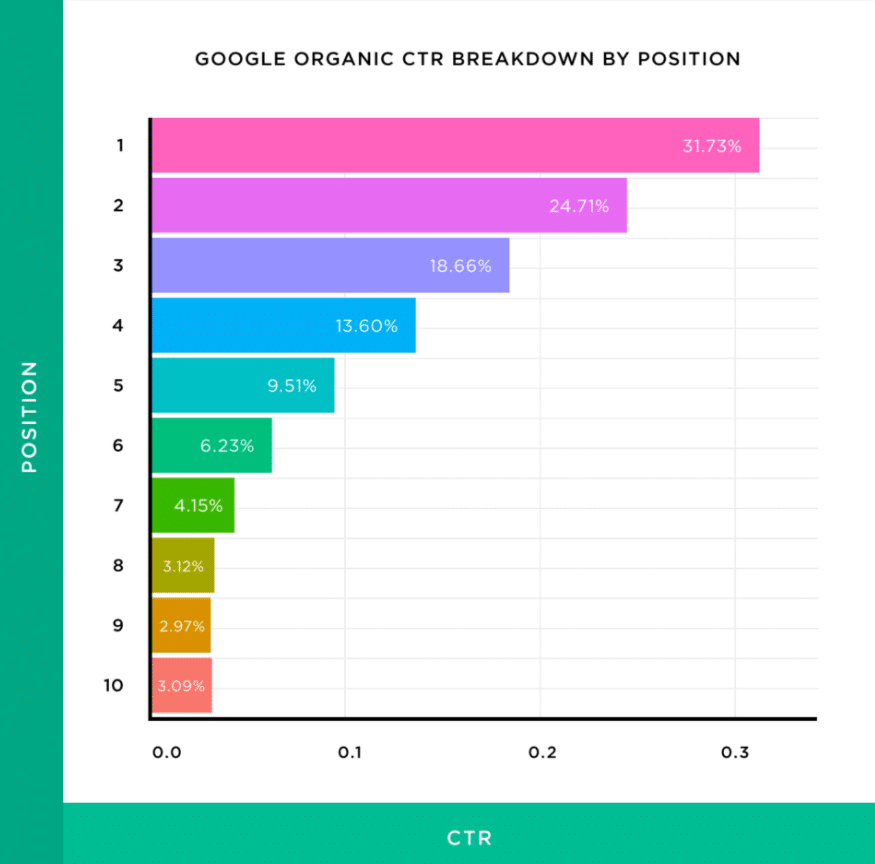 According to Forbes Insights report, only 22% of marketers have data-driven initiatives and 74% of marketers can't measure or report how their efforts impact their business. Tracking, analyzing, and measuring results can provide insights into trends. It helps you make adjustments and provides perspective.
What SEO Tools do I need for reporting?
There are quite a few different SEO or search engine optimization tools out there. Some are free and some aren't.
Some of the Free SEO Tools are:
Google Search Console
Analytics
Google My Business Insights
Screaming Frog (free version)
Answer the public
Ubersuggest
MozBar
WooRank Website Review
io
Lighthouse
Some of the Paid SEO Tools Include:
Ahrefs
SEMrush
Woorank
Moz Pro
Sprout Social
Whitespark
Power Suite
Majestic SEO tools
SpyFu
Screaming Frog
Site Analyzer
BrightLocal
What information should I include in my SEO Reports?
When creating SEO reports, you should show an overview or a high-level idea of how a website is performing. It should include KPIs or Key Performance Indicators. KPIs show how well you are achieving the established goals.
Some of those KPIs include organic traffic, conversion rates, Click-through rates or CTR, and keyword ranking. The reports should also include opportunities for improvement. These opportunities should be included in next month's SEO and digital marketing strategy.
Information to include in SEO Reports
Dashboards – A summary of how your SEO efforts are generating a positive return on investment (ROI) for your clients.
Goal Reports – Goal reports show events, page visits, duration, conversions, destinations.
On-site optimization – Technical reports, errors, SEO performance.
Backlinks – Reputation matters, and high-quality backlinks are important as well as watching for toxic backlinks that can hurt your rankings.
Keyword growth – Keywords that you are tracking, including long-tail keywords and semantic keywords and their organic keyword ranking improvements.
Increase in ranking for top targeted keywords.
Social Media Growth – These should indicate how engagement, branding, and audience demographics are performing.
Performance reports – These reports show how pages are converting, keyword performance, rich results, and more.
Year over year performance and month over month growth. This is usually done with Google Analytics.
Traffic by source – Google analytics will show you where your traffic is coming from, which sources are converting better, high bounce rates, and time on page.
Local SEO – These reports can be generated from Google My Business, Bing Places for Business, and local keywords that include a location. Local-specific tools include Moz Local and Whitespark. You should be tracking citations, local keywords, NAP consistency, and customer feedback.
Once you figure out what SEO reports are needed, then you need to automate the reports.  By automating the SEO reports, you return hours to the SEOs on your team that can be used for more important tasks. So take the time to automate your reports and make your life just a little bit easier.
Pro SEO Tip:
As changes are implemented from your SEO strategy, you will want to track performance to gauge impact. When you make significant changes to a site, it is important to document those changes in analytics so historically you can determine what kind of impact the changes had. And if a change was detrimental, you can go back and undo it.
Maybe there was a significant drop in traffic last year in March. If you made a note in analytics, you can look back and see that this is when the new website was implemented and so a decrease in traffic was expected.
Conclusion
As marketing changes, it is important to evaluate and improve your SEO and marketing efforts. By creating and maintaining SEO reports and watching trends in traffic it will be easier to make decisions based on data, providing measurable results and value from your work.
Infront Focuses on Transparency
We give our clients access to their SEO Dashboards and reports. They can log in at any time and see where things stand. We strategize, implement, analyze, and report the performance of websites that continue to generate results.