Infront Webworks announced today that they are proud to be the 11th company in the U.S. to become a recipient of the LSA Digital Marketer Certification, a recognition awarded by the Local Search Association (LSA), a not-for-profit association specializing in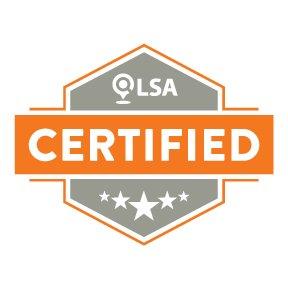 local marketing. The Local Search Association (LSA) created the LSA Certification Program to evaluate and verify the business practices of marketing providers. Companies like Infront Webworks that are "LSA Certified" have passed a rigorous review process and are deemed trustworthy.
Standards for LSA
Based on industry best practices, LSA has developed a robust review process for LSA Certification in which companies must demonstrate that they meet certain standards and engage in certain best practices in the following areas:
Sales practices and representations made to prospective clients
Service standards and accountability
Hiring and training practices
Service agreements and contracts
Transparency
Security and privacy of information
What to Expect from Digital Marketing Agencies
As of mid-2016, SEO was a $65 Billion dollar-a-year industry (study by Borrell Associates) and has attracted a large number of companies interested in servicing that market. The LSA certification is designed to help businesses find and compare trusted digital marketing providers. It will also teach businesses what to expect from Digital Marketing Agencies and their SEO efforts.
According to LSA, "Small businesses are finding it increasingly difficult to identify quality and reliable digital marketing and SEO partners to help promote their products and services. Forty-four percent of small business owners say they are challenged to find partners who deliver a return on investment, while 38 percent say they face hurdles selecting partners they can trust."
LSA must find that businesses are committed to honesty, transparency, and providing value to clients in order to award this certification.
When asked about the LSA certification, Infront Webworks Director of Marketing and SEO, Michael Hodgdon stated,
"When we found out the LSA would be offering a certification process, we knew it would be stringent and would really scrutinize our SEO and digital marketing business model, so we had to commit to the process. We pride ourselves on being among the best in digital marketing services and providing a customer-centric results-driven client experience. We had to know if a completely unbiased expert would agree that was the case and were high-fiving each other when we found out it was!"
LSA Study
In an LSA study, they determined that business owners receive on average 24 calls a month from companies trying to sell them digital marketing services. Many marketing and SEO sales reps make lofty or misleading claims. As a result, business owners don't know which marketing providers they can trust, which is why the LSA Certification program was created.
"LSA has recognized that businesses value the same principles Infront Webworks have built our digital marketing and SEO department on, COMMUNICATION, TRUST, TRANSPARENCY, AND RESULTS and it's a great resource to business owners that the LSA has found a way for them to identify trusted digital marketing partners," Hodgdon said.
In business for over 2 decades, Infront Webworks is a leading provider of digital marketing and SEO solutions. Their SEO & marketing department provides Search Engine Optimization (SEO), AdWords management, and other marketing and advertising solutions that deliver Return on Investment (ROI). They are Google Certified Partners. Google trusted "Google My Business (GMB) Verifier", and has an expert SEO and digital marketing team with over 60 industry certifications and collective experience of over 118 years in SEO. For more information on the company visit www.infront.com.