Now that 2012 has come to a close, I'm really excited (I admit—I am a total nerd) because I can now analyze the traffic reports from last year for our clients. Every week, I spend hours poring over detailed website traffic reports, finding out how many visitors a website received, how long the visitors stayed on the website, what they clicked on, how they found the website in the first place, and much more. But aside from my weekly analysis of a website, I also like to look at entire years as a whole to watch for major trends or patterns of user behavior.
One of the most significant trends I've seen over the past few years is that mobile traffic has shot up significantly on almost all of the websites we've built. When I first began working in Internet Marketing, mobile internet usage was almost nonexistant, so mobile visitors were an unnoticeably tiny fraction of all website visitors and warranted very little attention. Since then, the number of mobile visits has now become a very important metric to track, and most of our websites are experiencing double-digit percentages of mobile visitors.
I'm not sure exactly what made it the magic year but based on the data I have, 2011 was the year that mobile traffic reached critical mass. And most websites that had significant mobile traffic in 2011 have watched that percentage continue to grow at a rapid pace since that time.
As a fun exercise, I randomly picked ten websites from our portfolio (including our own), and decided to showcase their overall mobile traffic in the handy little chart below. Take a look at 2011: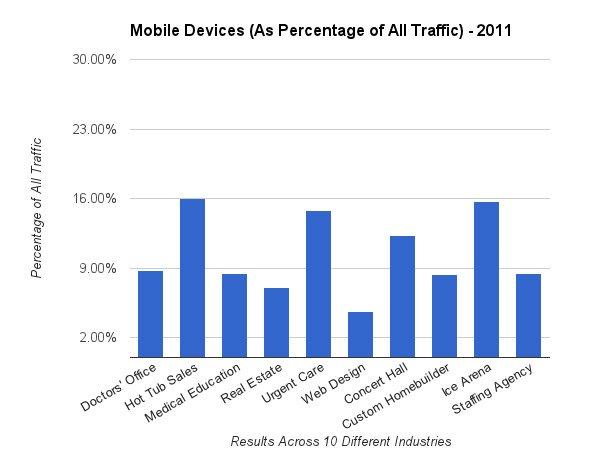 You'll notice that the results are all over the place, which is exactly what I would expect. Here are the industries I chose, in no particular order: Doctor's Office, Hot Tub Sales, Medical Education Institution, Real Estate Brokerage, Urgent Care Clinic, Web Design Company, Concert Hall, Custom Homebuilder, Ice Arena, and Staffing Agency. They're all different, and the results might not be what you expected. For example, a large amount of mobile traffic for an Urgent Care Clinic doesn't surprise me, but a large amount for an Ice Rink does. In addition, I was surprised at how low the mobile traffic was for the Real Estate company. Nonetheless, the point is this: every website is different; every company is different; every target market is different; and every year is different as well.
The chart above is just for 2011, so let's take a look at the same websites in 2012 now that I have that data: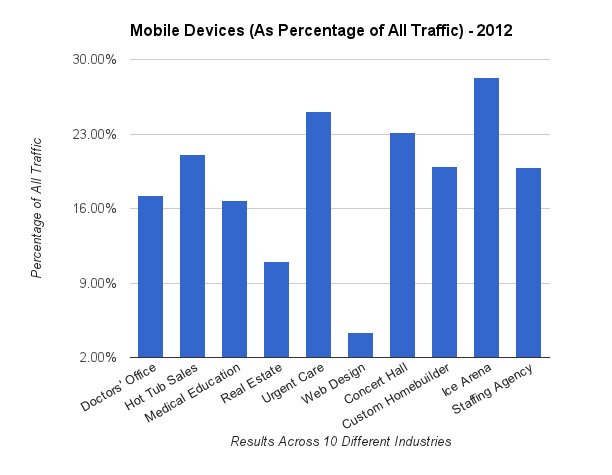 You'll notice that mobile traffic for nine out of the ten sites grew, and grew significantly. A quarter of the Urgent Care Clinic's traffic is mobile users, and the Ice Arena is inching up towards nearly a third of all traffic. Only one website (ours) had no growth in overall mobile traffic from 2011 – 2012. Here's the breakdown:
Custom Homebuilder: Up 138.6% (i.e. more than doubled)
Staffing Agency: Up 135.5% (i.e. more than doubled)
Medical Education: Up 97.5% (almost doubled)
Doctors' Office: Up 97.3% (almost doubled)
Concert Hall: Up 87.7%
Ice Arena: Up 79.9%
Urgent Care: Up 69.74%
Real Estate: Up 56.61%
Hot Tub Sales: Up 31.21%
The thing to keep in mind here is that an increase (or decrease) in mobile traffic is, by itself, neither a good or bad thing. It's just something you should be paying attention to: if you have a significant amount of mobile visitors who come to your website but can't view it at all (as in the case of iPhone users visiting a website built in Flash) or don't have a good experience because the site is not mobile friendly, you probably want to change that.
I've written about why you should have a mobile website before, and how it works, so if you want some reading material you can check those out. But at a minimum, check out your website on your own mobile device and make sure it looks good and functions properly. And then check your traffic reports to see just how many of your visitors are mobile.
If you'd like help analyzing your mobile traffic, and finding ways to market to a mobile audience, just contact us and we can talk about creating a marketing plan for your business.