Voice search is an up and coming technology that allows people to access internet search results using nothing more than a smart device and their voice. Just as it sounds.  There are many services as such from the likes of Google's Assistant embedded into every android phone (Okay Google) to that of Apple's SIRI. Even Amazon has jumped on the bandwagon with the introduction of Alexa, a smart home assistant activated by voice search.
This type of search is still in its young stage but has been growing at an ever-increasing rate. So much so, that we recently did a case study on the subject.
Voice Search Statistics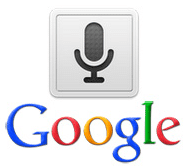 Over the course of a month, we polled internet marketers on their early adoptions to include voice search in their marketing plans and the results where shocking. We found, after asking SEO agencies and marketers in the field if they considered optimizing for voice searches an important one. The results for those who are adapting were low. In fact, only 38% percent planned on adopting measures to include this within their marketing plans. Considering that 55% of teens and 40% of adults use voice search, the time to jump on the Voice Search train is here.
Compared with our other research, we also found that 22% of people who use voice search have made a purchase within the past month using it to find the items they wanted.
In conclusion, incorporating voice search SEO into your marketing plans will be a vital component of search engine optimization. If you skip this, you might be left in the dust.
Voice Search SEO
As they say, "Content is king!", this is where optimization for voice search begins. On average voice, searches are longer terms than the typical keyword. People in conversation mode, tend to ramble with voice search due to its conversational style. With that, thinking in terms of super long tailored keywords is the key, but before we get into that there are a few important steps before we get into adding content to attract these types of internet searches.
Decide who your audience is. Who are you writing for? Who is the typical client?
Ask yourself, "What problems can I solve for my typical customer?", and create a list of common customer service questions you receive.
Once you compile this information you should have at least 3 typical personas of who you are writing for.
At this point, I should mention Rank Brain. Rank Brain is Google's machine learning AI that was developed by Google to try and understand never before searched queries that will tailor search results based on the end-user. Hence the importance of creating customer personas when writing content and the reason why Rank Brain was born.
Google realized that voice search would grow, their solution was within Rank Brain.
The old ways of keyword research are waning. Google now uses rank brain to look at the entirety of a website vs serving results based on a few keywords sprinkled within the content. With this in mind, start writing content that is more conversational and going after longer tailed keywords.
Inclusions of items within your content such as geo-locations for local SEO companies, descriptive adjectives such as "best" or "close by" are now more important than ever. Keeping your content clear and concise is the key along with solving questions your users might have.
Is there a difference in customer vernacular vs industry terms for your business? A customer might have a different name for something in contrast to what you may call it on a business level.  Incorporating these terms into your website's content is important as this is what your customers are searching for. Without them, you may as well not have a website because you will be lost on page 2 or beyond.
Answering Questions Using Headers
By using a conversational approach and because the majority of voice search is done so as questions, this tactic has shown great results and can even land you in position zero, aka the quick answer box at the very top of results.
For example: "How do they make titanium jewelry?" A keyword on crack, might not show a large search volume for results, but showing Google that you are an authority on titanium jewelry, for example, is a start in the right direction should you be selling items of this nature. If you start ranking for this, you should also start to see your rankings for terms like "titanium jewelry" climb up the page.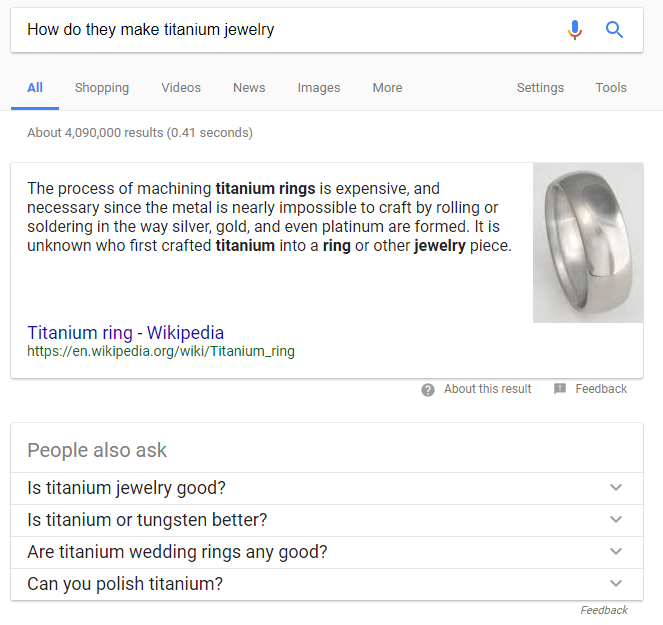 By answering this question well for someone researching titanium jewelry in the sales process and better yet being in position zero can not only lead to more conversions but also attract backlinks. A win-win.
This all-encompassing approach shows signs of where Google is headed in producing perfect search results. From the days of keyword stuffing to now, we are seeing a definitive change in Google's algorithm to produce more natural results for the end-user.