If you aren't already aware, most businesses can benefit from some form of Search Engine Marketing (SEM).  Search engines still generate a LOT of traffic to websites – much of it high quality traffic since search, by it's very nature, means someone is looking for something – a "warm lead" if you will.  We call this "demand based" marketing, and if you're not using it, you could be missing out on some of the highest
ROI marketing
you can do. There are two broad approaches to SEM –  organic ("free") search and paid search (also known as
Pay-Per-Click or
PPC
). Organic search results are the "free" results that appear in the left column on Google's search results pages (all of this can apply equally to Yahoo and Bing). These search results display because the search engine's ranking algorithms have scored each website based on its relevance to the search word or words.   Getting your website to come up on page 1 of the organic search results is the "holy grail" of SEM since it doesn't cost a penny when someone clicks an organic link to your website.
search engine's ranking algorithms
 to show your website higher than a competitors in the search results doesn't happen by chance.  It involves a process of "search engine optimization" (
SEO
) that takes time and experience to master. Since time and experience equate to money, getting a higher organic rank can actually be very costly in SEO consultant fees.  It can also take a long time to see results – weeks and months. PPC, on the other hand, is a well defined and budgeted form of advertising, and it yields immediate traffic to the website.  Since you're paying to have your listing show up when people search for specific words, you can very tightly control when your ad appears, the words in your ad,  and how much you spend on clicks. So where should you spend your
SEM budget – on PPC or SEO
?  The answer is that it depends – on a number of factors including how competitive your business is online, the seasonality of your business, the nature of your website (
ecommerce
vs marketing focused), your marketing budget, etc.  In a perfect world you do both PPC and SEO – PPC for immediate traffic, and SEO for long term traffic.  The good news is, we have experienced professionals who have tools they can wield to help you make that decision.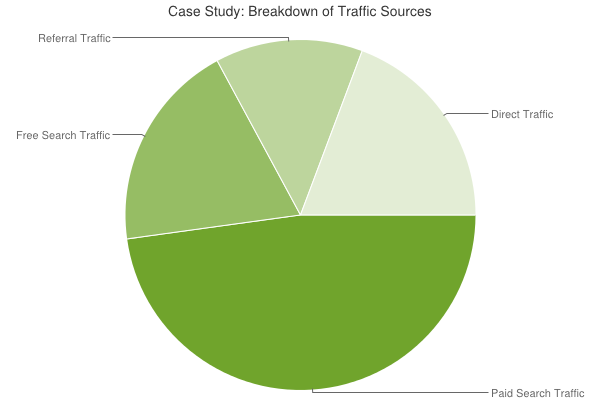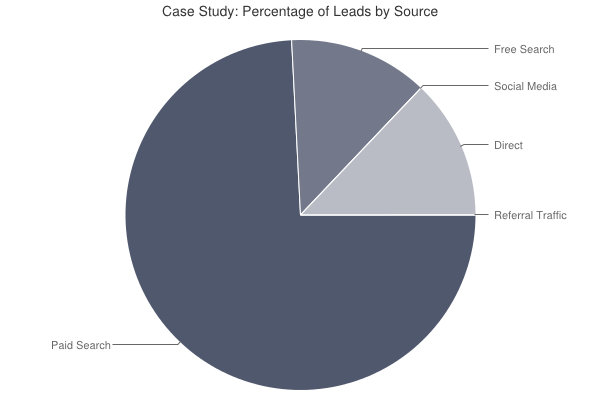 These two graphs were created using one of our client's website statistics. Paid search accounts for only 47% of their web traffic but 72.5% of their web leads. Traffic from paid search converts at a higher rate.
I'm often surprised at how many small business owners are opposed to, or intimidated by, a pay-per-click advertising model.  Many are perfectly content to pay commissions to their sales people for prospecting leads and closing sales, but are uneasy about paying for every single click / lead that comes from Google. Worse yet, they still spend hundreds or thousands a month on yellow pages advertising.    Don't be afraid to try some PPC search engine marketing.  With the tracking tools, and with experienced analysis, we can determine very precisely if your PPC is paying off.  Because PPC is so dynamic, we can change the campaigns to target other keywords, geographies and budgets to make sure you're getting the highest Return On Ad Spend (ROAS).
Here are some of the
common objections we hear about PPC:
"I'm worried about competitors clicking on my ad over and over." Google calls this "Click Fraud" and they've implemented safe guards to protect you against an unscrupulous competitor.  You will not get charged for multiple clicks from your paid ad.
"Organic is free.  I'd rather just focus my efforts on SEO so I'm not paying for each click." As we discussed above SEO is not free.  The correct decision about PPC vs SEO will evaluate ALL costs and determine which would yield the greatest ROI.
"I can't afford to pay for each click." Affordability has to be measured in terms of ROI.  If you spend $1000 per month in clicks but you get $5000 net in return, you'd probably agree that that $1000 was well spent.  The amount you spend MUST be analyzed to determine the return on ad spend, not just the base cost of the clicks.
"I tried PPC on my own a few years ago and it was a huge waste of money." Unfortunately, due to competition online, PPC has gotten very complicated to manage.  It takes a lot of time and experience to manage PPC campaigns and most people who try it on their own don't do very well.  Hiring a PPC expert is usually worth the money and should be included in your overall budgeting decision – again, with ROI in mind.  Our marketing team members have spent years learning how to manage PPC and SEO efforts, including achieving Google certifications.  
If we can leave you with any single concept, it's that you should not be afraid of PPC or organic search engine marketing.  They are both valid, trackable, marketing investments that are being used successfully by thousands of businesses to generate new and follow on business.  We're more than happy to meet with you for a free consultation to determine if, and what kind of SEM is right for your business.