By the year 2020, smartphones are expected to permeate 90% of the world's population.  Busy, on-the-go men, women, and teenagers – your potential clients, are spending less time on their desktops and more time researching products through their mobile devices. What does that mean for business? You need to get mobile-friendly website!
Responsive Design Has Benefits
The holiday season is upon us, and mobile shopping is hotter than ever.
In the fourth quarter of last year 25% of revenue came solely from mobile devices.
Nearly 2/3 of all time spent researching and locating retail brands today, occurs on a mobile device.
1:3 millennials (aged 18 to 24)—who, if not already, are bound to be your future consumers. 
Mobile devices include (but are not limited to): tablets, smartphone, and smart watches. Responsive design allows your website to fit on any screen on any device and still be readable and usable. Responsive design allows for ease of access and greater usability – in fact Google announced they've included mobile responsiveness as part of their ranking algorithm.
In 2014, 63% of online business leaders ranked responsive design as a top tech priority.

Compare that to 2013 when only 40% ranked it number one.

As of last year, 1:5 "Mobile 500 Merchants" have jumped on the responsive design bandwagon.

In 2013, only 7.8% of websites on "Internet Retailer's Mobile 500" list used responsive design
Making the decision to implement responsive design into your business platform is, for now, a choice. But in the coming years, those who have yet to accommodate the growing market of mobile shoppers will likely suffer the consequences. Rather than deal with the repercussions later on, start planning now and be prepared for the onset of mobile-mania.
Plan Ahead, Budget Accordingly & Avoid a Risky Leap of Faith
The internet is not a one size fits all kind of world. Consider the types of responsive design available to you, research your market, and analyze competitors to avoid investing:
Pure responsive design: uses one code set. A style sheet (CSS) determines how the page is presented from one device to the next, but the elements are universal.
Adaptive responsive design: delivers a set of code best suited for the device or screen resolution of your choosing.  Responsive design can adapt to meet the needs of multiple devices, but it depends on the criteria set forth from the beginning.
CESS responsive design: detects the device and screen size and delivers a different set of code for each. This allows you to optimize a tablet screen to have different features and functionality than a smartphone would have.
Knowing your options will help you when analyzing your target market and through research, you can figure out which breakpoints would benefit your business best. With thorough analysis, you can be sure your investment of time and resources into the implementation of responsive design will be a success.
Acquire customer feedback on which devices your target market is already using.
Assess competitors within your industry.
Not only should you be focused on studying markets you already have, consider studying markets that you wish to break into. Whichever route you decide to take, expect to create a budget for pre-launch performance tests, and bug fixes.
Investing Up-Front Will Save You In the Long Run
Although responsive design is hefty investment, especially for small to mid-sized businesses, the ROI is well worth it.  Planning an appropriate budget that will cover each stage of the process will prevent you from having to abandon features later on.
Responsive design makes everything simpler in the long haul, but the reconstruction period requires a great deal of investment from all corners of the business. But as data from the "Internet Retailer Mobile 500" shows; mobile conversion rates for small and mid-sized websites using responsive design were more than 16% higher than small and mid-sized websites that did not.
Improve Customer Satisfaction to Increase Sales
The problem many mobile website is the lack of information compared to the desktop version of the website. A website might contain a myriad of information and look clean on desktop, but the mobile version omits useful information and is hard to view and interact with. With responsive design, this problem can be completely eradicated.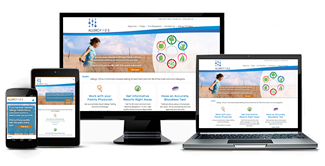 Being able to see things exactly the same way from one device to the next is the best way to transform a customer's product research phase into a quantifiable purchase. Optimizing mobile content increases the possibility for customers to share and promote products through social media. This is not only great word-of-mouth marketing, but also a great way to increase inbound traffic.
One of the biggest problems with mobile sites now is checkout abandonment.  More than 75% cart checkouts are abandoned due to a lack of features and promotional offers that are easily found on desktops.
Only 1/3 of mobile sites offer free shipping.
Only 10% offer any sort of customer service contact.
40% of checkout processes were 5+ pages long.
With responsive design, businesses can unify their website to be the same on any device. As people continue to shop online, making the checkout process as convenient as possible is the only way to stay ahead. Responsive design will also allow your customers to see promotional offers and product descriptions—key elements in turning a "maybe" into a "yes". Choosing not to optimize for mobile is no longer an option, and ignoring the erupting trend of smartphone dominance is a dangerous risk.
Responsive Design Will Pay for Itself
Not only can responsive design positively affect mobile reach and revenue, it can benefit your business in other aspects as well. Mobile-optimized sites have a positive impact on SEO, they create a unified brand across all devices and can have a greater impact on paid advertisements.
Customers want to know as much as they can about the products they are purchasing or the stores they are visiting. Responsive design might seem like an impossible investment, but incorporating it into your long term plans for optimization will prove promising and save you time as well as money later on. With the world becoming more and more mobilized is it worth the risk to wait out the cost?