Both in-store and out, shoppers everywhere depend on their smartphones to provide critical micro-moment information. Some have thought that the convenience of online and mobile shopping would have left brick-and-mortar stores alone and deserted. As it turns out, the opposite is proving to be true. Consumers are now using their smartphones to answer the critical question: to shop, or not to shop?
A review of Google data revealed that mobile shopping increased by 120% in the last year. Now more than ever, marketers have the ability to satisfy micro-moment curiosities through enticing advertisements and mobile-friendly web design. Based on signals of intent and context, marketers can place the right advertisements in front of the right customers.
Recent search data from Google and other third-party platforms have provided some useful information in regard to the habits of mobile searchers:
1) Mobile shopping is the gateway to in-store purchases
98% of Target's customers start their shopping digitally, and 3/4 of those customers start on a mobile device; 1/3 of guests who click on a mobile ad wind up shopping in a Target store. Sprint has had similar results, with one in four mobile search ad clicks leading to an in-store visit.
This evidence is a telltale sign of the power of mobile micro-moments and local advertising. In such a busy world,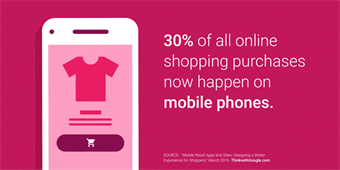 people don't have the luxury of time to waste browsing aimlessly in a store looking for a product. With mobile search, shoppers can 'plan ahead' and find exactly the item they need in half the time. Likewise, shoppers can budget better knowing the price of the item beforehand.
2) Local SERPs Are Your Ticket to Business
"Near me" searches have more than doubled over the year. 50% of consumers who make those local searches end up in the physical store within a day and 18% of those searches lead to a sale. Local search in coalition with mobile phones has made it easier for consumers everywhere to know what is around them.
"Restaurants near me", "hotels near me", etc., are searches that will turn into a purchase and perhaps, repeated purchases over time. If you think about it, local search has allowed people to save money on gas. Consumers find exact locations beforehand to avoid futile driving. Now that mobile has taken over, creating clever ads based on lucrative keywords and bumping up your local search rank can benefit you more than a traditional ad campaign.
3) If your ads show local inventory, shoppers will come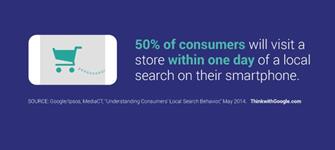 One in four people will not go to a store if they don't know whether a product is in stock. By advertising your local stock online, shoppers will arrive at your store with confidence knowing that the product they need is available. Sears Hometown and Outlet Stores increased their store visits by 122% thanks to Local Inventory Ads. For every dollar invested in Local Inventory Ads, eight dollars are made in in-store sales. This could also save employers from bad reviews, as well. Consumers who arrive at a store only to be greeted by an empty shelf leave frustrated and disappointed.
4) Smartphones have become the consumer's research partner
While in-store, 82% of shoppers look to their phones before making that last critical decision to make a purchase. In addition, about one in four shoppers will change their mind while in line for checkout after looking up the details of a product/business on their smartphone. This is why many brands have chosen to include apps as part of their in-store experience. Sephora has an app where customers can scan products to look at ratings and reviews, and other important product information. Likewise, some music stores have taken a step in this direction by allowing browsers to scan a code and listen to a music sample before deciding to purchase.
5) More channels= More purchases
MasterCard reveals that customers who shop online and off for a specific retailer buy up to 250% more on average. The omnichannel shoppers get the most information on their products. They are inclined to shop more and more often.
Whether you're a big brand or not, shoppers are increasingly dependent on their mobile devices to make purchases.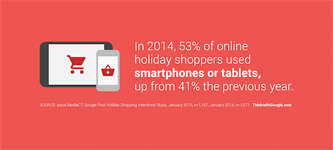 By optimizing your marketing strategies to fall in line with the rich opportunities micro-moments present, you are encouraging shoppers to walk in your store and make a purchase. Mobile SEO is now an essential part of building a memorable online identity, and the more you incorporate technology within your business, the more customers you will acquire.