What is The Snack Pack or local stack?
Although many who are not involved in the world of SEO might hear the phrase "Snack Pack" and assume one is talking about a delicious to-go food, the "Snack Pack" we're talking about is not edible. But it is Google's tasty chunk of screen real estate you want to be apart of–lest you fall into the dusty corners of the neglected local SERPs.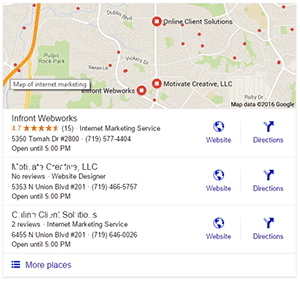 The Snack Pack is what will appear when a user looks up, for example, "internet marketing." It's the squared off list at the top of the page, above the organic results, right below the paid Adwords ads.
What once was a pack of seven has been carved down to a list of just three. The "Snack Pack" was something once solely found in mobile search, but is now ingrained in desktop and all search to provide users with a consistent search result layout, platform to platform.
A Moz survey entitled, "The 2015 Local Search Ranking Factors," listed eight factors that affect your place on the local SERP. From on-page signals to social signals, every factor plays a significant role in the quest to rank high in local SERPs.
Important Local Search Factors
If you operate a small to medium-sized business, climbing the local SERPs is vital. Traditional businesses, before the age of the Internet, survived on local businesses. In the millennium where Google is everyone's best friend, your position on the local SERP could greatly affect both in-store foot traffic and website traffic.  To get your business up high in the local SERPs, let's look at the most critical factors involved:
IMPORTANT NOTE: Snack Pack placement can not be achieved unless you have a "Verified Google My Business Page" if your Google My Business page is not verified the Infront Webworks Team are "Google Trusted Verifiers" and we can do most verification's in minutes for free.
On-Page Signals (20.3%)
On-page signals include business name, address and phone number, keywords in titles, and domain authority. All your pages should include the same contact information–consistency is key; business name, contact information, and social media links should be visible on all pages and on all directories the website is listed. This is also known as NAP (Name, Address, Phone) consistency.

Having a title tag with relevant keywords and specific to the content on the page is important as well. Not only does it give a general description of the web page, it allows the search engine to discern that page from other pages on your website, making it completely unique to the user and to Google. Typically Google will use the title tag to determine your organic results title.
Link Signals (20.0%)
Link signals account for about one-fifth of your business' local SERP position. Anchor text, linking domain authority, and the quantity thereof are what you need to focus on to boost your local rank.
Find out if there are any bad links running to your site.  There are many great SEO Tools to simplify and automate this process, like, Ahrefs,  Majestic SEO, Raven Tools, SEO Power Suite are all good tools. The software will identify how many links lead to your site and determine whether those links are helping your ranking.
Good links will have anchor relevant, keyword-juicy text (from high-quality websites) that singles out your business in a good way. A bad link, for example, could be found in something like this: "click here for more information about how to get rid of bad links" where click here is the bad anchor text, or even a good keyword from a bad website can also be unhealthy for your ranking.
Business Signals (14.7%)
Business signals determine what type of business you run (category), the keywords in your business title, and how close your business is to the searcher.
Try to include in your business title the type of business you are running. If your business name is "Sally Sews" it would help to include in your title "professional tailor/seamstress." Otherwise, your website only stands out as the name of your business (brand). If someone searches "local tailor," however, your page will have more visibility.
Also, a correct listing address that is no more than 100 kilometers from your target audience will ensure a better rank.
External Location Signals (13.6%)
Your business information across listing directories should be free of inconsistencies. The more your (correct) address, phone number, and business category appear across listing directories, the better chance your business has at rising in the ranks. Something as simple as using Suite 2800, vs Ste. 2800 or #2800 can cause issues. Be sure all NAP information is 100% identical.
Mobile & Behavioral Signals (9.5%)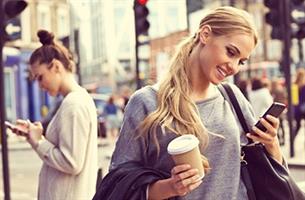 There is no way to escape the hold mobile search has over SEO. In the mobile snack pack, users have the option to make a direct call (click to call) from the listed snack pack businesses without ever having to go to the site. This is where being in the snack pack can really be a deal-breaker. Mobile users are on the go; they're usually in a hurry to find a relevant, nearby business. If your business is a click-to-call in the local snack pack, you're already one step ahead of the competition.
On the other hand, behavioral signals like click-through rates, and promotional offers also play a role in the local SERP rankings. Businesses with great, useful, and relevant content will likely see a bump in the local SERP positions. Google rewards those who also align with their customer-first ideals.
Review Signals (8.4%)
Even before the age of online reviews, a good or bad review has and always will be a make-or-break factor in the success of your business. Review signals include the number of reviews your business has, the speed at which reviews accumulate (review velocity), and the diversity of your reviews.
Once again, consistency is very important. With reviews, you want to be sure that all of your business information is the same on any page with the option for review.
So, how do you get reviews? If you've got a loyal base of customers, reach out. An email is a great way to reach good customers (the ones who will give you good reviews) effectively.
Social Signals (5.0%)
With social media acting as a part of the SEO picture, you'd likely be surprised that it only accounts for 5% of the local search. Still, it's important that you give the social setting of your business a good deal of focus. Facebook likes, the number of followers your business has on Twitter, Instagram followers, etc. all play a role in the social signals factor of local search.
The best way to optimize your social signals is to make shareable content. Fun, engaging articles that are uplifting in nature will encourage the share factor on social media, giving you some Google credibility and also some social media advertisements.
How to REACH THE TOP OF THE LOCAL SNACK PACK:
With recent Google changes, adding more top page "Paid Adwords Ads" results have been pushed down the page more than ever, so it's now more important than ever to be listed in the "snack pack". If you want your business to shine in the local SERPs, your ultimate goal should be to make it in the local snack pack and top organic placement. With the convenience of click-to-call actions and readily available information, searchers are going to feel more inclined to trust your business over those in the results below. That's not to say that if you're not in the snack pack you won't get any traffic–but being in the snack pack is where you will really stand out against the local competition. Make it your goal to optimize the eight most influential factors so you can stand proud in the snack pack and crush the competition.