This is part two in a series of three blog posts called "The Melody Fusion Story."
We are excited to announce that we have finally launched the Melody Fusion website! It's an online band promotion website where musicians can create a free account to spread the word about their music, increase their following, and connect with other musicians.
Last year, I wrote a blog post all about how we chose the name and domain name, so once that was finished, the next step was creating a logo. Since the first job (the identity) had been done, it was time to turn it over to Amanda, our senior designer, to come up with not just a logo but the whole look and feel of the website itself. Here are some of the notes and ideas behind the website design.
From Amanda: "I really wanted to make this a 'music-creator-oriented' website, because MelodyFusion is really not about getting gigs, or making tons of money, or connecting with record labels; it's more about being a place for music creators to express themselves, share their work, and talk about the how and why behind their songs and improve their skills."
"Whether that's through being a composer, instrumentalist, singer, or even an editor or a producer, this website welcomes all of that. So for the design, I wanted it to have a fun feel on the 'light' side of things, especially because so many of the websites made for musisicans these days have a real black/dark theme that feels really cold… probably because they're trying to give it a 'nightclub' kind of feel. I didn't think that would go with what we were trying to do with this website, so I deliberately kept it on the playful side."
"One fun aspect to the design was that I used to work in graphic design in Nashville designing album covers and marketing collateral for musicians, so I've gotten a feel for what that audience is looking for, and what they're trying to do. Actually, Nashville is kind of a funny place—people know the names of songwriters out there like we know rock stars so they're very in tune to the creative side of the industry."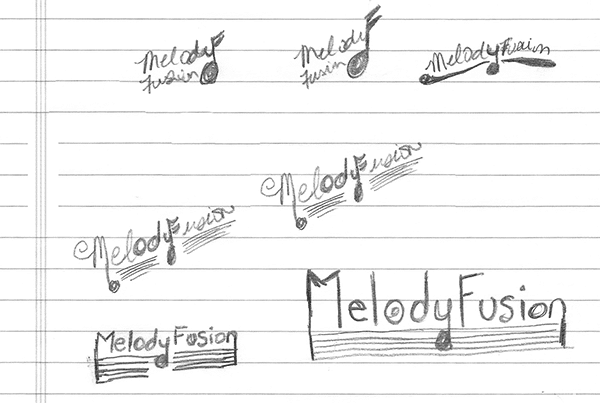 "For the actual logo design, I started with a paper sketch—which I always do when designing logos—and had about 10-15 sketches to start with. I started with drawing various musical elements: whole notes, half notes, musical staffs, guitars, and more. Some I ended up throwing out, but most of them I ended up using in various parts of the website. For example, I used a stylized music staff on the default profile avatar for people who don't upload a photo of themselves. There are a few other things I kept from those intial sketches as well."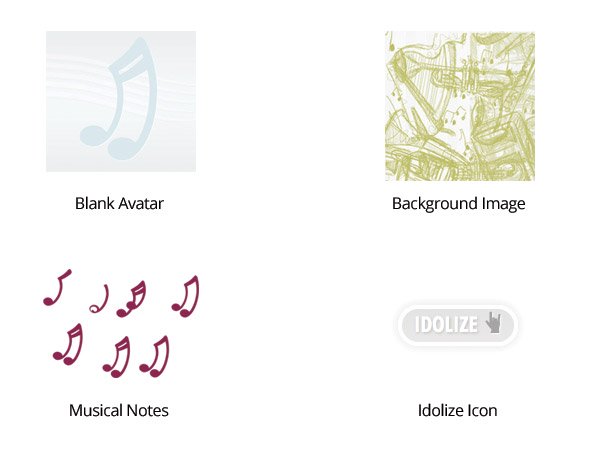 "For the logo itself, I ended up using a 16th note for the main icon because a 16th note has two little lines, called 'flags' on its stem, so it kind of looked like the letter 'F' in 'Fusion' in my initial sketch. Once I came up with that, I figured I could use the stem of the note as the body of the 'Y' in 'Melody,' so I just dropped it in the middle of both words and it worked! This logo was fun to design, since I didn't have to go through very many revisions before we selected the final version. The website has been a blast to work on, and we're really excited now that it's live."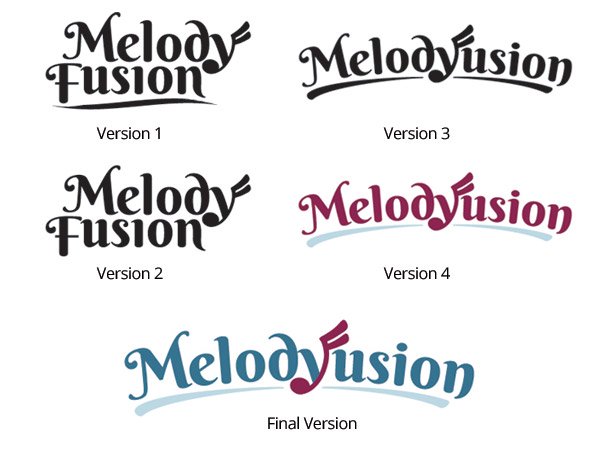 Above are the main logo versions, from top left to the bottom. You can see that the main theme was the same from start to finish; the only real changes made was the decision to merge the two lines into one, and add in color.
So now that the site is live, we're ready for people to take a look and give us feedback, and—more importantly—to create a free account and start sharing their music online. Please check it out and let us know what you think! Or contact us if you'd like to get your own website and logo started. We'd love to work with you.