What are Google Local Services Ads and how do they work?
Google Local Services is a pay-per-lead advertising platform that Google has started pushing out in different locations across the United States. If you are a Service Area Business (SAB), then you might qualify to be a part of Google's Local Services
Ads (LSAs).
Google originally rolled this out as a beta test in San Francisco in 2015. Businesses went through a screening process to make sure they had relevant insurance and that licensing requirements were met. This included criminal background checks.  Google
expanded its program outside of California in 2017.  The look and processes are still evolving today.
What does it mean to be Google Guaranteed?
In order to become "GOOGLE GUARANTEED" the business must pass the screening process including license, insurance verification, and employee background checks.
Once a company has passed Google's screening process, consumers hiring a Google Guaranteed business through the Google Local Services Ad receive a satisfaction guarantee backed by Google.
If the quality of work is unsatisfactory, Google will cover claims on the invoice amount with a cap of $2,000.
How do Google Local Service Ads Work?
By advertising your business on Google Local Service ads, the business receives leads directly from potential customers. The ads ensure they are connecting the searcher to the right advertiser.  Searchers have the choice to call a business or send
a message by clicking on the ad. Businesses using the Local Services app can reply to messages, manage leads, manage campaigns and budgets, and view performance, and ratings. The business profile page can be personalized and can also determine the service
areas where the ad will appear.
Where can I find Google Local Services Ads?
Local Services ads appear at the top of Google Search results when people search for the services in a certain location.

Once you click on "40+ carpet cleaners nearby," Google shows a page with a list of all the participating local service businesses. There is also a drop-down menu of relevant services and a zip code search box.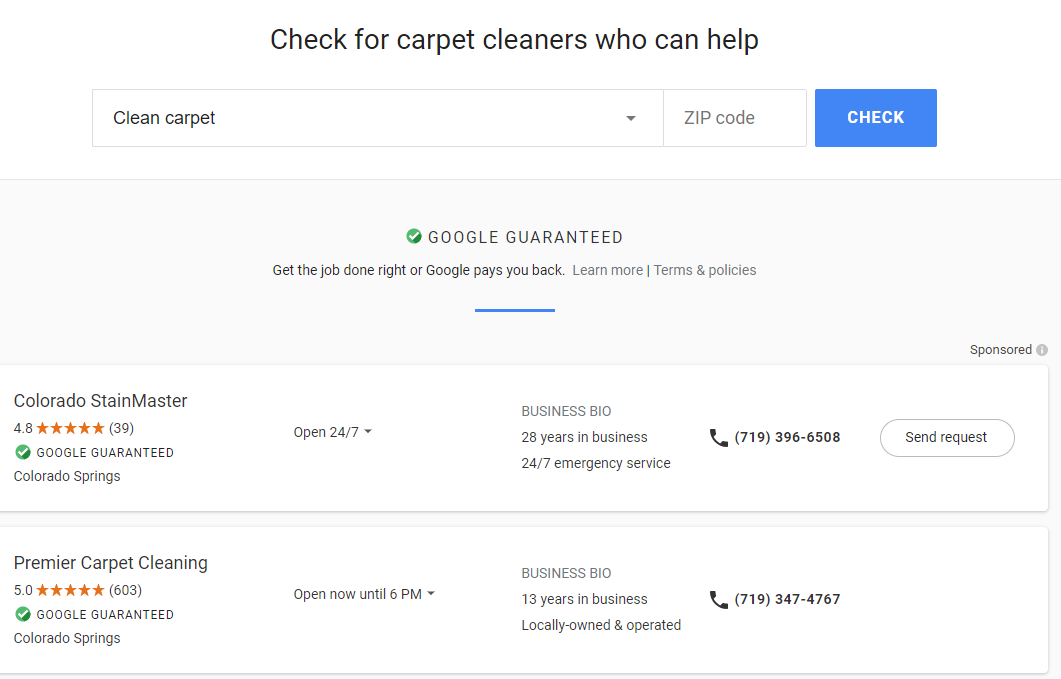 What are the benefits of Local Service Ads?
Ads appear at the top of Google.
The ads will be featured in Google Assistant's response to relevant voice search queries.
Advertisers pay per valid lead, not per click
It's easy to connect with potential customers searching for the services you provide.
The tools are simple to help you get started and create a personal profile.
You can use a mobile app to communicate with customers at any time.
Build trust with the Google Guarantee.
You only must pay for leads related to your business and the services that you offer.
Only hear from potential customers who specifically select your profile from the rest.
Highlight your positive reviews
Please note that not all regions have access to Google's Local Service Ads.  They can be found in large metro areas in the United States. The markets vary on location, and Google plans to expand to more markets and locations soon.
Google Local Services Offered in Colorado or soon to be offered in Colorado include:
Appliance Repair
Car Repair
Carpet Cleaning
Electricians
Garage doors
House cleaning
HVAC
Lawn care/landscaping
Locksmiths
Moving companies
Pest control
Pet Boarding
Pet grooming
Photography
Plumbers
Roofers
Tree services/arborists
Water damage restoration
Window cleaning
Window repair/installation
Show up in Voice Search Responses
In the United States, 50% of all searches are voice-based.  Potential customers aren't likely to be typing in search queries when they are ankle-deep in their flooded basements. Local Service ads are a great way to make sure your business is found during a voice search.
No ads or Keywords to manage
Google ads can be complicated to manage.  You need to do keyword research and ad testing.  With Google Local Service ads, they will automatically show up when a customer searches for a relevant search term for your business. The ad is automatically
created using the information from your business profile.
Is my business eligible for Google Local Service Ads where I live?
Check with Google to find out if your business services are available for your industry in your area.  Don't worry. If Google hasn't rolled
out local service ads for your region or industry yet, they are updating them every few months.
Where do I get Started with Google Local Ads?
https://ads.google.com/local-services-ads/
At Infront Webworks, we have a passion for innovation, and we strive to create value, satisfaction, and loyalty for our clients. Part of that process is helping our clients grow their businesses and stay ahead of their competition.  We want to make sure our clients have the knowledge and the tools to make that possible.
Infront Webworks is offering to set up your Google Local Service ads for a nominal fee.  We can also manage the monthly advertising.  If you have questions or want to learn more, please give us a call at (719) 577-4404 or
contact us.