Back to School Shopping Made Easy
Beginning in 1993, EduKit started off in a garage with the dedication of helping parents prepare their students for school without needing to deal with the stress of back-to-school shopping. Since then, they have grown into a corporation keen on ensuring children all over the United States get the name-brand back-to-school supplies they need with an online ordering system, with the EduKit boxes shipping to the school or the parent's house, prepared and ready for first day of classes. Having grown a program schools all over America are using, EduKit knew it was time for their website to have a facelift and show they can still help avoid back-to-school stress.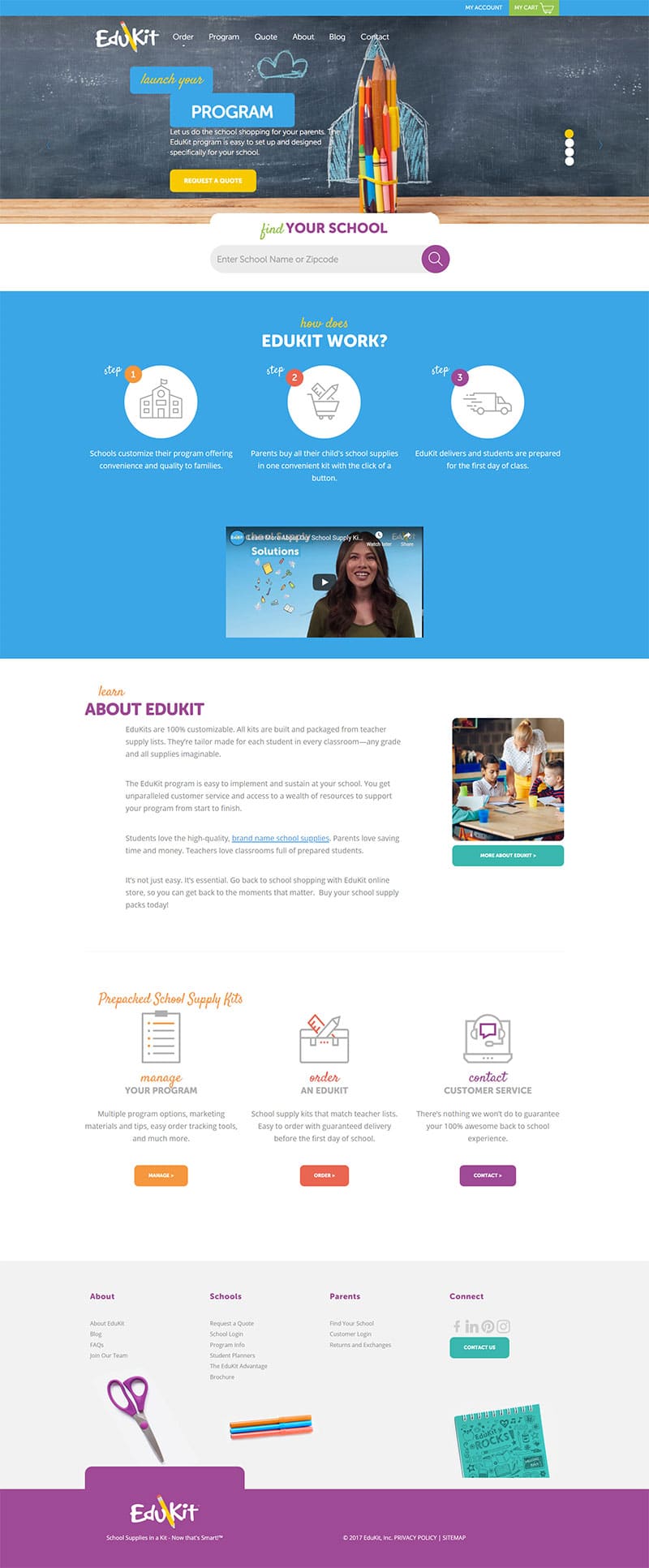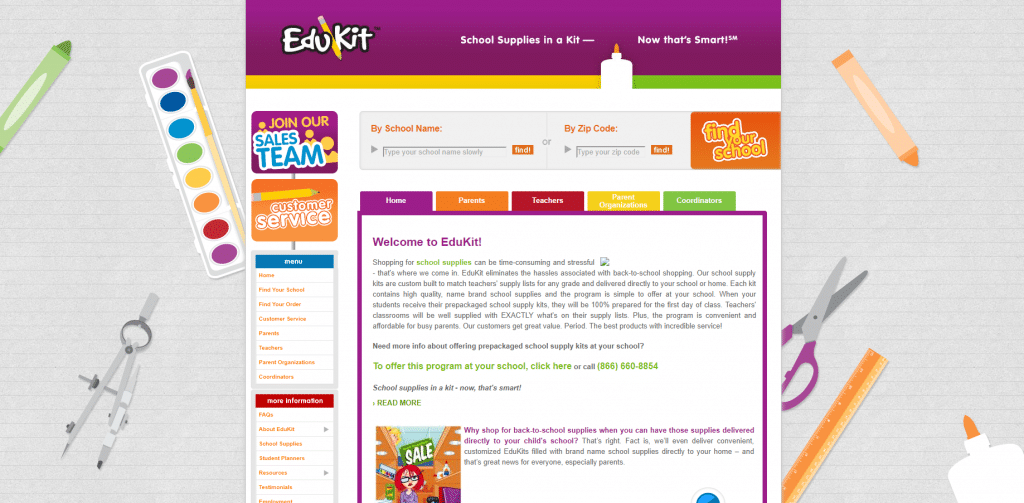 The legacy site was in need of a facelift, with an aging design and important information becoming mixed in among the rest of the content.
The legacy site was an old .asp system with a non-responsive platform that could not hold up to EduKit's growing needs.
The website was fully custom coded, with thousands of moving parts to ensure full functionality. This custom code was incapable of transferring from one Content Management System to another easily.
If a parent had children in different schools, they had to put in multiple orders as each order only functioned within one school.
The website was hard to read and view on mobile screens.
It challenging to track emails through the old website.
The legacy site heavily relied on PDFs for order forms and to disperse important information.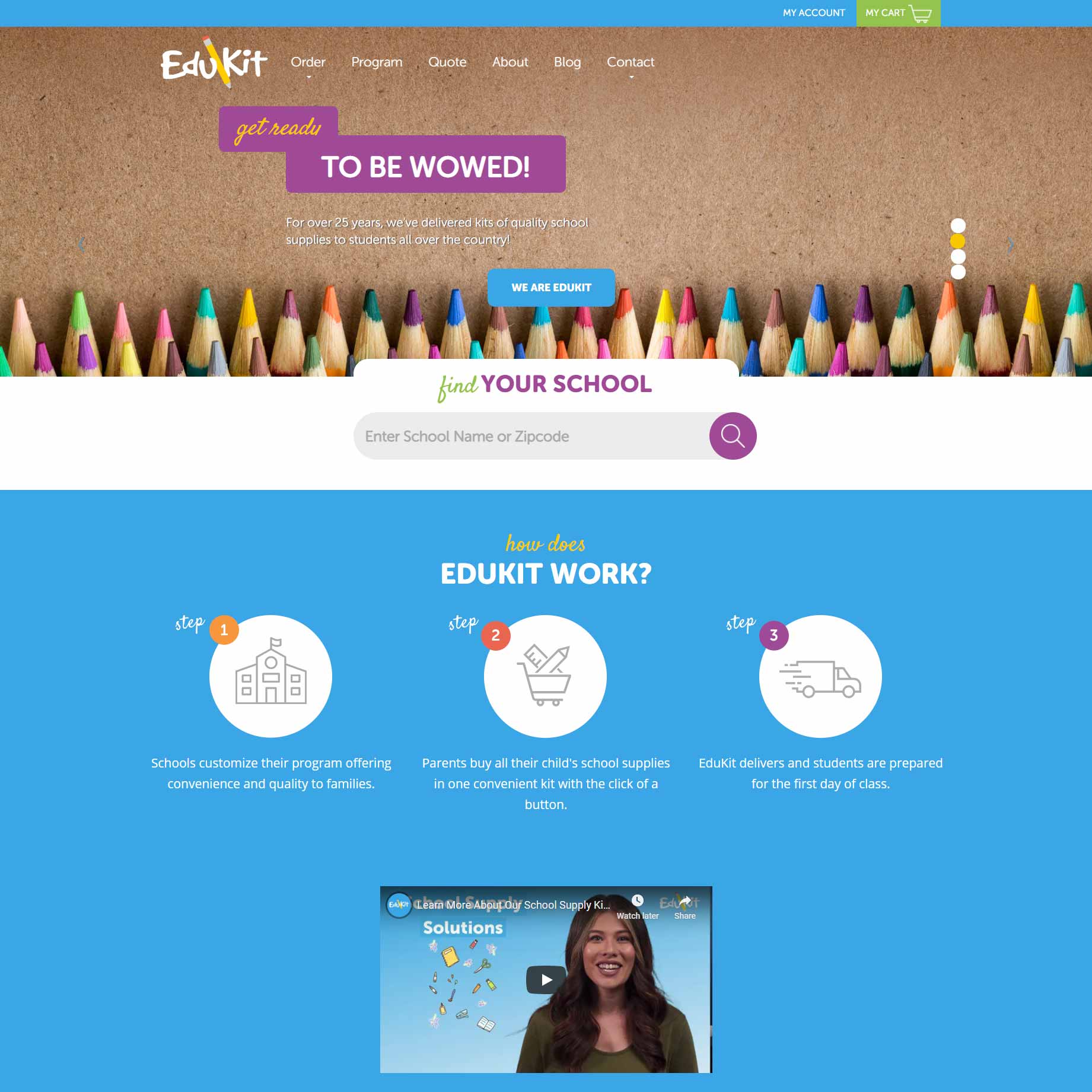 The new site has a fresh and beautiful appearance.
Navigation was improved, and the content was redone, allowing users to find what they need with ease.
The images and graphics were overhauled, making the website more visually appealing to visitors.
The website is now responsive, allowing users to access the website from any device to find an engaging and appealing website that guides them through how to get their children's school supplies.
The website was moved to Orchard, an open source framework written in ASP.NET, and was custom coded with an infrastructure that could hold up to EduKit's needs. This includes 3 different logins based on if the person logging in as an employee, a school coordinator, or a parent.
The custom coding was packaged into a module, making it easy to transport between platforms without needing to write the code from the ground up each time.
The ordering process was recreated and improved from both ends, while continuing to highlight EduKit's professionalism and standards. Parents only need to select the school, grade, their child's supplies, and checkout. Employees in the back end can change product descriptions with ease to update what is in each kit, and the school coordinators approve what is in each kit before displaying to parents on the website.
A conversion funnel was added and is prominent on the top of the page. The funnel makes it easier for parents to find the supplies their students need and allows for multiple children in different schools to be checked out with a single transaction.
The site speed metrics were improved, supporting their SEO marketing.


EduKit's new website has brought forth a beautiful and engaging website to emphasize they can help with the back to school needs of schools across America. With the new custom code on the Microsoft ASP Network servers, it is easy for parents and schools to get all the school supplies their students and children will need come back-to-school season without the potential hassle of kids in two different schools. And with the responsiveness of the website, any parent can place their order whether they are at home, or while spending the last weeks of summer with their children.