Thank you for attending the Orlando Small Business Expo on April 17, 2019!
We enjoyed meeting all of you and sharing a bit about what we do.  At the Expo, you entered our drawing for a free website (valued at $2,250) and we have randomly selected a winner from those who entered.    And the winner is…
Dave White!
(Dave the Foneguy)
(Dave, we will contact you shortly to follow up on getting started on your new website.)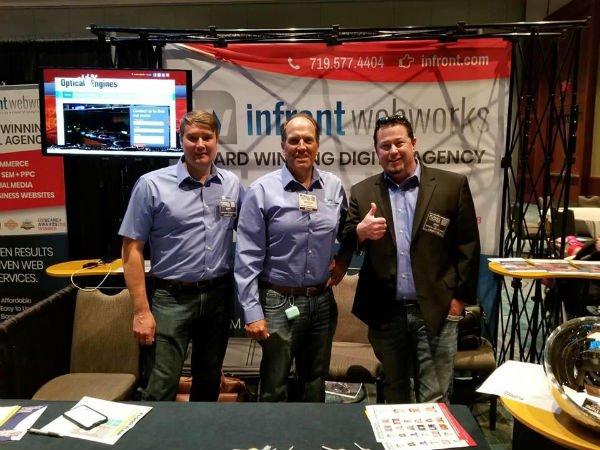 For those of you who didn't win the free website, we still have some special offers for you.
Small Business Marketing Websites
We are offering our Small Business Marketing Website package, that normally sells for \$2,250 for only \$1,750 (+ \$19.95 per month hosting fee).   ​Our Small Business Marketing Website package is designed to provide a low cost, yet powerful online marketing solution that is user friendly for both website visitors and small business owners.   With this version, you'll be able to easily publish copy, images, videos, testimonials, blog articles, photo galleries, slideshows, contact forms and much, much more from a super easy to use WYSIWYG interface that is fully mobile friendly, and SSL encrypted.   Our low-cost web design services don't mean cheap website design services, but rather a professionally designed website that is scalable and designed to grow with your business.   With the ability to update the site at your will, you'll be in control of your online destiny.  Use the form below to let us know your interest and we'll contact you promptly.
Small Business Search Engine Optimization
We are also offering two discounted Search Engine Optimization (SEO) packages for those of you who may already have a website and want to drive qualified traffic to it.
SEO Package 1 – Starter SEO
Our SEO Starter Package is a one-time SEO supercharge of your website and local online presence.  This package is perfect for those who want to make sure their website is in top shape to start competing on Google and other search engines.  The price for this package is normally $950, but we're offering it to Expo attendees for only $649.   This package includes:
On-site Search Engine Optimization: 
Our team will make sure your site is optimized for Google and other search engine indexes. This plan includes meta data optimization for up to 15 pages, on-page updates, site structure, and overall SEO recommendations.
Google My Business
Get found online! Our team can create or optimize your current Google My Business profile to help you best utilize your local traffic.
Local Optimization
We'll expand your local reach online to get you noticed. That way you won't just be noticed by Google but you'll have the credibility of several reputable resources as well.
SEO Package 2 – Comprehensive SEO
Comprehensive SEO means one of our Google certified SEO experts will perform highly effective SEO marketing for your website with the goal of increasing your Google page ranking for relevant keywords.  Your consultant will meet with you on a monthly basis to present findings and recommendations for your comprehensive SEO program. Includes 10 hours per month of expertly planned and strategically implemented (implementations provided when available) SEO, advice and support, and unlimited online access to our powerful suite of SEO, marketing and research tools (see lists below).   The price for this package is normally $950 per month, but we're offering it to Expo attendees for only $649 per month.   
We know you have questions and one of our website and SEO experts is standing by to answer your questions.  Just complete the short form below and someone will be in contact shortly.
Thank you again for your interest.