Today I logged into our SEMRush search placement reporting software and discovered our visibility score dropped over 20%. For anyone monitoring search you know what types of alarms that set off! After just a little digging on the terms, I noticed our organic hadn't changed much but that all our listings in the Snack Pack (aka 3 pack, google pins, map pins, etc..) were gone. I immediately checked mapmaker and ultimately our "Google My Business page" and discovered not only were our pins gone but all our reviews, our pin placement, and whole knowledge panel were all removed completely. Now, I am in total panic.

No recent changes to our Google Business listing had been made, our address has been the same for the last 3 years and our company has been in business 20+ years. We have also optimized our Google Business listing complete with photos, a virtual tour, and 17 Google reviews. Our citations are all in order across all directory platforms. So what went wrong?
For those not totally familiar with "Google My Business" I'll shed some light on what all this means and then proceed with exactly how we fixed the issue. If you're already highly familiar with Google My Business and how to rank locally, please skip past this section.
Google My Business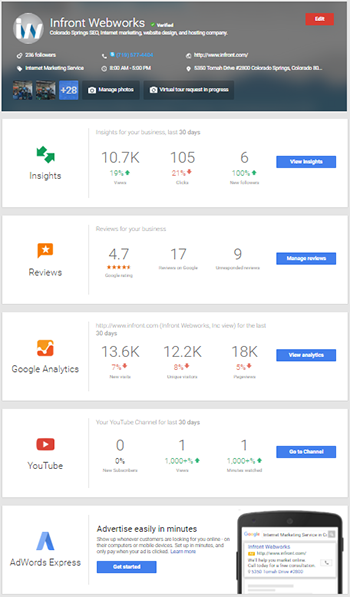 As many of you already know the "Google my business Page" that drives local search to your business is responsible for those great "pins" you see on the map and, in many cases, provides those great looking stars by your listings that can help increase CTR.  From an SEO perspective, these factors have a large bearing on your local search traffic.
Your company's "Google My Business" page is located at https://business.google.com/manage/#/list and looks like the screenshot to the left.
If you do not currently have a Google My Business page, please follow the steps in our blog post: A Guide To Putting Your Business On Google Search & Maps
Utilizing a Google My Business page is the primary way you indicate to Google your business information for local search. This is very important because this is how you will rank on the 'Snack Pack' within Google Maps for your primary business keywords. After creating your Google My Business page, the first step is optimizing your Google listing within Google My Business.
Optimizing your Google Business listing includes a number of factors:
Correct and Consistent business information.
Incorrect or inconsistent business information is one of the most common reasons people do not rank well locally. This means that your Google Business, Yelp, Bing, Yellowpages, Facebook, Foursquare, Superpages, Infogroup, and any other online listings must be consistent down to using #2800 as opposed to Suite 2800, or even (123) 456-7890 instead of 123-456-7890. Adding your business information to multiple online national and local directories is called 'citations'.
Business information will also include:
Correct business hours
The proper business category listed
Inserting your website URL
Payment methods you accept
Photos within your Google My Business profile are highly important. Google wants to see photos of the exterior of your business identity (such as logos), the interior of your business, your team members, photos at work, and additional or miscellaneous photos. The more photos you add, the better.
This step isn't necessary for ranking (yet), but it does help fully optimize your Google My Business page. You should be familiar with the Street View on Google Maps by now, which lets you see a 360-degree photo of the street and address you are searching for. A virtual tour essentially lets you do this within your own business so potential customers can tour your company before ever visiting.
Write an introduction for your business.
Google provides an area for you to introduce yourself to your potential customers. This should include a brief explanation of what your business is, as well as links to key pages within your website.
Online reviews within Google and any other directory listing are highly important. Reviews help real customers give you feedback about your business, as well as provides assistance for potential customers looking to utilize your services, come to your restaurant, or shop at your store. As mentioned above, online reviews will also show your star rating on SERPs, which can increase your CTR to your website. You also want to respond to the reviews you have to show customers that you care about their feedback.
These steps listed above will definitely increase your local rankings for your business listing on Google. For additional ranking factors and tips on local rankings, please visit our blog post: How To Get Your Pin To The Top Of Google Search
Lost all placement on google maps?
So what happens when a major change happens in SERPs? Have you ever lost your pins, reviews, or knowledge panel overnight? Don't panic just yet. Many of us have suffered some type of change in rankings due to Googles Algorithm shifting. This tends to happen fairly often since Google is always improving on the way they determine local ranking factors and the way results are displayed.
Our first thought was that something had dramatically shifted overnight in Google's Pigeon algorithm (local search rankings). Once we checked into it a little further, we noticed that nobody else had seen to be affected as we had, so an algorithm update was essentially out.
We then thought of the next basic reason we had been removed from Google Maps all together: A penalty? We went through the normal checklist for a reason this may have happened. None of our reviews are spammy, none contain links or URL's, and we had last updated our Google My Business page within the past 30 days, nor any other normal reason for reviews to disappear (duplicate reviews, moved our business, third party sites, etc.).
Also, our page had not been unverified. We checked our email address associated with our Google My Business account, as well as Search Console to see if we had any messages from Google. Nada! Starting to seem strange? We thought so too.
So with no apparent algorithm update and no indication of a penalty, how did this happen? Is this an April Fool's joke, Google?
Once again, don't panic. Google (just like any other entity) is not perfect. From time to time, glitches in the system happen. Some are easy to remedy, and some are difficult. Lucky for us (and if you're reading this, lucky for you), this technical glitch in Google's system is extremely easy to fix. How did we fix it? Just subscribe to our newsletter and we'll send you an email explaining it!
Just kidding…
Our first thought after a full audit of the situation was to call Google. So, that's exactly what we did. For those who have not contacted Google before, you can call them directly at 866-246-6453 and indicate option 3 for a Google My Business representative.
A Google My Business rep came on the phone promptly and explained to us "it was a glitch in the system", as she had seen it happen before. What happened was, Google could not find our physical address based on where our pin was set on the map.
Confused? We were too. How can they not find our business when Google is the culprit that automatically placed our pin for us? It seems this happens more often than you would think, and the fix is simple.
Go to your Google My Business listing and click on "Manage Location" for the business in question.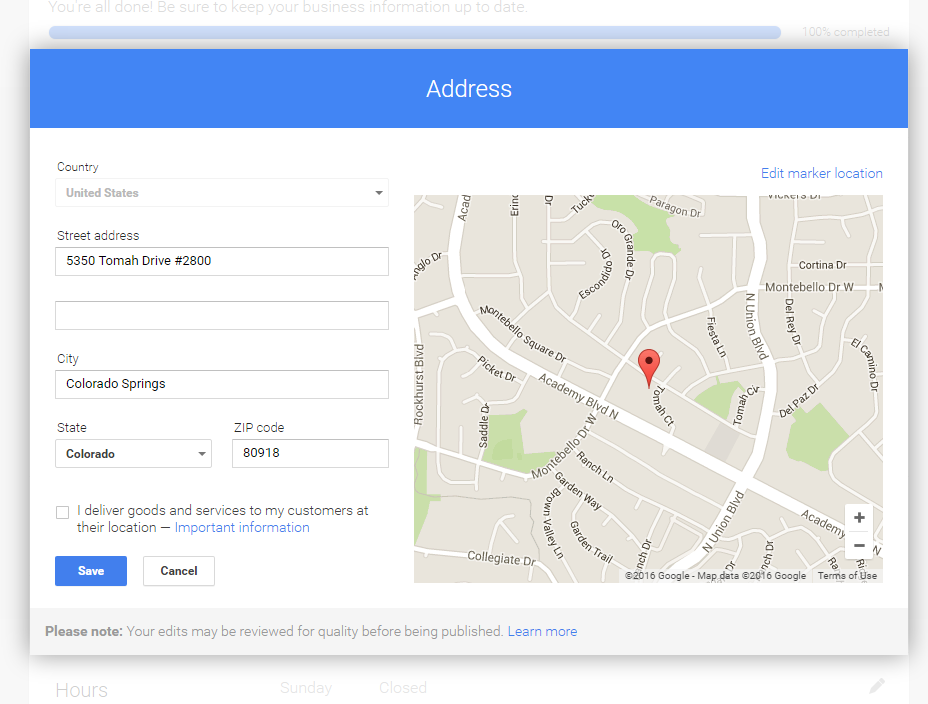 Edit your business information by clicking the 'Edit' button located at the top right near your company name and tagline.
Within the "Address" section, click on the map to edit your address. Important: DO NOT EDIT your actual street address listed here. You only want to edit your pin location.
Once you're in the "Address" section, click on 'Edit marker location' located on the right above your map.
Zoom in so that you can see your building, and move your pin slightly. Only a few centimeters should do it. We simply took our pin from the middle of the building and put it right in front of the building as you can see below. Once you've edited your pin location, click 'Ok', and then Save your Address information.
If you completed the steps listed above, you should be good to go! It took about 15 minutes or so before Google captured the changes and reverted all of our pins, OneBox (or Knowledge Panel), and reviews. Everything was back to normal, and we took a sigh of relief. The primary reason for this article is that we found no information online about this "technical glitch" anywhere. So if you are having this problem, we hope this helps you resolve it!