There is no denying that the Internet is a vast space: a complexly integrated community full of competing businesses and services that you have to surpass in the search engine result pages (SERPs) in order to infiltrate your market and garner new customers and business.
Figuring out how to optimize your website and business to rank at the top of local search engine results can be a daunting experience that is only exacerbated by the many factors at hand. Google is continually improving the local search ranking algorithms to better suit users. Change is inevitable, but this does not mean that you can't get up to speed and gear your business toward first-page results.
For clarification, the graphic below illustrates the 3 areas (Adwords Paid Ads, Local Stack Listings, and Organic Listings) of a search engine result page (SERPs).
Every year, Moz (an SEO application developer) collects data on local search ranking factors and a team of respondents determines what factors have the greatest impact on local stack ranking and localized organic results. The local stack results are directly above the localized organic results. A map with three pushpin locations, three location listings, and the accompanying business information—like hours and main address—gives users on the go a quick reference when searching for a local business.
Since the introduction of the local stack, businesses have taken notice of its influence on user actions. Instead of scrolling down to localized organic results, many find all the information they need in the local stack and can view the website or get directions in an instant. If you have a brick-and-mortar business or a home-based business that serves a certain geographic region, understanding how to optimize your website to climb the local stack is extremely important.
But, rather than figuring out the smorgasbord of numbers and factors on your own, Moz has conveniently clustered the most impactful factors into 8 thematically organized areas that you can understand and interpret fairly quickly.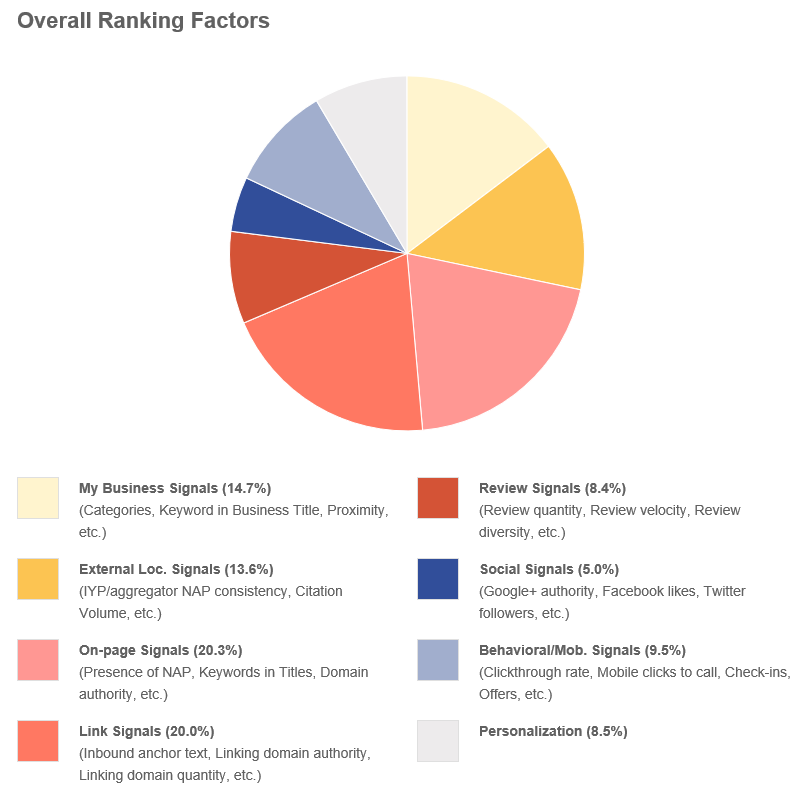 SEO professionals took the list of factors, grouped them according to the theme, and gave them a percentage of influence on search ranking—all eight clusters totaling 100%.  Then, to make things a little more specific, experts ranked the top 20 individual factors (out of 114) that have the largest impact on the local pack rankings, the top 20 individual factors that have the largest impact on localized organic rankings, and the top 20 factors that have the largest impact in a very competitive market across both localized organic and local pack results.
Then, SEO experts ranked five factors that are more important this year than they were last year, and vice versa—the five factors that have lost importance since last year's local results.  Experts not only took the good factor into consideration but also the bad. 27 negative factors were ranked from most damaging to most benign to give you the full spectrum of things.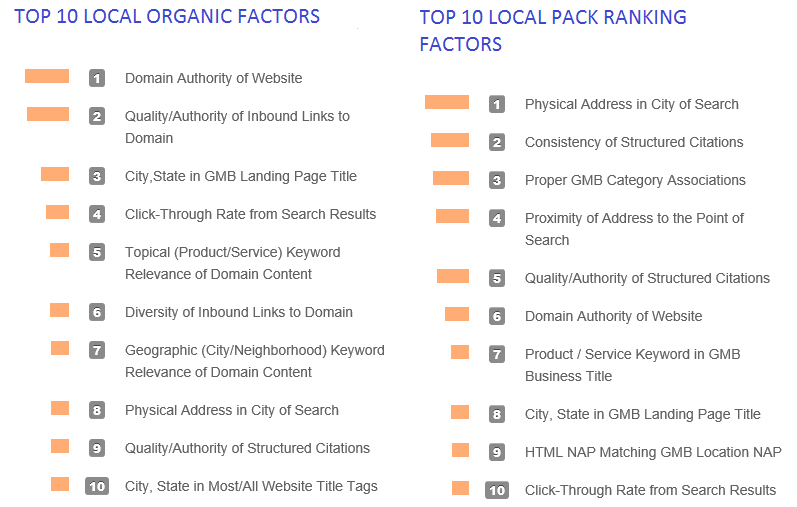 According to David Mihm's analysis of the results, Google's local search algorithm is continually evolving.  As Google begins to understand and interpret user action, even more, the implementation of quality and authority into your web optimization techniques is extremely important. Citations across web indexes, reviews, and site architecture need to be equally impressive in order to make the most of your efforts. For a general takeaway of the results, here are some of the most vital elements to consider going forward:
Google+ is just not that big of a deal anymore. Beforehand, local stacks would provide users with a link to the Google+ page of listed businesses, but now, the link is nowhere to be found. Google My Business is still very important!
Behavioral signals are even more important than they were last year. Although behavioral signals make up for only 9.5% of the algorithm, that is still a 38% increase from 6.9% of last year's results. Research from Darren Shaw and other experts highlights this trend even further, especially in certain markets.
Click-through rates are the #4 overall factor, moving ahead by 8 spots from the 2014 results. Other behavioral factors including the time spent on a website after the initial click and pogo-sticking—the act of bouncing back to the results and back to various listings—also have an influence on search rank.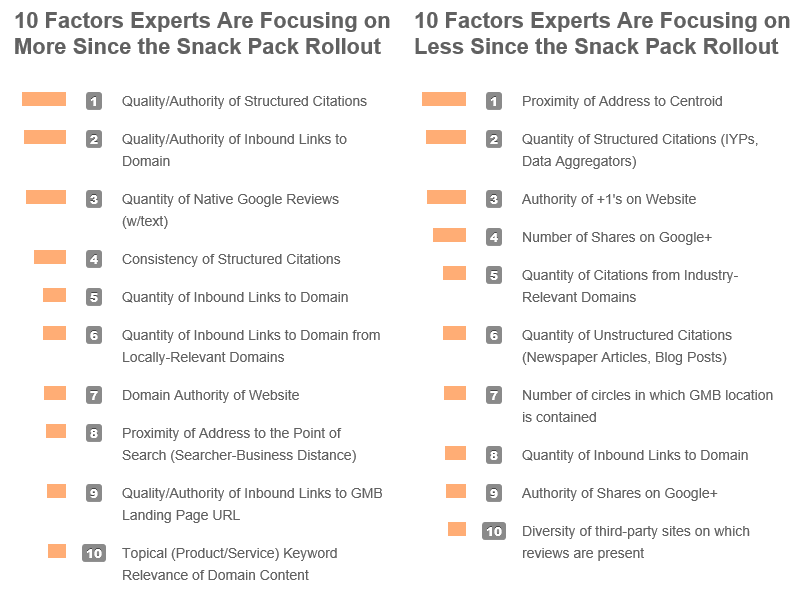 Citations are still extremely important, but quality and consistency are where you really need to focus your efforts. Citations list your business near location-specific information "NAP" i.e.: name, address, phone number, and any other details that establish your business as a physical location. Making sure that this information is consistent across directories is vital.
Keep your inbound links diverse and locally relevant. Utilize keywords that are location-specific AND market specific to make the most of your optimization. Links are up 9% from last year, and like with anything Google implements change for, quality is of the utmost importance.
The centroid, or the civic center of a metropolitan area, is used to determine what businesses would actually turn up in the local stack results. As Google moves forward, the centroid is dying out. Location detection is only improving, and both desktop and mobile results are relying on the location of the searcher to determine the results listed in the local stack. Business location is very important, but its proximity to the point of search is what matters most.
Overall, the 2015 results of local search factors should help you to determine your next step in the never-ending SEO game. As Google is always changing to meet the needs of the user, so should you. Take the time to look at the results for yourself and determine where your business needs to improve. As more and more people rely on their mobile phone or desktop searches to find local businesses, it's important that your business ends up on the map… quite literally.
For assistance with your local, and Colorado Springs SEO contact Infront Webworks today.