Where do you think most searchers go when looking for something to buy online? If you thought the answer was search engines like Google, you're dead wrong.
But the trend is changing. According to eMarketer, 61% of shoppers start their search on Amazon — while 49% do on search engines like Google.
Purportedly driven by the looming threat of Amazon, Google started showing free product listings on various Google properties in 2020 — a deviation from its usual practice of asking users to pay for Google Shopping ads.
Free product listings appear on Google's organic search engine results pages (SERPs) and Google Shopping results. That means a large segment of Google search is now open to e-commerce sellers looking to grow their organic sales.
Google also curates the best product listings and displays them more prominently as Google shopping carousels. These carousels are based on several factors, like reviews and structured data.
If you want to learn how to use Google shopping carousels to your advantage, keep reading. Here's what we'll cover:
What Are Google's Free Product Listings?
Free product listings are a new feature that allows merchants to display product information on Google's channels for free, as with organic listings.
There are two types of free product listings depending on the data you provide: standard listings and enhanced listings.
Standard listings appear on Google surfaces, except for the Shopping tab. They only require a basic set of product attributes. 
Enhanced listings are free, content-rich formats that appear on Google surfaces, including the Shopping tab. They have rich product attributes which set them apart from Standard listings. 
Besides the basic attributes, you need to configure an additional set of attributes on the Google Merchant Center (GMC).
For this article, we're going to focus on enhanced listings.
Where Can You Find Google's Free Product Listings?
Free product listings appear on organic searches for both mobile and desktop. They also appear on other Google properties such as Google Shopping, Google Images, YouTube, and Google Lens.
Organic Search Results
Free product listings appear among your search engine results when you search for a product.
Knowledge Panel
Searching for specific products can also show free product listings on the Knowledge Panel.
Here's how product listings show information:
Product name and image

Price

Average rating (numerical and stars) and approximate number of ratings across all review sources used

Number of highlights

A short description of key product features/keywords
Clicking on the product gives you a scrollable list of review cards with information, including:
Favicon

Review date

Numerical rating

Review headline

Review excerpt

Link to review source

An "About this product" card

Top Highlights (or summary) of the reviews.

Other features, such as "Appears on these lists" — wherein Google links to affiliate review sites that share

product review content

. 
Google Shopping Results
Google will continue to offer paid Google Shopping campaigns even though they now have free product listings.
The free product listings also appear on the Google Shopping tab, but paid Shopping ads carousels have a more prominent placement at the top and bottom of the Google Shopping tab. Free product listings will be located in the middle.
Google's paid Shopping ads.
Accessing product listings on the Shopping tab gives you features such as:
Trusted store badges.

Google gives

Trusted store badges

to stores that offer customers a good user experience.
Measures of good customer experiences include fast shipping, excellent return policy, and good user ratings, among others.
Top features based on reviews.

Google collects data to develop a list of features that reviews often highlight.
Google Images
When users make a search query for products and brands on Google Images, Google displays a small shopping bag icon in the lower left-hand corner to signify that the item is a shoppable product.
YouTube
While watching a YouTube video, users may also see a list of products that they can purchase — located next to the video. They may also find matching products in their YouTube search results when searching for a specific retail product.
Google Lens
Free listings can also appear in Google Lens, where users can click the Lens icon to see similar products to what appears in the image.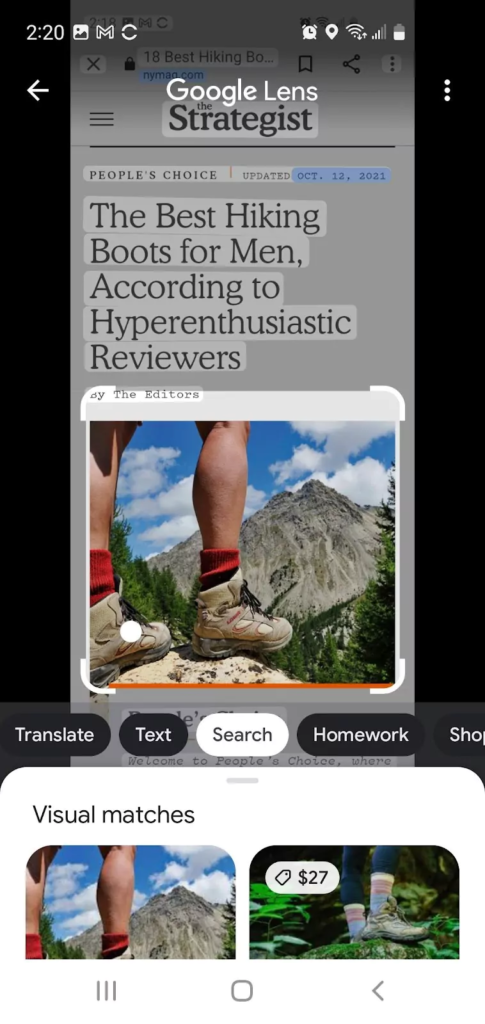 Advantages of Free Product Listings 
With Google's free product listings, you can now include Shopping ads and organic product listings in your marketing efforts. For example, you can promote top-selling products with paid Google ads and use organic product listing ads to introduce new products.
Other than that, the advantages of Google's free product listings include:
Boosted visibility and web traffic.

Get your product in front of customers looking for similar items at no additional cost.

Drive business to your brick-and-mortar stores.

Google lets you show your products on free local listings so you can target

nearby users

searching for products you sell in stores.

Increased sales.

These free product listings allow you to sell directly on Google without commission fees. Your customers can purchase directly on Google using the

Buy on Google checkout experience

.
How To Set Up Free Product Listings Using Google Merchant Center
Google Merchant Center (GMC) is an online dashboard where merchants manage their online appearance across Google e-commerce platforms. They can upload product data or manage online listings as needed.
Here's how to set up free product listings using the Google Merchant Center. 
1. Set Up Your Google Merchant Center Account
If you don't have one, follow Google's guide to setting up your Google Merchant Center (GMC) account.
Important things to remember when setting up your account:
Verify and claim your website.
Add shipping settings and return and refund settings.

That differentiates standard listings from enhanced product listings.
2. Set Up Your Product Feed
If you're already using Shopping ads, you can use your existing product feeds for free listings. But if you're new to GMC, set up your product feed to let Google know what your products are. 
There are multiple ways to do so:
Add product basic and advanced product attributes.
3. Enable Products in GMC and Confirm That Your Feed is Showing
Once you've set up your product feed, check whether the feed is showing.
On the left-hand menu of the GMC dashboard, go to Growth > Manage Programs.
Under Free Product Listings card, click Get Started. Google will have a checklist of things you need to complete. If you haven't finished them, do so.
Review Google's policies when done. Click Start Final Review, and on the next page, click Activate.
To verify if the feed is working on GMC, click on Products > Feeds on the left-hand menu of your GMC dashboard. You should see that the feed shows free listings.
Google Organic Product Carousels
Once you've set up your enhanced product listings, Google can choose to include them as Google shopping carousels on the SERPs. 
Google curates item recommendations based on information from different product sources into organic product carousels by:
Indexing and organizing products from over a million online shops, and updating this information regularly.

Relying on product and review structured data to find, aggregate, and display this content easily.

Using a version of its organic ranking algorithm to assign authority to product reviews.
Here are the types of organic product carousels:
Popular Products Carousel
Google introduced Popular Products in January 2020. They operate in carousels of up to 32 products, with four being visible at a time on desktop and mobile.
Each listing includes a:
Product image

Title

Price

Names of stores where you can buy the product

Average rating (numerical and stars) and approximate number of ratings

Product highlights

Review excerpt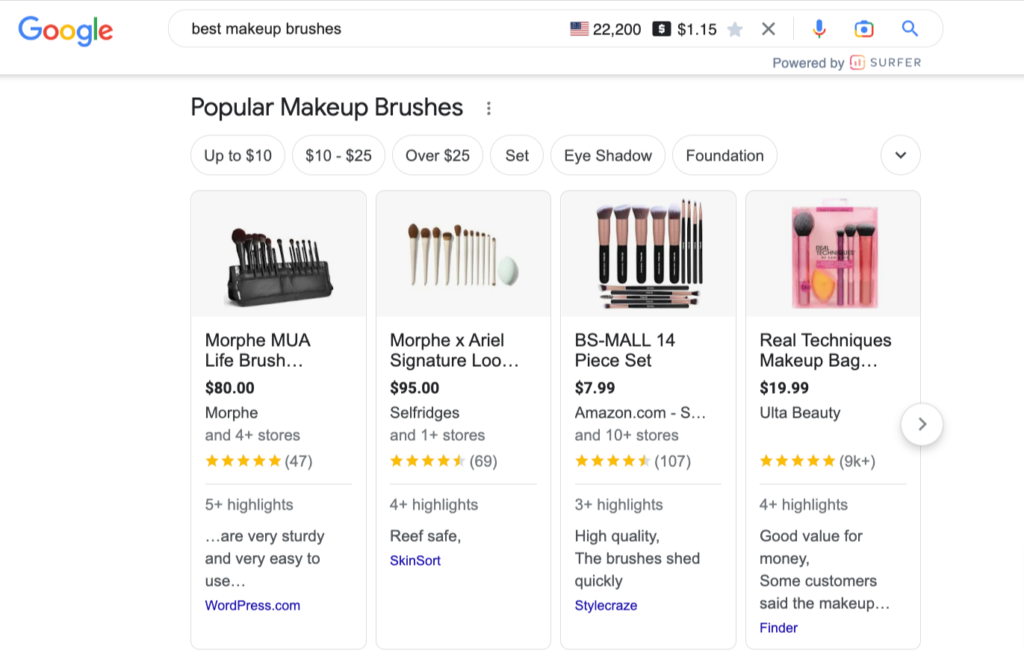 You can also filter the listings according to different features, including price.
Best Products Carousel
Like Popular Products, Best (or Top) Products carousels list up to 32 products, with four being visible at a time on desktop and mobile.
Top product listings contain the same details as those on the Popular Products carousel. Like Popular Products, you can also filter the listings according to price.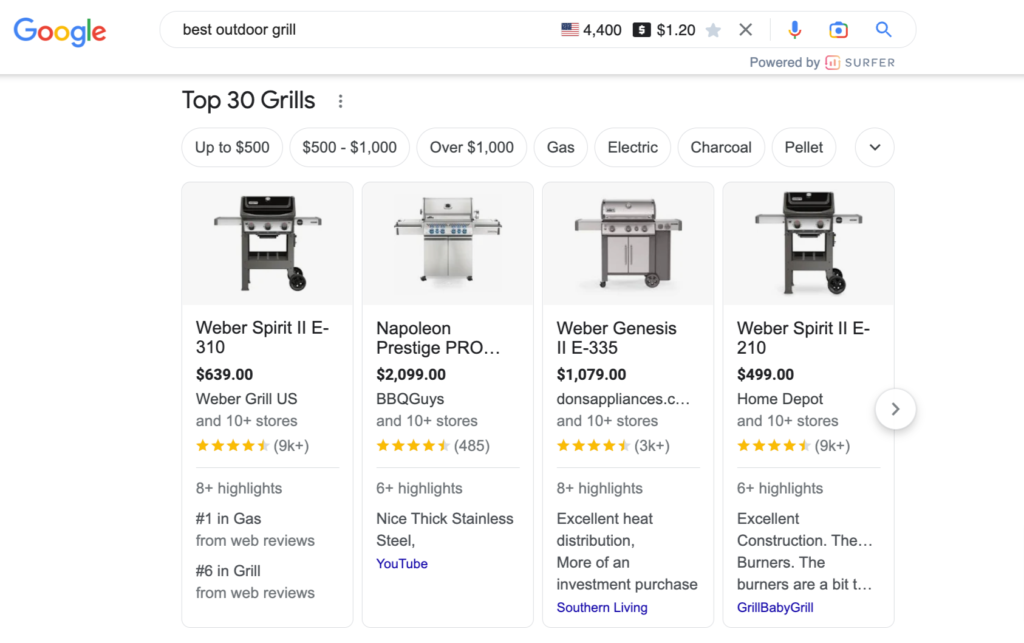 Related Products
Search terms for specific brands often trigger carousels for Related Products (or Similar Products). They represent an opportunity to get your product in front of a customer that thinks they have already made up their mind.
Top Product carousels list up to 12 products, with four being visible at a time on desktop and mobile. Each listing includes:
Product image

Title

Price

Names of stores where you can buy the product

Review star rating and review count

Criteria which they compare the products to
Unlike Top Products and Popular Products, Related Products prioritize filtering listings according to features or criteria.
Another unique feature of the Related Products carousel is that when you click on the Compare button, it immediately takes you to a SERP page with a query for the original product you searched for vs. the product you clicked on.
For example, clicking on the Compare button for the "Sony WH-1000XM4" leads to this result:
How To Optimize for Google's Organic Products Carousel
As a retailer, you can influence how your free product listings perform all over Google. If you have experience optimizing paid Shopping ads or SEO, you'll find little to no difference.
Here are some ways to optimize for Google's organic products carousel:
Optimize Your Product Listings
Unlike paid Shopping ads, bidding isn't a significant factor in getting clicks on free listings. Instead, Google relies on relevance, so it knows what your products are and who to show them to.
One way to optimize your product feed is to use all relevant attributes, not just the ones required, to include all useful information about your products. If you're selling clothes, note details like product type, size, color, material, or fit on your product pages. Provide high-quality images to accompany listings.
For example, this product appeared on Google Popular Products for "best shapewear." When you check the listing, you can see that it provides additional details besides the product description that describes the fit.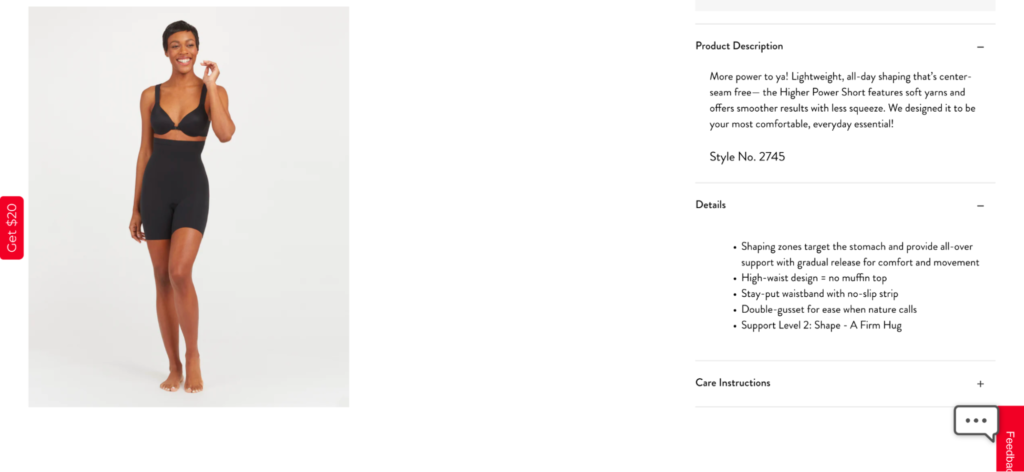 Prioritize Customer Reviews 
Most stores in Google's Popular Product carousels have multiple customer reviews and high customer ratings.
Google's shopping carousels always consider customer reviews when choosing which stores to feature. Be sure to leverage customer reviews to showcase your store's highlights.
Start by signing up for Google Customer Reviews and other third-party review services if you don't already have profiles.
Ensure that you have enough customer reviews and that those reviews have been marked up with Review schema. Give customers incentives like discount codes or vouchers to encourage them to leave reviews.
Improve Website Conversion Rate
If you're already getting free traffic from product listings, improving your website conversion rate will help you convert more of this traffic.
Here are some ways to improve the conversion rate:
Increase page speed.

Conduct A/B testing.

Remove friction.
Check Currently-Ranking Popular Products
If you've already optimized your website and conversion rate, yet your products still haven't appeared on Google's Popular Products page, check currently-ranking listings to know what makes them successful.
You might observe that these listings have a combination of:
Reviews from review sites

Google My Business listings

Videos

List of e-commerce sites where the product is available
Optimize your listings accordingly.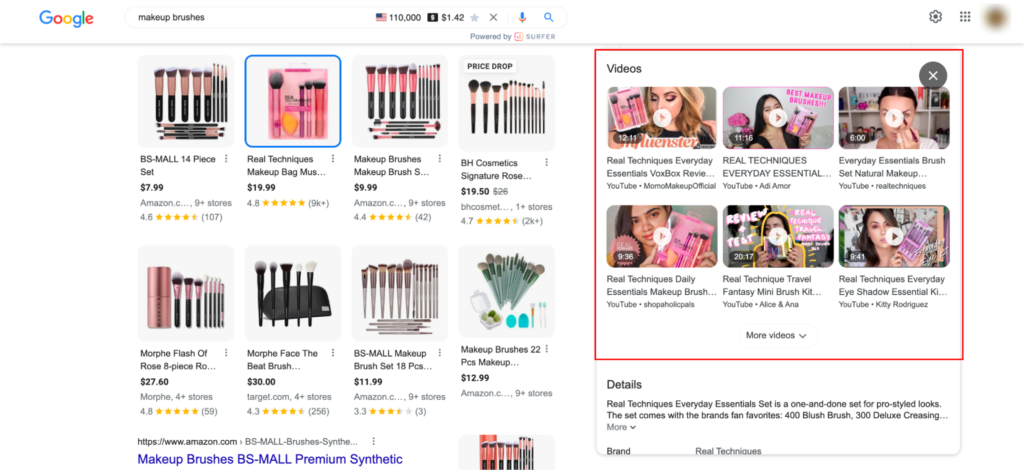 Final Thoughts: How To Optimize for
Google's Shopping Carousel 
As more shoppers begin their buyer journeys on search engines, it's becoming increasingly important for e-commerce sellers to take advantage of organic traffic.
Google's free product listings appear across multiple Google properties to help e-commerce store owners increase their products' visibility.
Optimize your listings by adding relevant product data and customer reviews to increase the chances of your listing appearing on Google shopping carousels.
Contact Infront Webworks for your SEO and conversion rate optimization needs.
FAQS about how to optimize for Google's Shopping Carousel