The Best of Small Business Awards ™ is America's most prestigious honor that recognizes and celebrates the BEST Small to Mid-Sized Business Visionaries.  With over twenty-five, notable "Best of Small Business" categories to choose from, The Best of Small Business Awards ™ is the largest Annual Business Recognition Program in the US.
The Best of Small Business Awards™ is presented by Small Business Expo, the Nation's BIGGEST and most attended Business-to-Business Networking Event, Trade Show & Conference, hosted in 17 major US cities.  Small Business Owners and Entrepreneurs attend their nation-wide events to attend cutting-edge business-critical workshops, shop for vendors that can help their business grow & network with thousands of attendees.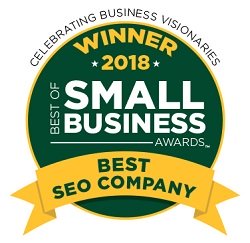 When asked about winning the 2018 Best of Small Business Award, Michael Hodgdon, Marketing and SEO Director at Infront Webworks said, "2018 has been an amazing year for the company and the SEO Team has been a pivotal part of that. At the beginning of 2018, they set goals to deliver clients SEO services among the best they could get anywhere in the country, and part of that goal was entering client case studies and competing in the most prestigious Award events our industry has to offer. Throughout the year it was amazing to watch as we were finalists or won awards in virtually every event we entered. This award is very special because we had to be Top 3 in the country in voting and then be selected by a panel of our peers as the best, it really is a validation of all the hard work the team does to deliver the Best SEO services possible to our clients.".
For the Infront Webworks SEO team, the last year has proven to consistently display their commitment to delivering best in class SEO to their clients. In addition to the recent "Best of Small Business- Best SEO Company" announcement they have received high industry praise from other very reputable sources including;
2018 US Search Awards Winner – Local SEO Campaign
2018 Search Engine Land, Landy Awards Winner- Best Overall SEO Initiative- Small Business
2018 US Search Awards Finalist in 3 Categories- Best Use of Search – Retail/eCommerce, Best Use of Search – Health, Infront Webworks & Garden of the Gods Storage – Local SEO Campaign
2018- Interactive Marketing Awards, Finalist in 3 Categories- Best Interactive Marketing – Retailer / Ecommerce, Best SEO Campaign, Search Agency of the Year.
2017 US Search Awards Finalist "Best Small SEO Agency of the Year"
Infront's SEO team was the 11th Company in the U.S. to become LSA Certified
Infront Webworks broke 100 5-Star Google Reviews
20+ years in business and maintains an A+ rating by the Better Business Bureau
Clutch– Top SEO Agencies, Top 10 Best SEO Agency Worldwide
About Infront Webworks
In business over 20 years, Infront Webworks is a full-service Digital Agency that offers award-winning website design, and globally recognized SEO services. They are A+ rated with the BBB, LSA Certified, Google Certified Partners, local and global award-winning digital service providers.
Contact Michael Hodgdon mikeh@infront.com 719-577-4404