Whoever said search engine optimization (SEO) was dead didn't know what they were talking about.
When COVID-19 hit, most industries had to lay off employees — but not SEO.
According to Backlinko's 2020 SEO Jobs Report, LinkedIn SEO job postings seemed to increase during the pandemic, which makes sense because shutdowns forced many businesses to go online.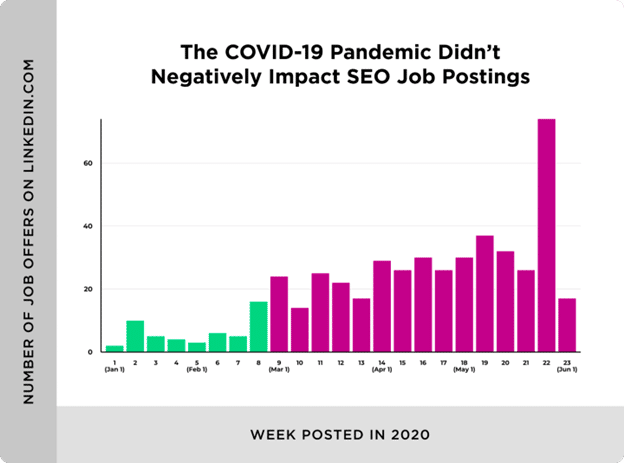 There are currently over one billion websites worldwide jockeying for a position to rank in Google search. Many of these websites realize the value of SEO, meaning professional SEOs can have their pick of clients.
As Google keeps working to improve the search experience (it made over 5,000 changes to search in 2021 alone), we can expect more SEO positions to be available.
If you're looking to enter the SEO industry, there's no better time to do so than today.
In this article, we cover what SEO professionals do and common SEO job titles. You'll also learn:
What Does an SEO Specialist Do?
An SEO professional (or SEO specialist) is a person who is knowledgeable about the algorithms behind search engines, meaning they can help clients rank on the search engine result pages (SERPs).
Depending on the website's size, a company can have one subject matter expert or a team of SEOs. Teams should ideally be composed of members with a specialized skill set that complements the skills of the other SEO professionals. For example, you have SEO content writers, developers, and strategists.
SEO professionals can opt to work as independent consultants, in SEO agencies, or full-time as part of a company's in-house content and digital marketing teams.
How Can I Become an SEO Professional?
There is no linear path to becoming an SEO professional.
Backlinko's report shows that 64.3% of SEO jobs don't have degree requirements. Many SEOs start by working on their websites and learning along the way, supplementing their skills with relevant courses.
Some SEO job titles — especially those in the technical field — require relevant degrees in Computer Science, Information Technology, and Data Science. But while these degrees help, they don't guarantee industry success. 
Moreover, not everyone starts with an entry-level position. Some pivot from digital marketing or paid media and take internships with other SEO professionals. 
It's much faster to earn SEO credentials today as SEO is included as a module in many digital marketing online courses. SEO professionals without prior experience can take online courses such as:
While many companies accept these certifications, having a project that demonstrates your skills also boosts your chances of landing your dream SEO job.
Remember, SEO isn't just something you learn in theory; it also requires practice. 
SEO professionals often have skills in:
Data analytics

Link building

Programming and HTML

Competitor analysis 

Keyword research 
Besides those skills, you will benefit from having soft skills such as writing and research. You'll also be expected to be familiar with tools like Moz, Ahrefs, Google Analytics, and SEMRush.
SEO job titles depend on different factors such as an organization's size, needs, team structure, and service offerings.
For example, in organizations with 100–1,000 employees, the typical in-house SEO team has 2–5 members. Businesses without an in-house team can outsource functions to freelancers and agencies or ask consultants to step in and help them develop a strategy.
Smaller companies won't need as much personnel as enterprise teams but will always need people to handle the following common SEO functions:
Small teams may think it unnecessary, but having someone in charge of the overall SEO strategy is important.
SEO is usually composed of two fields: technical and content. Content teams write content that follows search engines' best practices, while the technical teams optimize your website so search engines can easily crawl it.
People in SEO leadership roles usually have skills, knowledge, and experience in content and technical SEO to create a holistic SEO strategy. 
Formulate overall SEO strategies.

Communicate the importance and ROI of SEO efforts to company management.

Work with management to align the SEO strategy with company goals.

Work with editorial, content, and marketing teams to ensure SEO best practices are implemented in content initiatives.

Recommend changes to various website aspects (architecture, content, linking, and other factors) to improve SEO positions for target keywords.

Determine team priorities.
Well-rounded SEO skills (technical and content)

Communication

Long-term strategic thinking

Analysis and reporting
The titles may differ according to your organization structure, but roles under SEO leadership often include:
Director of SEO

Head of SEO

SEO Manager

SEO Strategist

SEO Analyst
The content creation side of SEO appeals to the human side of web search. Content SEO teams optimize content for Google to give searchers the answers they're looking for. 
Content SEO teams conduct keyword research, provide briefs and outlines for content writers, and ensure the target keyword and search intent is clear.
Optimize website copy and landing pages for SEO by incorporating search terms on headings, meta descriptions, URLs, and other relevant areas on the page.

Discover new keywords and expand on existing keywords to find opportunities to rank.

Research content recommendations.

Write helpful content that fits search intent.

Maintain style guides.

Create content briefs for outsourced writers.
Great oral and written communication skills (oral skills for interviews)

Research skills

Understands buyer personas, audience demographics, customer journey, and search intent

Understands basic SEO practices (but must also be updated with the latest

Google trends and algorithm changes

)
Content SEO team members include:

SEO Content Manager

SEO Content Strategists

SEO Content Writers

SEO Copywriters

Graphic designers
SEO Content Writer vs. SEO copywriter
There is often confusion between SEO content writers and SEO copywriters. 
They are both writers but require different writing skillsets. SEO copywriters help convert traffic into sales and leads by tapping into the target audience's emotions. 
They usually take these types of projects:
Website copy

Social media posts

Email campaigns

Video scripts
In contrast, SEO content writers increase organic traffic by creating content for readers and search engines. If SEO copywriters tap into customers' emotions, SEO content writers tap into customers' logic by engagingly presenting facts and information. 
SEO content writers create:
Blog posts

Case studies

White papers

Guest posts
Technical SEO teams are responsible for ensuring the website is running optimally, so search engine robots can crawl the site easily. They're more common and imperative for enterprise-scale websites since they have thousands of pages to crawl and are more likely to encounter technical issues.
Compared to content SEO teams, technical SEO teams have a more varied job function. They ensure things like proper indexing, page speed, and mobile responsiveness.
According to Backlinko's SEO Jobs report, technical SEO positions only make up 22.9% of all SEO job postings. Still, they get paid 7.3% more because they require knowledge of programming languages and SEO tools.
Technical SEO team members include:
Link builders (outreach)

SEO developers/programmers
Link builders focus on backlinking, which is the process of acquiring links from high-quality websites to yours. Backlinks are essentially votes of confidence for your website. High-quality sites that link to yours pass off some of their authority and help you rank higher in the SERPs.
There are different ways to obtain backlinks, and link builders use a combination of these methods:
Manual outreach

Guest blogging

Email campaigns

Networking

Posting on forums

Social media promotion
Research potential websites to link to

Conduct keyword research and content audits to find potential keywords

Competitor analysis

Monitor blog posts and look for opportunities to promote them

Work in-house, for an agency, or on a freelance basis
General knowledge of SEO

Good communicator

Attention to details

Strong researcher

Strategic and analytical skills

Loves relationship-building
SEO Developer or Programmer
SEO developers or programmers are involved in the technical aspects of the website, such as creation, maintenance, and SEO deployment. 
Their tasks range from building sitemaps or creating code that helps search engines crawl through the sites faster to troubleshooting issues and performing preventive maintenance on webpages.
Ensure the website design, layout, and code are optimized for search engines.

Test website's SEO rankings.

Work with the web designer to ensure consistent SEO standards.

Troubleshoot website's technical SEO issues.

Plan for website contingencies in case problems arise.

Provide technical support to stakeholders.
Proficient in front-end coding languages such as HTML, CSS, or JavaScript.

Knowledge of content management systems (CMS), site architecture, and web design.

Experience in back-end programming languages is beneficial.

Certifications in SEO and Google Analytics is beneficial.

Good communication and presentation skills.
Final Thoughts: SEO Job Titles: Roles You Can Get in the Industry
If you're looking to get into SEO, now is the best time.
There are plenty of jobs available, and the industry is growing, so you don't have to worry about career stagnancy.
Start your SEO job search at Infront. Check out our Careers page for openings.