Today I'm reflecting on the 18th anniversary of the founding of Infront Webworks (well, at least the founding of the company that became Infront Webworks).  October 15th, 1994 is the year I moved to Colorado Springs from San Diego to start Data Made Accessible, Inc., the predecessor to Infront Webworks.
My wife and I lived in The San Diego area from 1985 to 1994 while I served as a Naval Flight Officer in the U.S. Navy.  When our son was born in 1992 we realized that we wanted to live and raise our family in a place that was not in the fast lane of the "rat race".
As a Colorado native, I had longed to get back to the land of my birth and early childhood.  We settled on Colorado Springs for a number of reasons, and in hindsight, it was a great decision as our family and business have thrived in the Springs.
Flying Jets to Being a Technology Entrepreneur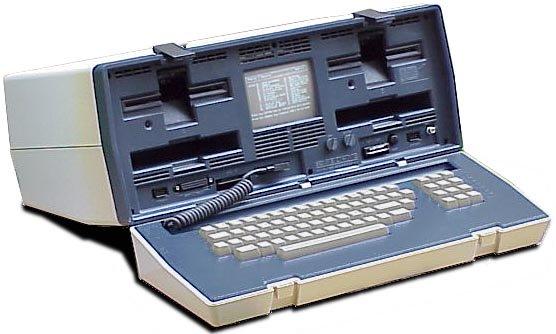 People always ask me how I went from flying sub-hunting jets to being a technology entrepreneur.  The answer to this question goes back to 1982 when I bought my first computer – a portable machine called an "Osborne 1".
This machine had a 5″ green screen, 64kb (yes, "kb", not "MB" or "GB") of RAM, two floppy disk drives, and ran a precursor to the DOS operating system called CP/M. It cost $1800 – no small amount for a college senior with no job prospects.
It was primarily used for word processing and writing BASIC computer programs.  For me, it was a learning tool because I KNEW that computers would, someday, be an essential part of our lives.  Despite the limited functionality of this early "portable", I was hooked.
Apple Macintosh
I used the Osborne 1 until 1984 when the "miracle" known as the Macintosh was released by Apple.  Along with the Mac came the mouse and the "graphical user interface".  I had to have one.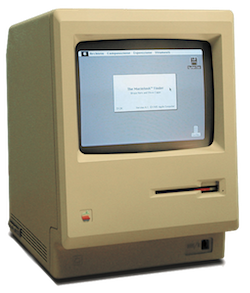 And I got one – a "fat Mac" – 128kb of RAM.
It was nearly a religious experience.  The Mac brought to the world the concepts of WYSIWYG editing, (boldfaced text in a Word processor was "BOLD", not <bold>BOLD</bold> ) and image editing with Apple's innovative "Paint" program.
Innovative software developers saw the value of these technologies and combined them to create desktop publishing, the solution that really put the Macintosh on the map.  As a side note, since 1984 I have ALWAYS used a Mac – I'm writing this blog with a MacBook Air – the pinnacle of laptop evolution.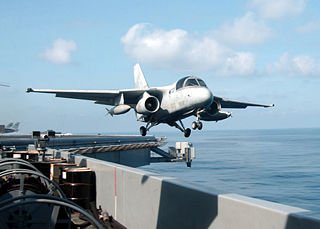 In 1984, the Navy called and said they had a slot for me at Aviation Officer Candidate School – I gladly accepted.
While I was learning how to use personal computers, I was also learning how to fly – my second technical love.
In the Navy, I was selected to fly the S-3 Viking – a carrier-based submarine-hunting jet equipped with a 64 kb (yes, "kb", not "MB" or "GB") computer that aggregated acoustical and bearing data to determine the location of a submerged submarine. It used a "drum" memory, the ancestor to the modern hard drive, that frequently crashed.
Compared to today, the technology was elemental and rough, but it did work, and it got me hooked on computers even more.  The major drawback to flying in the Navy: living on a ship for 6 months at a time.
Fortunately, I had my Macintosh on board, and I became known as the computer guru because I used my Mac to publish the squadron newsletter and flight and duty schedules.  We also played a heck of a lot of Klondike Solitaire and Zork.
AOL
I remember getting onto "America Online" back in the early '90s.  Back then AOL was a simple text-based bulletin board system – no graphics or images.
All the content was displayed as text coming across a modem at 300 baud (bits per second – compare this to the 40 million bits per second internet connection I'm using to write this blog).
All menus were numbers clicked on a keyboard.  But it got me hooked into the concept that computers connected to other computers were the future of computing.
Then, I had no idea just how big this idea would become, or how fast it would happen. So, in short, I became hooked to computers long before they were easy to use or before everyone had one.  When it came time to get out of the Navy, I had a decision to make – spend lots of $$ to get an airline rating to hopefully get a job with the airlines, or get into a technology career.
Most of my shipmates who I watched going the airline route spent months or years getting hired, then furloughed, so I chose the technology route.
Internet Work
Shortly after I got out of the Navy, in 1993, my brother, who was working for Apple Computer at the time, said he had an opportunity to do some "internet" work for the US Department of Agriculture.  I asked him what the heck the "internet" was.  He tried to explain.
I kind of got it, but I didn't comprehend the implications, and it sure sounded interesting – it was enough to hook me.  So, in 1994, my wife Joan, our 2-year-old son Tyler and I moved to Colorado Springs to start a new company called "Data Made Accessible" (DMA).  To do what?   I really didn't know for sure.
One of the first things I did with my new company was to register a domain name.  I found a company called Network Solutions that I leased data made from.  Now I had to figure out how to get an email address.  I found a local company that offered dial-up internet at 1200 baud along with the email.
It took several days to get the modem working using arcane technologies like PPP and SLIP, but we finally got it going.
Working with USDA
What the USDA ultimately hired us for was to get on the internet and find data for farmers that they could use to plan crop yields, pesticide application rates, agriculture research, and more.  This data was being stored in databases by many of the large state ag universities, and we accessed them using old internet protocols like Archie, WAIS, and Gopher.  This was before the world wide web.
Web Browser
In late 1994 I downloaded my first web browser – a program called Mosaic developed by the National Center for Supercomputing Applications at the University of Illinois at Urbana-Champaign.  Using the world wide web for the first time was a near-religious experience.
It was amazing.  Hyperlinks, pictures, yahoo.com!  Soon after Mosaic, Marc Andreeson, a U of I student, invented Netscape Navigator and I started with the WWW in earnest with Netscape v 0.9.
Internet Starts in Earnest
1995 was an amazing year.  The web had come to the masses and the growth of the internet started in earnest.  For DMA, the work for USDA had progressed from doing text-based searches, and collating search results into documents that were burned to CD and mailed to USDA field offices, to figuring out how to do web-based searches and presenting search results in the web browser.
To do this, we bought a web server – a "Netra" box from Sun Microsystems that had 32 MB of RAM.  I remember thinking at the time that we had a machine that would NEVER run out of memory.  Along with the Netra, we hooked up a "frame-relay" T-1 internet connection from a local ISP and set up our very first web server and website that sat on a desk in our office at 118 N. Tejon St.
Crawling a Website
We found some software that would "crawl" websites and other online databases, index them and create a search engine for pure agricultural data.  We called this the Agricultural Cyber Library and it was accessible at www.cybrary.com.
In a very rudimentary way, we did what Google does now, but it was all manual.  We had to find suitable ag websites and add them to the crawler.  I recall getting a few phone calls about our crawler being too aggressive and slowing down the websites we crawled.  These were fun times – exploring, learning, and trying.
Web Technologies
From the Cybrary we started playing around with other web technologies.  We put a product database online in 1996 using a FoxPro database.  This was before SQL Server, Access and other popular database apps had "web connectors".
In 1997 we played around with Netscape's Publishing System – a VERY rudimentary content management system that required strong Unix skills and cost tens of thousands of $$.  Later in 1997, we discovered Active Server Pages – Microsoft's dynamic web development platform – at the time it seemed revolutionary.
With ASP we built a cool learning management system called LearningWeb that coupled databases with dynamic web page technology.
Technology Progression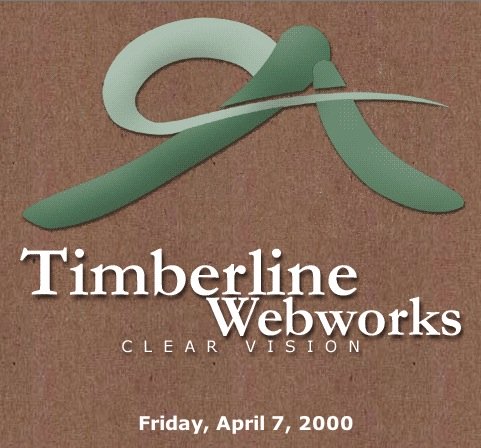 The technology progression from there was astounding.  We started building more and more websites using ASP, and along the way saw the rise and fall of hundreds of internet companies, technologies, and people.
The dot-com bust of early 2000 wiped out a ton of companies, but for us, it was a time to step back, evaluate our successes, and make a decision on which way to go.
In early 1999, my brother and I decided to go our separate ways.  He had other opportunities that he wanted to pursue.  I wanted to keep growing a small business in Colorado Springs, without the hassle of travel and everything that went with it.
I bought him out in early 1999 and changed the name to Timberline Webworks (a snapshot of our company home page on the left) to reflect our Colorado influences.
DOTCOM Bust
Despite the dot-com bust of early 2000 we continued to grow, in terms of customers, employees and capabilities – so much so, that we decided to move into a bigger, more expensive office at 6 N. Tejon St. in downtown Colorado Springs in 2001.  At the same time, we decided to change our name to Infront Webworks.
The name change came about since we were starting to work with more businesses outside of Colorado and advisors and mentors urged us to "lose" the geographical limiting term "Timberline".
At the time (early 2001), I had an employee, Paul Naro, who had, for years, run a small website called Interactive Frontiers at www.infront.com.  The website offered, of all things, listings of apartments for rent in Colorado Springs.
He was getting tired of running the site, and he wasn't making any money from it, so we started talking about his domain name, which was simple, easy to remember, and could continue to stand for "Interactive Frontiers", or "Internet Frontiers", or something like that.
But in the end, we retained the "Webworks" part of the Timberline name and just put "Infront" in front of it (pun intended).  In exchange for the domain name, I traded him a used Apple G-3 Macintosh.  The name has worked well for us in the last 11 years.
9/11 – Moving Day
At the same time, we were changing our name, we signed a lease to move into our new fancy offices – scheduled for October 1, 2001.  Unfortunately, three weeks prior to our big move the 9/11 terrorist attacks happened and the economy panicked.
But we were committed, so we made our move. 2002 was a tough year.  We had been doing a lot of work in the tourism industry and, as you know, tourism took a big hit post 9/11.  But we kept our noses to the grindstone and scraped through the year, and business started slowly picking up again.
The 2002 slowdown actually helped us regroup, cut out the fat and redefine our business, so it wasn't all bad.  2003 to 2008 were good solid growth years.  We increased our client base, our team and began perfecting our processes. In 2005 we bought and remodeled the building on Tejon street that continues to house Infront Webworks today.
Mature Period
I kind of label 2008 through the end of 2011 as our "mature" period.  These were the best years in terms of pure output and growth.  Despite the economy diving into the worst recession since the great depression, our business thrived.
One of the best decisions we made during this time was the development of our new and improved SiteWorks content management system.  We had used ASP for 10 years to develop websites, but newer, more efficient web development platforms had come on the scene and we realized that ASP would limit our ability to compete with these new technologies.
So we researched and decided to move away from the more expensive Microsoft technologies to Ruby On Rails – a powerful open-source platform that was growing and being used by many of the top-performing new websites like Twitter, Groupon, Basecamp, Shopify, and many more. It was a great move and our SiteWorks CMS platform is now powering hundreds of websites with an architecture and user interface that is superb.
Being Overworked
Despite our success and growth, 2011 was a hard year – because of these factors.  Joan and I were overworked.  We were both working 50 – 70 hour weeks. Our son started college that year, and our daughter started her sophomore year in high school.
We spent many nights discussing the situation and by the end of 2011 had made a decision to sell Infront in 2012.  The reason was a lifestyle decision.  We both loved working in the internet industry – it was creative, fast-paced, and ever-changing – but we had also crossed the "half-century" mark and wanted to slow down and enjoy our family and each other a bit more.
Not knowing how long it would take to sell a business (and realizing that the capital gains tax rate was scheduled to double on January 1, 2013), we decided to put Infront on the marketing in January 2012.  We posted it on two "business for sale" websites, and within 2 weeks had 15 interested buyers.
So, we started the process of due diligence to find the right buyer.  It was very important to both of us to make sure that the buyer of Infront would retain the values that we built into our company over the years.  Our clients and employees alike were very important and we wanted to make sure they were taken care of.
Multiple Interested Buyers
As we weeded out the unsuitable buyers, one rose to the top of our list – Matt Palis.  Matt brought not only experience as the previous owner of a web design company, but he also had experience owning a company that provides cloud-based services and systems.  13 years my junior, but he also had a good balance between experience, maturity, energy, and enthusiasm.  We closed on the sale in April of 2012.
The period since the sale has been great.  Matt's transition into the role of the new owner and "boss" has been very smooth.  He's brought about many great changes, such as updated management systems and cloud-based services to offer our clients.  I continue with Infront in the role of Director of Business Development – the part of the business I like the most.
I meet with prospective clients, work to define a solution, then turn it over to the development team to implement.
So, even though I've written this as the history of Infront, there's much more to come, and I look forward to seeing our "baby" grow and continue to do great things for its clients and employees.
Lastly, I would like to thank the hundreds, and possibly thousands, of clients, employees, partners, mentors, and others who have directly and indirectly contributed to the success of this great company.  You are all appreciated.